Kirsty and Steve are joining us to share their super loved up, relaxed Yorkshire barn wedding held at Chilli Barn on the 1st June 2019. They envisioned a rustic wedding complete with wildflowers and their closest loved ones surrounding them. It was all ever so lovely.
There are some super gorgeous touches that I adore, the natural florals in pretty purples, the semi naked cake and the rustic log slice table centrepieces to name just a few. Kirsty looked stunning in her flowing Rebecca Ingram gown, with the most beautiful button and lace back detailing. Her hair was also perfectly styled in a half up half down do which I am totally coveting. Steve and the groomsmen were really dapper in grey tweed suits and floral accessories, their buttonholes were really beautiful too.
Thanks so much to Hayley Baxter Photography for sharing these spectacular images with us, the sunset shots at the end are just breathtaking.
Sponsored Ads
The Proposal
Steve and I stayed in a little cabin in Wales for my birthday. We both enjoy walking so decided to venture up Cadair Idris as we had heard about the incredible views from the top. Unfortunately, the weather wasn't quite as we had imagined and we spent most of the hike ploughing through thick fog. To top it off I was suffering from a stinking cold so as we neared the top I was about ready to throw in the towel. Looking back, Steve did seem particularly keen for us to reach the top despite my protests! Of course it all became clear when he dropped to one knee at the trig point and I was glad I made it to the top!
The Vision
We wanted to create a relaxed, rustic, countryside theme where we could focus on enjoying the time with all of our closest family and friends around us.
The Planning Process
We got engaged in October 2017 and were married on the 1st June 2019 which gave us plenty of time to plan things. We tried to book most things well in advance as I'd been warned about things booking up quickly. We met our photographer at one of the wedding showcases put on by the Chilli Barn and our florist was recommended by a friend of a friend. Most of our other suppliers were found by looking on the internet and reading reviews.
The Venue
We were so lucky to find the Chilli Barn for our venue. It had everything we were looking for – a rustic barn in a countryside setting with some fab surrounding views which were great for photos! Unlike other venues we looked at, this one had enough space to accommodate our guests but still provided an intimate feel and kept everyone together. As we are both vegetarians, the fact that Chilli Barn serves delicious vegetarian and vegan food was an added bonus. The hay bales and fire pit outside were also a lovely touch and provided a great space for people to relax in the sunshine during the day! All the staff did an amazing job keeping the day running smoothly from start to finish.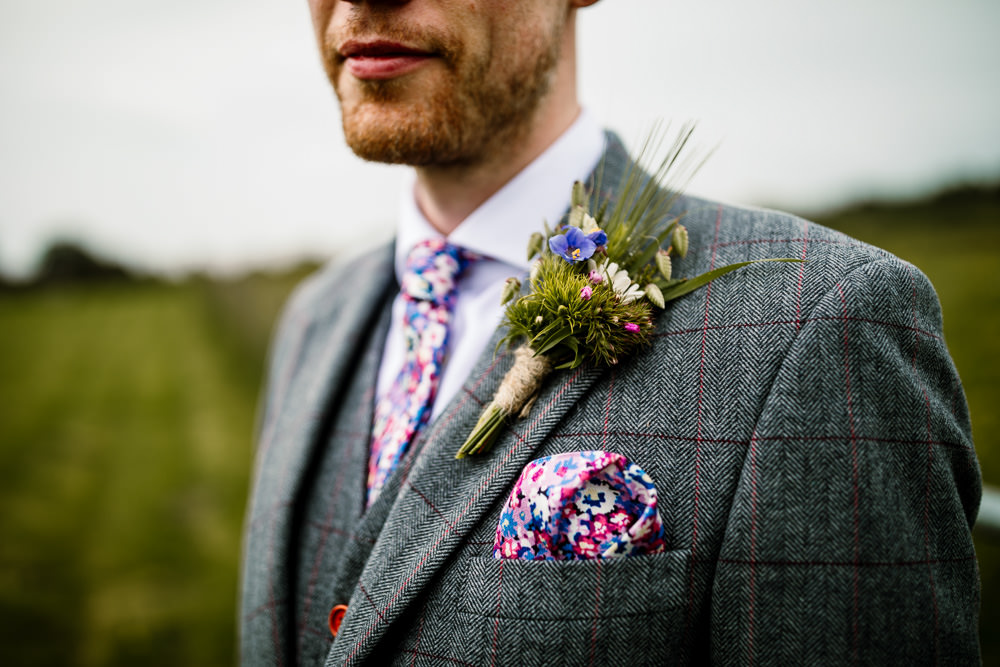 Your Outfits & Accessories
I bought my dress back home in Sheffield from Emily Bridal with the help of my mum and maid of honour. I was lucky enough to find a sample Rebecca Ingram dress that I loved and was able to get it at a really good price. My veil was from Elizabeth Dickens. As the dress was a sample it needed a lot of alterations to make it fit so I took it to one of the shop's recommended tailor's Vyn Johns who I could not recommend more highly. Vyn was absolutely lovely and worked his magic for a really reasonable price despite needing lots of fittings!
The choice of wedding shoes on the high street wasn't great so I ended up buying mine online. I didn't want to spend a lot on shoes as I had a feeling they would be trashed by the end of the night. I managed to find a nice pair of heels from Rainbow Club on eBay which were a bargain and went well with my dress.
Steve wanted a tweed suit and after looking online there didn't seem to be many places that offered what he wanted for a price we could afford. He was so happy when he found Vintage Suit Hire and after one visit to their shop in Bedford whilst visiting one of his best men he chose the Harrogate Grey three piece suit for himself and his two best men. Steve and his best men wore matching floral ties and pocket squares from Charles Twyritt and he wore brown brogues from Silver Street London. Steve also surprised his best men on the morning of our wedding with vintage pocket watches engraved with their initials which looked great with the waistcoats.
The Readings & Music
We had two readings which were read by my bridesmaids. We chose – 'A lovely love story' by Edward Monkton and a passage from the Velveteen Rabbit by Margery Williams.
I am lucky enough to have a brother who plays the bagpipes so he piped us out of the barn in style while the confetti was thrown.
We booked a wedding band – Wonderfolk who played three sets in the evening. We were able to give them a list of songs we wanted them to play from their repertoire and they even learnt a new song for our first dance. They were absolutely fantastic and created a great atmosphere keeping everyone dancing right up until the last song at midnight.
The Details & Décor
We tried to keep costs down by making as much of the decoration as we could ourselves. We used a wooden planter with flowers in for our table plan and stuck in cards with everyone's name on. I also bought a chalk board and used chalk board pens to create a welcome sign for the entrance. I decorated various jars with twine and ribbon and used these for flowers and candles. We had plenty of flowers so we dotted the jars around the barn and decorated the end of each aisle for the ceremony. We used log slices for the centre of each table with jugs, milk churns and jars with flowers and candles. My mum also made some table favours with home baked Scottish tablet. The wedding invites, name cards, order of service and cards sign were also handmade. We had planned on making our own bunting but found some cheap on eBay which we used to decorate the marquee and outdoor area.
Our guestbook was bought on Etsy and we left out Instax cameras so that people could stick pictures in with their messages. We also filled up big jars of sweets and popcorn for people to nibble on throughout the day.
Your Photographer
We chose Hayley to photograph our wedding for her relaxed style and ability to capture the landscape as well as all of the important moments throughout the day – and she certainly didn't disappoint! We absolutely love our photos and have had lots of lovely comments about them! Hayley is such a lovely, warm person it helped to make us more comfortable about having our pictures taken. She was a true professional – even carrying around my lipstick and fishing out confetti petals from the lace in my dress on top of taking amazing pictures.
The Flowers
Our flowers were supplied by Rachel Dyson (Hollow Meadows Flowers). Rachel provided seasonal wildflowers grown on her farm and they fitted our theme perfectly. She made up the bouquets, button holes and corsages and provided some DIY buckets of flowers which we arranged ourselves to make the table centrepieces etc. This was good fun and really helped keep the cost down. Rachel also provided dried petal confetti which was lovely and also eco-friendly.
Beauty
My hair was done by Rachel Miller. She was incredibly helpful even before we met and answered all my questions quickly through email. At my trial she listened to what I was looking for and really quickly found a style I loved! Rachel had a lovely warm personality which made her a pleasure to have around on my wedding morning and she had everything in hand – also doing my mum's hair and three bridesmaids beautifully!
My makeup was done by Jessica Goodall. Having very fair skin, I was quite worried about having my makeup done as it can be very obvious if I put on a foundation that doesn't match. Luckily, Jessica managed to get it just right and although it was a lot more make up than I would normally wear it didn't look cakey or over the top in the photos! Jessica also created lovely looks for two of my bridesmaids and my mum.
Bridesmaids
My three bridesmaids wore blush pink gowns from Wed2Be which worked well as the girls were able to choose from different styles.
The Cake
The cake was a wedding present from my auntie and uncle and was created by the incredibly talented Karen Reynolds. It was a semi-naked cake with sugar flowers to match our wildflower theme.
The Honeymoon
We were a little unfortunate as we had booked a trip to Sri Lanka leaving on the Monday after the wedding but unfortunately due to the terrorist attacks we were forced to cancel it at the last minute. We ended up booking a trip to Bali instead so can't really complain too much!
Memorable Moments
There were loads of really memorable moments – the speeches were a particular highlight. My maid of honour's speech was in the form of a poem which she had written for me. My auntie joined the band on stage for a surprise solo and kicked off a fantastic evening party. We also had some nice moments of quiet away from the party when our photographer took us for photos on the Otley Chevin.
Advice For Other Couples
Enjoy your day – it will fly by! We didn't have a videographer for our day but if I were to do it again I would have asked someone to film the speeches (even if just on a phone) as I would have loved to have watched them again!
Credit Where Credit Is Due
So rustic and beautiful.
Kirsty and Steve, thank you so so much for sharing your darling wedding story with us xo Lou