Wedding themes come in all shapes and sizes. No matter your personal style you can be sure to find your perfect wedding theme today. We have featured thousands of real weddings on Whimsical Wonderland Weddings, and we've seen every kind of wedding theme you can think of.
Wedding Themes
The sky is the limit when it comes to choosing your wedding day themes or style. Ditch any wedding rules or traditions holding you back and go wild. Here's my round-up of the top wedding themes around right now.
Rustic Wedding Theme
Rustic weddings have been popular for a number of years. Consider wooden elements, barn wedding venues and natural materials such as hessian and twine. Think bringing the outdoors in and you will have this wedding theme nailed.
You could use a log stump for your cake stand or kit out the gents in tweed suits. Be proud of the less than perfect mismatched elements of your day.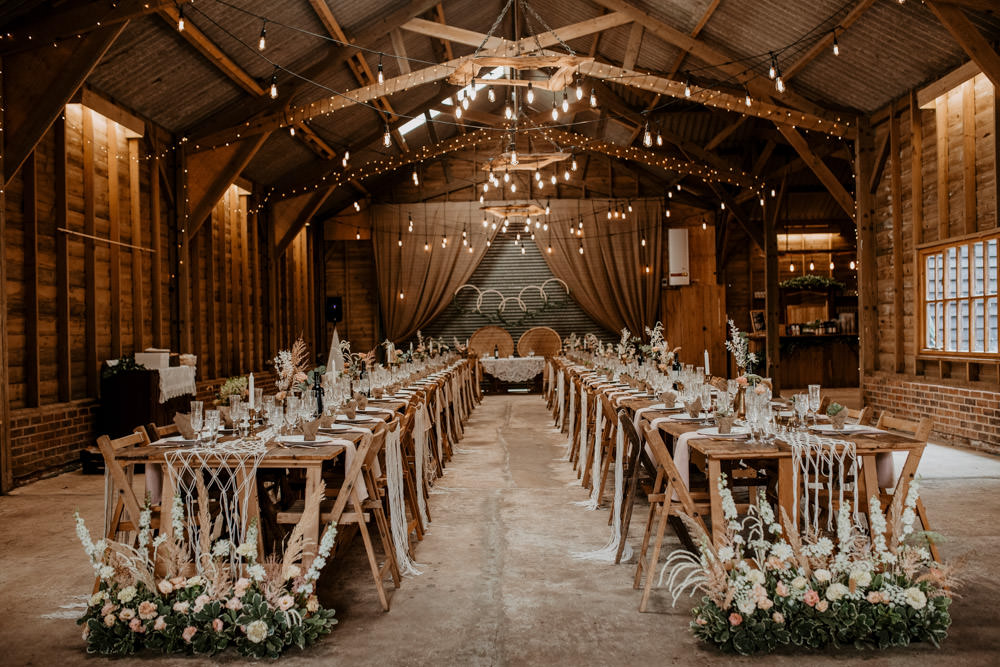 Image by Camilla Andrea Photography
Pretty Wedding Theme
For a pretty wedding theme think about using delicate colours; pastels and metallics work well in this wedding theme. Wedding flowers can add a lot of pretty, as can floral stationery, intricate wedding dress fabrics and twinkling wedding lighting.
Image by Honey and the Moon Photography
Alternative Wedding Theme
If you are an alternative couple, be sure to let your personality shine. Don't worry about expectations and let your creativity be unleashed.
When it comes to having an alternative wedding, think about quirky venues; museums, warehouses or campsites can be a good starting point. Unconventional outfits, quirky accessories and daring hair and make up are in.
Make sure you feel like you on your wedding day. Smoke bombs, neon lighting and rainbow colour schemes can all be great fun.
Image by Kazooieloki Photography
Classic Wedding Theme
For a truly classic and timeless wedding theme go for a traditional venue. Classic weddings have an elegance about them, with coordinated colours, chic attire and simple decoration.
The focus is on the ceremony and the marriage rather than a true wedding theme.
Image by Jacob & Pauline Photography
DIY Wedding Theme
DIY wedding themes may not necessarily save your wedding budget from spiralling but it rather allows you to really express your creativity and craftiness. If you have a passion perhaps for sewing, up-cycling, gardening, baking, calligraphy or painting, then turn your skills into unique wedding décor.
Make your own wedding favours, craft your own wedding guest book or grow your own wedding flowers. The possibilities are endless and you can also rope in your loved ones to join in the communal crafty fun.
Image by Emily & Steve Photography
Modern Wedding Theme
If you are considering a modern wedding theme keep everything paired back, simple and sleek. Take inspiration from Scandi style, minimalist decoration and clean lines.
Think about venues such as art galleries or marquees for a truly blank canvas. Or if you dream of a city wedding then check out modern spaces like pubs or bars. Being a modern couple is all about embracing new traditions rather than the traditions of old. It's not always about a certain look, but rather a vibe of the day itself.
Thinking about modern wedding readings and wedding songs can also add a contemporary feel to your wedding theme.
Image by Andrew Brannan Photography
Outdoor Wedding Theme
Outdoor weddings in the UK have become more and more popular over the past tweleve years since I've been in the world of weddings. Thinking of holding a humanist wedding complete with woodland ceremony or would love a beach wedding? There are so many options available.
Always have a backup for uncertain weather conditions. Wedding marquees and tipis are a great option to protect you and your guests from the elements. Campfires, s'mores, glamping and food trucks are all great ways of enjoying the great outdoors on your wedding day.
Image by Elaine Williams Photography
Vintage Wedding Theme
If you have a love of history and past eras then a vintage wedding may be for you. Think about finding original vintage outfits, a historic venue or take inspiration from eras. You could go glam with a sparkling 1920s wedding or bohemian beautiful with a 1970s wedding vibe. Such fun!
Image by Oxi Photography
Distinct Wedding Themes
Here are some more distinct wedding themes if you are looking for a really particular theme for your wedding. When thinking of wedding themes I would advise you to think about your loves, your hobbies and your interests. Then you will really narrow down your options.
Botanical Wedding Theme
Botanical weddings have really seen an increase in popularity of late. Think an abundance of greenery, lush garden venues or conservatories. You can also include décor such as succulent favours, houseplants from your own home or specially designed wedding stationery.
Image by Caitlin and Jones Photography
Festival Wedding Theme
Over the past few years, festivals have exploded into a must-have for your summer diary. Well, they've also been pretty popular in the wedding industry too. I have featured a lot of festival weddings here at WWW.
Weddings inspired by Glastonbury, featuring live music, wrist bands, camping and even glitter make up bars. Go bold or go home with this wedding theme.
Image by Chloe Lee Photography
Rainbow Wedding Theme
Gone are the days of matchy wedding themes, think all the colours of the rainbow and you are onto a winner. I love featuring rainbow weddings, it's always such a fun wedding theme where you can be really vibrant.
Dress your wedding party in rainbow tones, you could include colourful balloon installations or even rainbow bouquets too.
Image by Stevie Jay Photography
Christmas Wedding Theme
Who doesn't love Christmas weddings? So cosy, romantic and festive. Plus it is always a lovely time for celebration and coming together. You don't need to go all-out kitsch on the decorations but simply embrace winter.
Add touches such as candlelight, bauble favours, mistletoe and glittering decorations.
Image by Thyme Lane Photography
Eco-Friendly Wedding Theme
I am not sure if you would call an eco-friendly wedding a theme as such. But if the environment and sustainability are important to you, it's totally possible to host a wedding which is kind to the planet.
Also consider having an ethical wedding if you really want your wedding to make a positive impact. Having an eco-friendly wedding doesn't mean you need to sacrifice style, you can up-cycle, reuse and recycle where possible. Buying pre-loved outfits or renting décor are also simple ways to make a difference.
Image by Chris Bradshaw Photography
Literary Wedding Theme
Literary weddings are some of the sweetest. Weddings inspired by books or perhaps a particular story can really create a meaningful wedding theme. From Harry Potter weddings to weddings held in libraries, you can really have fun with this theme.
Image by Will Patrick Photography
Bohemian Wedding Theme
Bohemian weddings have been everywhere recently. Whether inspired by the 1970s or festivals I love them. Include dried flowers or pampas grass, macramé wedding décor and relaxed outfits in neutral tones.
It's all about creating a free-spirited vibe and a relaxed atmosphere.
Image by EKR Pictures
Travel Wedding Theme
If you have a love for travel, how about a travel wedding theme? You could use maps, transport logos and cute luggage tags in your décor. How about holding your wedding at a steam railway or having unique wedding transport like scooters or bicycles?
Image by Paul and Tim Photographers
Other Wedding Themes
Also think about wedding themes involving sport, animals or even your favourite TV shows. Add elements from your favourite things by naming your wedding tables after them or subtle nods to your decorations.
Personalising your wedding after all is the most important thing to ensure your wedding theme shows exactly who you are as a couple. Have fun and happy wedding theme planning guys!