It can be painful part to think about your wedding missing someone you loved so much. However, I know you are looking for a touching and special way to honour your lost loved one.
By creating a wedding memory table, not only will you commemorate their life but it will allow you to have them a part of your day.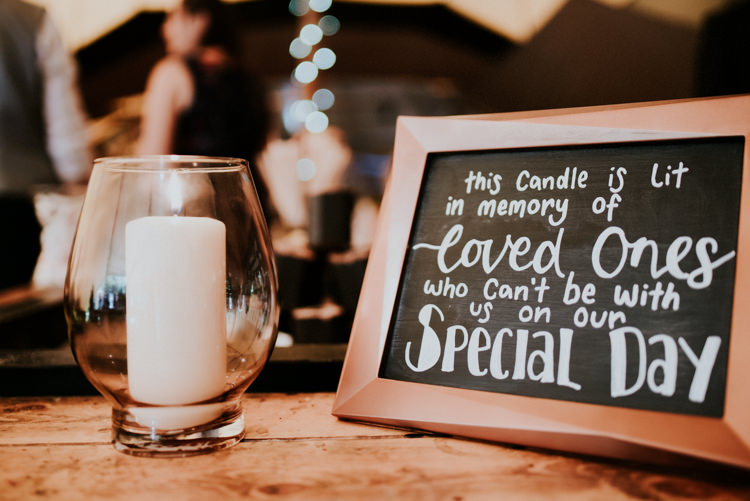 Photo: Shutter Go Click via Tipi Camp Wedding
Sentimental Wedding Memory Table Ideas
It can be tricky to find ideas for a wedding memorial, but I am here to share some real-life examples from lovely couples featured in our real weddings.
Here you will find sentimental and beautiful ways to ensure your loved ones' memory lives on in your day. And in your wedding photos forever. Plus I will also share some places to find gorgeous memory signs, candles and other touches to make it as easy as possible for you.
Finally, I am going to share some memory table alternatives, just in case you feel a table isn't the right fit for your day.
Wooden Pallet
A memory table shouldn't break the bank. Collect special photos from your home, pick up a free wooden pallet and write a special message.
Photo: Maureen du Preez via South Ayrshire Wedding
Take A Shot
Creating an experience is a lovely way to remember a lost loved one. It's comforting to know guests will pause for a moment in their own time to make a toast.
Photo: Emma and Rich via Cowshed Woodhall Farm Wedding
Pet Memorial
Our beloved fur babies are a massive part of our lives. So don't be afraid to include your lost pets in your wedding day if you so wish to include them.
In fact, this blog post was inspired by the loss of my pet cat Eva after looking for a suitable way to commemorate her in our home.
Photo: Dani Nicole Photography via Cedar Creek Ranch Wedding
Memory Tree
For a really special idea, how about a memory tree? Use real or artificial branches then hang tags or labels from them.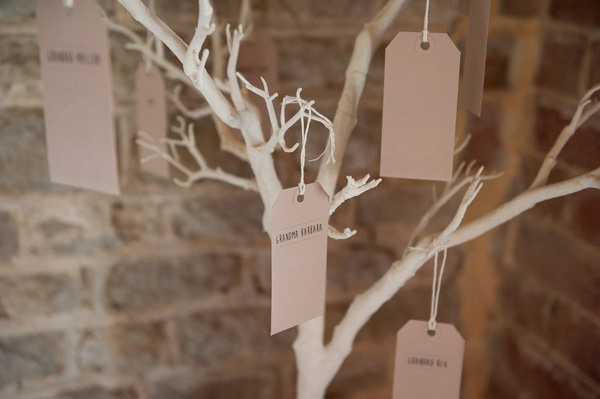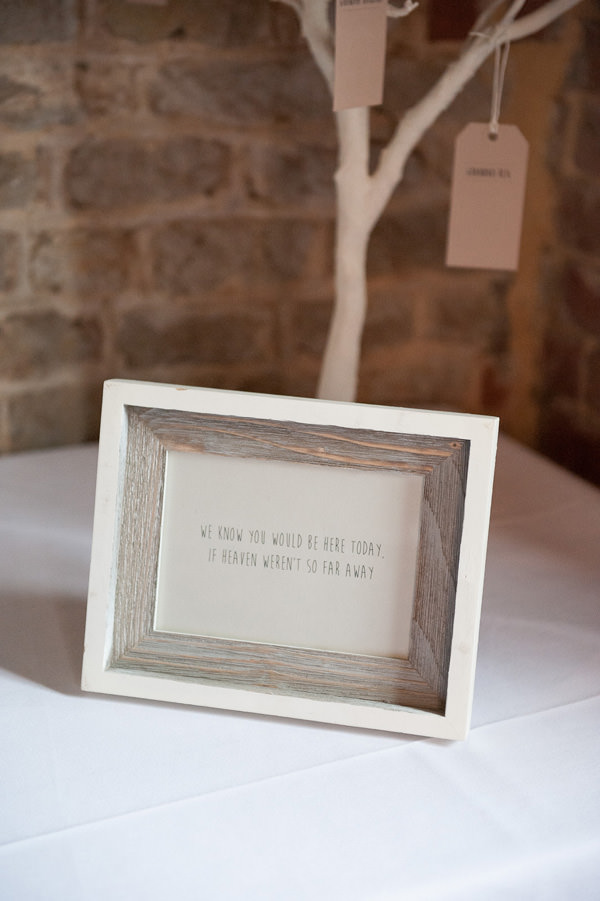 Photo: Fiona Kelly Wedding Photography via Pretty Pink Floral Country Garden Wedding
Pegs & Twine
Buy or create a frame, then string special photographs with twine and mini pegs.
Photo: Nikki's Moments via Fresh Modern Countryside Outdoor Wedding
Fairy Lights
Create an illuminated memory table with fairy lights and even shaped lights. Add a sign and flowers so guests can pay their respects.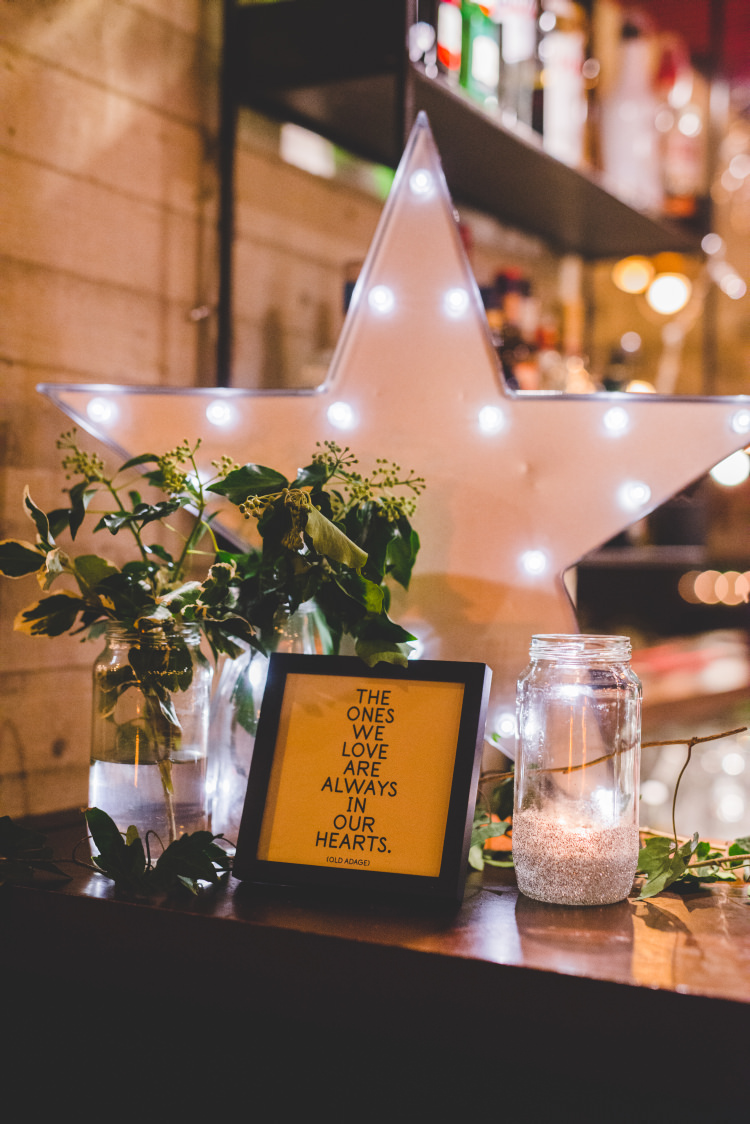 Photo: Emma Hillier Photography via Autumn Garden Book Wedding
Love Quote
Try finding a suitable quote that resonates with you. Words can really mean so much and if you find the right ones, they can really make a special moment.
Photo: Miss Gen Photography via Fun London Wedding
Candlelight Tray
For a subtle, understated memorial. Create a candlelit tray to add to a mantlepiece or windowsill, then add your photographs.
Photo: Matt Austin Images via Opulent Eccentric Berry Gold Wedding
Literary Sign
Take inspiration for special words for a memorial sign, from books or films.
Photo: Photography34 via Train Station Harry Potter Wedding
Simple Gallery
For a simple memory table, simply displaying photos could work for you and your day.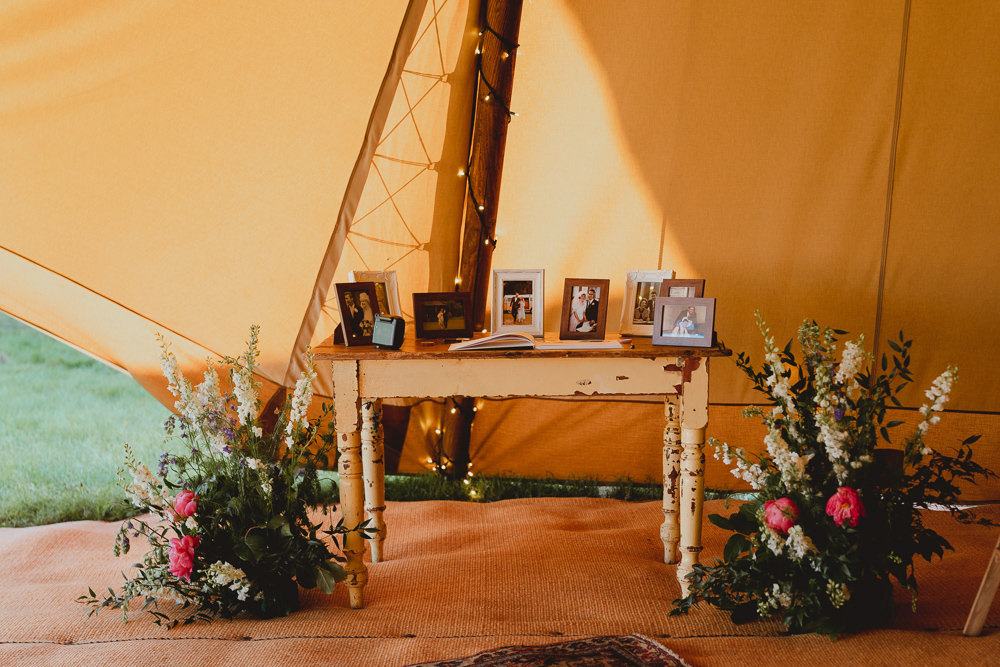 Photo: Georgia Rachael via Spring Meadow Wedding
Themed Sign
Don't forget that you can incorporate your wedding theme into your memory area. Using coordinating stationery can work beautifully.
Photo: Bai & Elle via Tipis Riley Green Wedding
Log Slice & Flowers
This rustic log slice not only would look stunning on your day but would make a special keepsake post-wedding too.
Photo: Beauty & Beard Photography via Farm Wedding Washington
Wooden Drawers
Display special photos and words in a piece of furniture such as these drawers.
Photo: Kirsty Mackenzie via Colourful Outdoor Tipi Farm Wedding
Personal Labels
For guests that didn't know your loved one, you could think about adding a simple label to any photos you share.
Photo: Kerry Ann Duffy Photography via Classic Romantic Pretty Wedding
Candle Quote
Taking a glass lantern and adding words is such a gorgeous way to commemorate your loved one.
Photo: Victoria Mitchell via Lusty Glaze Beach Cornwall Wedding
Memory Poem
Incorporating a poem is a lovely way to make a dedication to a loved one. You could even write your own original poem.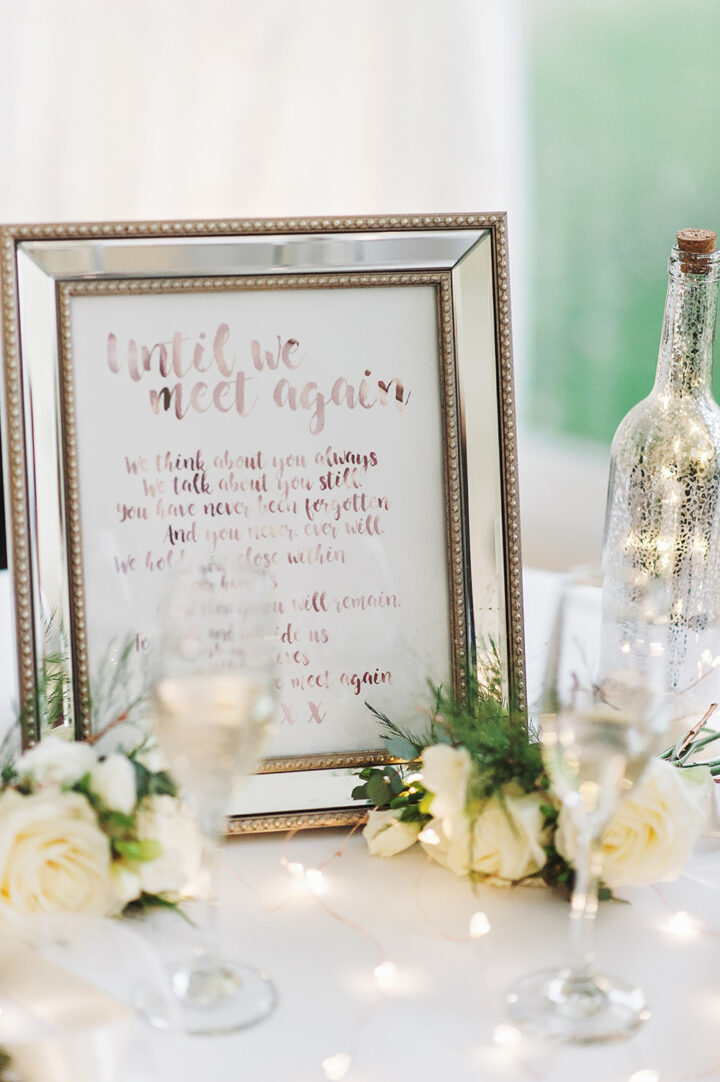 Photo: Darima Frampton Photography via Edmondsham House Wedding
Candle Flower Arrangement
How about using a special flower arrangement to nestle a candle within ready to light when you are ready?
Photo: Honey And The Moon Photography via Northern Ireland Restaurant Wedding
Pretty Wooden Ladder
Paint a wooden ladder and add coordinating signs and flowers to remember your loved ones.
Photo: Gemma Giorgio via Cream Blush Wedding
Candle & Sign
Lit candles and a meaningful sign will make for a really lovely way to honour your cherished loved one.
Photo: Rebecca Douglas via DIY Peach Mint Wedding
Gilded Frames & Flowers
Choosing beautiful frames will really make your wedding remembrance table look stunning.
Photo: Scuffins Photography via Whimsical Floral Blush Grey Wedding
Special Pieces For Your Wedding Memorial
Allow me to share some beautiful decor items you could consider including on your wedding day.
→ This post contains affiliate links, which means I may earn a commission if you make a purchase – at no additional cost to yourself.
This wonderful memory art piece will really create a meaningful display.
By Everbubbles
Buy a special wooden sign to add to your remembrance table.
By MantaMakesLtd
For a contemporary look, this acrylic sign looks really special.
By PinkPosiesandPearls
Find a special quote sign and display it on your wedding table.
By WeddyTags
I've bought this rainbow glass ornament to remember our cat, we are adding her name to it. Wouldn't it look lovely on a wedding table too?
By GlassbyDebbie
Whether you light this personalised candle during your ceremony or reception, it's sure to be a special moment.
By SimplyUniqueUk
Honour your loved one with a gorgeous wooden candle holder.
By PurelyPlaques
Alternatives To Memory Tables
There are many other ways to remember a lost loved one in your day besides a table set up. They could be intangible elements or touches that are invisible to your guests such as:
Choosing a wedding reading which is of importance to you
Opt for a special song choice
Create your wedding theme around a lost loved one's favourite book
Use your loved ones' favourite flower in your arrangements
Incorporate favourite food and recipes
Commemorate your loved ones in your speeches, order of service stationery or in the toasts
Have charity donations instead of wedding favours
Add custom stickers to the sole of your shoes
Put wording embroidery in your attire
Reserve a seat for your loved on at your ceremony
Add a photo locket/brooch to the bouquets
Have your portrait taken as you hold your loved ones' photograph
Light a scented candle with a scent that reminds you of them
Use a wedding day perfume that evokes their memory
❤️ What Is A Memory Table At A Wedding?
A wedding memory table is a special place to create a memorial for loved ones that can't be there to share your special day.
💕 Who Do You Include On A Memory Table At A Wedding?
It really is a personal choice who you include on your wedding memory table. If in doubt, perhaps have a chat with your partner and your closest loved ones. That way you can work out who is most appropriate to include if you are unsure. You could include a family member, friend or pet.
Hopefully, you know know how you wish to mark the absence of your loved one, have inspiration for your memorial table and have some places to source your special touches.
From the bottom of my heart, however you choose to honour your lost loved one. I really hope they stay close to your heart throughout your wedding planning and wedding day.
Sending much love and virtual hugs if you need them.