At the beginning of your wedding planning journey, or newly engaged? Then I am sure you are here looking for unique and original wedding ideas to start you off and get your creative juices flowing.
That's where I come in. Having published in excess of 3,500 real weddings and over 200,000 wedding images as a wedding editor. You could say I've seen a wedding idea… or two!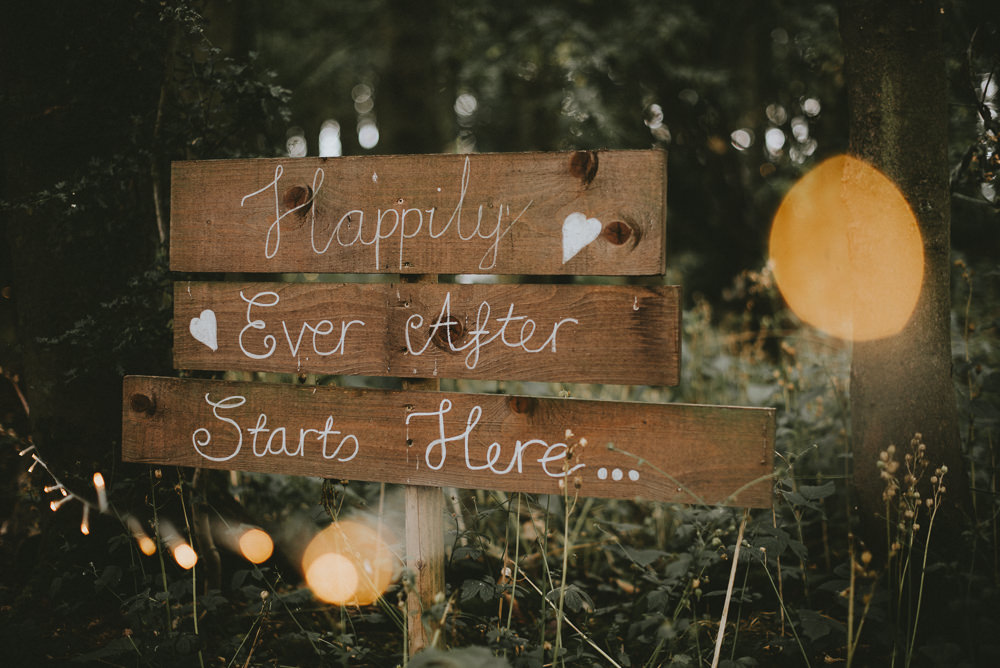 Photo: Flawless Photography via Applewood Woodland Wedding
The Best Wedding Ideas EVER
Let's time to look at some of the most ingenious ideas I've seen at weddings I've published here at WWW. Not all the ideas are tangible or decor based, but some are concepts and unconventional notions to consider.
As you go through these options, take note of the ones that resonate with you, bookmark this page and share the link with your love.
Then I will share:
1. Create Favours For Pets
Did you ever hear of a cuter idea? So many people now have pets and if your guests do they will be delighted to see you've given their fur baby a special treat.
Photo: Tasmin May Photography via Crown Lodge Wedding
2. Use Disco Balls
Disco balls are a huge interiors trend right now, so bring them along to decorate your day.
Photo: Michelle Huggleston Photography via Disco Ball Wedding Inspiration
3. Host A Fish & Chip Supper
Get your local chippie to deliver a fish and chip supper for hungry evening guests. Yum!
Photo: Photos By Hash via Beer Garden Wedding
4. Create A Custom Guest Guess Who Game
This couple created their very own wedding guest guess-who game. Such a great keepsake for post-wedding memories too.
Photo: Livvy Hukins via Travel Theme Wedding
5. Put On A Glitter Station
Allow your guests to cover themselves in glitter as the evening party commences. Try to source biodegradable glitter make-up to keep your day as sustainable as possible.
Photo: Burfly Photography via Tropical Luxe Wedding
6. Find Mismatched Vintage Chairs For Your Ceremony
Guess what? You don't have to match all your decor, these mismatched wedding ceremony chairs demonstrate that perfectly.
Photo: Babb Photo via Indie Back Garden Bespoke Party Wedding
7. Hang Streamers In Your Venue
Streamers are just about the coolest wedding decoration around right now, they create a lot of impact too.
Photo: Louise Barry Photographer via Streamers Wedding Decor
8. Tie Greenery To Wedding Chairs
A simple sprig of greenery will add scent and colour to plain chairs.
Photo: HannaMonika Wedding Photography via Crete Wedding
9. Put Guest Photos On A Table Plan
Instead of writing names on your table plan, use guest photos for a fun touch.
Photo: When Charlie Met Hannah via St Tewdrics House Wedding
10. Provide Garden Games For Quiet Times
There are always quiet times during weddings, for example, when you are off having your wedding photos taken. To keep guests entertained put out garden games for a spot of entertainment.
Photo: Rebecca Carpenter Photography via Hoop Decor Wedding Ideas
11. Swap Dessert For A Sweet Grazing Table
Savoury grazing tables have been huge, but how about a wedding sweet table laden treats for pudding?
Photo: Katherine Ashdown Photography via Holkham Hall Wedding
12. Display Stars On Your Venue Ceiling
Recreate the night sky in your reception room with twinkling lights and beautiful starry shapes.
Photo: Toast of Leeds via Homegrown Community Wedding
13. Dance Under Origami Adorned Trees
What's more romantic than a first dance, beneath an origami-adorned tree come evening? It's like something out of a rom-com!
Photo: Janice Yi Photography via Origami Marquee Wedding
14. Choose A Confetti Person
For those with a sense of humour, why not create a confetti person wedding role?
Photo: Victoria Mitchell Photography via Milling Barn Wedding
15. Decorate A Wooden Ladder With Sentimental Items
Wooden ladders are a great versatile decoration display. They don't need much floor space and can be reused for years to come.
Photo: Mia Photography via Stylish Rustic Wedding
16. Opt For A Wedding Cake Each
What's better than one wedding cake? Two of course! Have one each and choose your favourite flavour, before cutting your own bake later on.
Photo: Victoria Baker Weddings via Intimate Garden Wedding
17. Create A Washing Line Inspired Garland
I think this washing line style garland is such a unique idea that's super easy to recreate. What else could you hang from a line above your table?
Photo: Eneka Stewart via Old English Wedding
18. Send Wedding Invitations That Are Reversible
A great sustainable wedding idea for you! Wedding stationery that can also be used as a print when reversed, framed and hung in your guests' homes. Genius!
Photo: Tom Halliday Photography via Art Wedding Ideas
19. Collect Gin Bottles To Use As Vases
There are many different, free and eco-friendly vase alternatives for wedding flowers. If you love a tipple, collect colourful gin bottles to use as your centrepieces.
Photo: Emma B Photography via Spring Cottage Rivington Wedding
20. Do A First Bounce
If dancing just isn't your thing and the thought of a first dance has you sweating. Think about an alternative such as a first bounce like this couple.
Photo: Marianne Chua Photography via Chainstore Wedding
21. Hold Your Wedding At Brunch With A Breakfast Menu
You don't have to have your wedding at a certain time if you don't want to. If you love brunch, why not have an early wedding and treat guests to a delicious breakfast meal?
Photo: Jeannine Marie Photography via Floral Minneapolis Wedding
22. Give Bridesmaids Wrist Bands Instead Of Flowers
Wedding flowers are gorgeous, but they can work out expensive if you are on a budget. This couple made cute personalised wristbands as a bridesmaid gift that looked amazing too.
Photo: The Chamberlins via Marquee Wedding Home
23. End The Day By Skinny Dipping
Is your wedding by the beach, a river or a swimming pool? Don't be afraid to jump in at the end of the day for an epic memory-making moment like the couple below.
Photo: Joshua Patrick Photography via Waxham Great Barn Wedding
24. Give A Photography Workshop For Kids
It's a good idea to think of ideas to keep the children at your wedding entertained and involved. I love how this couple put on a photography workshop, so sweet!
Photo: Emma B Photography via Spring Cottage Rivington Wedding
25. Ask Your Guests To Perform
At the wedding below, the couple asked guests to do a song or dance in the evening. Asking guests to get involved brings everyone together and a sense of involvement. I'm sure there were some great laughs as well.
Photo: Lyndsey Goddard via Barbican Conservatory Wedding
26. Hang Wallpaper As Your Backdrop
Wedding backdrops don't have to be expensive. Using fabric or even wallpaper in a gorgeous pattern can be striking.
Photo: Laura Martha Photography via 1970s Retro Wedding Ideas
27. Make Tea Towels With Guest Faces For Your Favours
Remember those school days when you drew a self-portrait and your whole class was turned into a tea towel? It's a great keepsake to look back on, so how about creating a memory wedding tea towel?
Photo: Livvy Hukins via Travel Theme Wedding
28. Up The Dancing With A Silent Disco
Silent discos are great for a few reasons:
Less noise disruption for neighbours
Ideal for venues with sound limiters/curfews
Perfect for guests with varying music tastes
Photo: One Thousand Words via Sopley Lake Wedding
29. Ask Guests To Sign A Quilt
I've featured weddings where guests have been asked to sign quilts, benches, surfboards, records and more. It's so fun to think of an object to sign for your guest book that's representative of who you are. Plus it will get used after your wedding day too.
Photo: Wyldbee Photography via Homemade Wedding
30. Send Save The Date Boxes
It may not be achievable to send out gift boxes to all your guests, but for your close wedding party, it could be fun to send out special treats.
Photo: Maribel Farina Photography via Art Painting Wedding Ideas
31. Put On A Bake Off Competition
If you are a fan of The Great British Bake Off, what better way to celebrate your love of cake than with a bake-off? Here's how to pull it off:
On your invites ask guests to bring a bake to take part in a contest
Create a table with an instruction sign
Provide labels for entrants to add the flavour and dietary information
Judge the contest together after dinner
Award the winner(s) with a certificate or prize
Open the table for all to tuck in
Photo: Kate McCarthy Photography via Home Manchester Wedding
32. Put Up Festival Letters In Your Name
Festival lover? Recreate the fun, with your very own personalised festival letter decor.
Photo: Oobaloos Photography via Whimsical Romantic Festival Wedding
33. Swap Glasses For Thrifty Jars
Jars are so easy to collect for free! Why not personalise them and give them to guests to use throughout your wedding day?
Photo: Jess Soper Photography via Red Brick Barn Wedding
34. Do The Speeches Before The Meal
If you or your guests are nervous about giving their wedding speech, why not bring them forward? There are no rules as to when you should host speeches, but having them before the meal means everyone can enjoy the feast without any nerves.
Photo: Sally T Photography via Castle View Wedding
35. Don't Like Veils? How About A Bridal Cape?
Bridal capes are so beautiful and add something extra to a bridal outfit.
Photo: Olivia Yuen Photo via New Orleans Micro Wedding
36. Make Wool Pom Poms For Your Decor
Wool pom poms are a great little decor item that can be used in centrepieces, in garlands or even as a chair decoration. They are so easy to make too! I added my own homemade pom pom garland to my bouquet.
Photo: John Wellings via Woodhouse Barn Wedding
37. Say Your Vows In A Circle Ceremony
Wedding ceremony seating can be more intimate and involved simply by arranging seats in a circle around you.
Photo: Jonny Barratt Photography via Cotswolds Garden Wedding
38. Take Inspiration From Your Career
Any guesses of the couple's profession from the image below? Think about using your career as a sentimental wedding theme.
Photo: Adam and Grace via Tullyveery House Wedding
39. Make A Pick n' Mix Confetti Bar
Confetti is such a fun part of a wedding, so how about making a pick n' mix station for guests?
Photo: Darina Stoda Photography via Stubton Hall Wedding
40. Choose Unique Table Names
Wedding table names can be fun. You don't need to have numbers and it's a great way to nod to a hobby without going all-in.
Photo: Maureen du Preez via South Ayrshire Wedding
41. Craft A Cut Out Photobooth Frame
Photo booths are great fun, so how about making your own props or a cute cutout frame?
Photo: Amy Chapple Photography via Beaconside House Wedding
42. Have A Live Painter Paint Your Day
How amazing would it be to hire an artist to paint your wedding ceremony as the ultimate artwork for your newlywed home?
Photo: Pablo Laguia via Espacio Chechen Wedding
43. Provide Flip Flops For Dancing
Many guests wear heels to weddings. One of the problems though is sore feet by the end of the day. The last thing you want is an empty dance floor. So you could provide flip flops (that guests can keep and reuse) or encourage barefoot dancing if your dancefloor is clear of any drinks.
Photo: HBA Photography via Calke Abbey Wedding
44. Consider Bouquet Alternatives
Bouquets don't have to be floral, try tambourines, hoops, wrist corsages or pin badges for something really original.
Photo: Sian Richardson via Forest Lodge Weddings
45. Lay Out Tables In A Long Curve
If you have space, think about laying out tables in a unique way such as a long curve.
Photo: Debs Alexander via Boconnoc Wedding
46. Design A Hoop Table Plan
Sometimes the best wedding ideas are the simplest! Such as with this table plan I featured that went crazy on Pinterest.
The couple bought wire hoops and added greenery, lettering and paper tags for a stylish seating chart.
Photo: Darina Stoda Photography via Stubton Hall Wedding
47. Allow Guests To Make Their Own Flower Crown Or Buttonhole
If your budget doesn't stretch for flowers for all, then make a DIY flower crown or buttonhole station for guests.
Photo: One Thousand Words via Sopley Lake Wedding
48. Put Drinks In A Painted Bath
Want to keep drinks cold and looking stylish? Upcycle an old bath, fill it with ice and add your drinks.
Photo: Georgia Rachael via Fishley Hall Wedding
49. Bring Your Pet To Your Wedding
Over the years, I've seen more and more couples bring along their pet to their wedding. Or have photos with their pet at home before the ceremony. So cute!
Photo: Olegs & Rita Photography via Old Kent Barn Wedding
50. Hire Surprise Singing Waiters
For an unexpected and fun wedding meal, hire singing waiters for a good old sing-song.
Photo: Firewood Film via Fun Colourful Barn Wedding
51. Choose Meadow Flowers
Bring your wedding flowers to the floor for a magnificent display.
Photo: Katherine Ashdown Photography via Barnston Lodge Wedding
52. Transform A Wooden Pallet Into A Sign
Wooden pallets are a massively versatile item for wedding decor. For a rustic wedding idea though, they make the perfect wedding sign.
Photo: Livvy Hukins Photography via Moors Valley Country Park Wedding
53. Choose Floating Candles
Floating candles are so pretty and atmospheric when lit in the evening.
Photo: Danielle Leslie Photography via Netherdale House Wedding
54. Customise Your Favourite Shoes
When it comes to shoes, you don't have to have to buy a pair of wedding shoes. You can decorate and personalise a favourite pair a la The Father Of The Bride!
Photo: Maddie Farris Photography via West Yorkshire Hall Wedding
55. Have A Post Box For Cards
Having a wedding post box for cards is a great idea. Not only does it keep cards secure but guests have no doubt about where to put them.
Photo: Lisa-Marie Halliday Photography via Beauvale Priory Wedding
56. Use Luggage Tags As Place Names
Luggage tags look really cute used as place name cards.
Photo: Paul Underhill from Knighton House Wedding
57. Provide A Relaxing Seating Area
It can be nice to create a peaceful seating area for guests that want to chill rather than get involved in the dance floor shenanigans.
Photo: Golden Vibes Photo via Magical Fairytale Wedding Ideas
58. Upcycle Furniture For Displays
Find an old and tired piece of furniture and give it a new lease of life for your wedding day.
Photo: Emily + Katy Photography via Creative Village Hall Wedding
59. Design Your Own Wedding Newspaper
How fun is the idea of having a wedding newspaper? Add your story, fave photos and even quizzes or crosswords.
Photo: Three Flowers Photography via Modern Pub Wedding Ideas
60. Opt For A Savoury Cheese Cake
Not everyone has a sweet tooth. If you aren't partial to cake, don't feel like you have to have one. I've seen so many couples have a cheese wedding cake or even a pork pie cake.
Photo: Kim Williams Weddings via Bright Barn Wedding
61. Decorate Chairs With Ribbons
Adding ribbons to chairs is such a simple yet effective idea to level up your decor.
Photo: Fiona Kelly Photography via DIY Tipi Wedding
62. Put A Secret Sole Message On Your Shoes
Why not write a personalised message on the bottom of your shoes to add a little personality?
Photo: Bubear Photography via Farmhouse Redcoats Wedding
63. Lego Can Be A Fun Wedding Addition
You can add lego to buttonholes, place settings or even as your wedding cake topper.
Photo: Daniel Lightening via Hush Wedding Venues Norfolk
64. Ditch The Dress
Don't feel like you have to don a dress. Jumpsuits, trouser suits or skirts can be great attire for brides and bridesmaids.
Photo: Lauren Marchant Photography via Trafalgar Tavern Wedding
65. Take Guests On A Boat Trip
Travel in style from ceremony to reception via boat or train.
Photo: Sasha Weddings via Bingham Riverhouse Wedding
66. Have An Owl Ring Bearer
Imagine an owl sweeping down the aisle to deliver your rings. So magic!
Photo: Electric Blue Photos and Film via Cider Barn Wedding
67. Give Out Hot Chocolate
If you are having a winter wedding, what's better than a hot chocolate treat?
Photo: Alexa Frankovitch Photography via Pittsburgh Fall Wedding
68. Don't Follow Traditions That Don't Suit
Don't be afraid to ditch traditions that don't work for you. You can:
Spend the night before together
Get ready together
Have a first look
Walk down the aisle together
Opt out of speeches
Forget the cake cutting
Eliminate the first dance
Photo: Fiona Kelly Photography via South London Wedding
69. Have A Budget Wedding
Weddings don't have to be expensive to be amazing! I've featured real budget weddings from just £1000, which were incredible.
Photo: Photos By Hash via Digbeth Wedding
70. Dump Old Patriarchal Traditions
Why not remove patriarchal traditions if they don't feel right for you? You could change up who walks down the aisle with you, shake up who gives speeches and think about keeping your old surname.
Photo: Sam Bennett via Festival Farm Wedding
71. Hire A Ferris Wheel For The Day
What could be more fun than, well, a fun fair wedding?
Photo: Thyme Lane Photography via Funfair Festival Wedding
72. Wear A Colourful Wedding Dress
You don't have to wear white! Choose a colourful gown that makes you feel fantastic.
Photo: Hollie Carlin Photography via Colourful Alternative Wedding
73. Craft 1000 Paper Cranes
Try the Japanese tradition of crafting 1000 origami cranes to symbolise good luck. They also look stunning!
Photo: Sarah Beth Photo via Barff Country House Wedding
74. Host Your Wedding At A Sarafi Park
Animal lover? Why not have a safari park wedding with a tour to entertain everyone?
Photo: Jonny Barratt Photography via Safari Park Wedding
75. Have A Big Top Tent Reception
Want something a little different to a marquee, tipi or wedding tent? Consider a big top circus tent!
Photo: Anna Pumer Photography via Big Top Wedding
76. Make A Gin Bar
Create a self-serve bar with your favourite tipples for guests to enjoy.
Photo: Jasmine Andrews Photography via Dreamy Woodland Wedding Ideas
77. Skate or Cycle To Your Wedding
If your wedding is local, hop on your bike or skateboard for a spot of fun.
Photo: Sophie Duckworth Photography via Skateboard Bicycles Wedding
78. Try Pizza Cutting
The couple below ditched the traditional wedding cake for a unique idea, pizza cutting!
Photo: Alice Cunliffe Photography via Happy Velley Wedding
79. New Year's Eve Wedding
Choosing your wedding date can be tricky, but what could be more fun than a New Year's Eve wedding?
Photo: Neil Thomas Douglas via Comrie Croft Wedding
80. Put Out Board Games
Who doesn't love a good board game? Perfect for entertaining guests of all ages.
Photo: Matt Penberthy Photography via Old Greens Barn Wedding
How To Come Up With Your Own Wedding Ideas
I have to say that the best wedding ideas aren't trend-led, or insta-famous but are ideas that are from the heart.
Yes, that's right. Couples that stay true to themselves and look within, come up with the most interesting and different ideas for their nuptials.
Look At You & Your Relationship
How do you go about looking within and creating a day that represents you both? Try making a list together using these prompts:
Interior Design Loves
Sense Of Fashion/Personal Style
Background/Heritage
Favourite Colours
Hobbies
Interests
Books/TV/Movies
Songs
Relationship Milestones/Locations
Ethics/Beliefs
Career
Then take a look at your no-gos so you can rule out what you definitely don't want in your wedding day style!
Where To Get Wedding Inspiration?
Looking for places to find wedding ideas is so much fun! It can be one of the most enjoyable parts of wedding planning. Where to find wedding ideas:
Wedding Blogs
Wedding Magazines
Wedding Shows
Google (and Google Images)
Pinterest (create boards)
Instagram (search hashtags)
But, trust me when I say to take wedding ideas with a pinch of salt. It can become overwhelming to find so many ideas for weddings. And, bear in mind that some wedding photos you see, maybe from styled wedding editorials, rather than real-life wedding stories.
Do You Need Lots Of Wedding Details?
If you feel like you can't have it all, you are could be right. It's tricky to both stay within budget but also to actually plan lots of different wedding elements without a hitch. I would imagine most couples, don't have it all and actually, there is no need to have all the wedding decorations out there.
Try to remember that your wedding guests will mainly remember the experience over the visuals such as:
Food
Drink
Music
Entertainment
Games
Atmosphere
Fun Times!
And that's a wrap, some of the most original and fun wedding ideas around! Now you've found some inspiration, why not start looking for your wedding supplier dream team?
Further Reading