The wedding guest book is a great way to get a lasting message and memory of your wedding by your guests. Traditionally books are used for guests to leave messages and there are hundreds of cool designs to purchase out there.
But how about an alternative guest book idea to incorporate into your wedding?
Photo: Tora Baker Photography via Celestial Cowshed Wedding
Fun & Unique Wedding Guest Book Ideas
I have rounded up some of my favourite memory capturers from real weddings featured on Whimsical Wonderland Weddings. From pebble to surfboard guest books to wishing trees, benches and envelope wedding guest books, there will be something you will fall for today.
Let's get your creative juices flowing.
→ This post contains affiliate links, which means I may earn a commission if you make a purchase – at no additional cost to yourself.
1. Quilt
For the sewers or the snugglers, how about a quilt guest book? You could ask guests to sign a quilt patch and then embroider the message to ensure it lasts forever. It would also look amazing on your sofa or bed, pride of place.
Photo: Wyldbee Photography via Homemade Wedding
2. Typewriter
The typewriter guest book is a fun and retro way for guests to leave messages. Try looking in charity shops, car boot sales, online marketplaces or Etsy for second-hand typewriters. Simply add paper and a sign to instruct guests. Viola.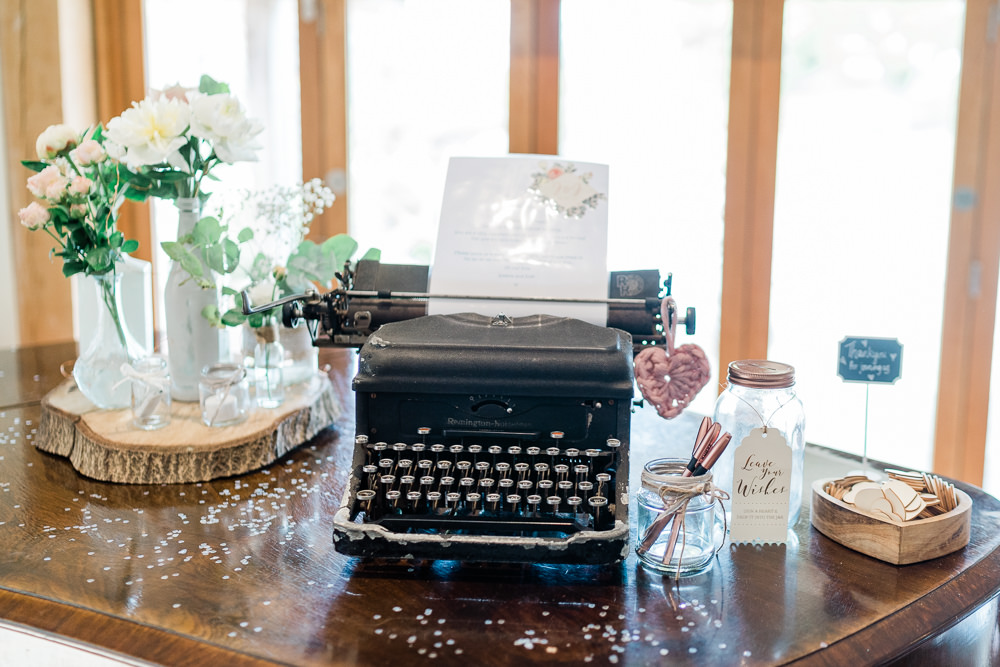 Photo: Gemma Giorgio via Cream Blush Wedding
3. Pebble
Buy some pebbles and ask guests to write their well wishes on them. Pop in your guest book jar, before taking home to keep, or scattering on the beach. Such a perfection guest book idea for beach lovers.
Photo: One Thousand Words via Sopley Lake Wedding
4. Luggage Tags
How many uses does the humble luggage tag have? Well, one more idea, couples are using them as sweet note cards for their luggage tag guest book. Peg on a line or make into collages to keep forever.
Photo: Kate Gray Photography via Rainy Summer Barn Wedding
5. Record Player
Music lover? Then this record player guest book is for you where guests sign their names on a vinyl record. You can then frame and enjoy in your home.
Photo: Crazy Happy Love via Kilmore Country House Wedding
6. Jenga
Incorporating entertainment into your guest book is a sure-fire winner. You could use a Jenga wedding guest book like the couple below. We chose Jenga for our wedding guest book and loved it!
Or even think about using your own favourite games? Monopoly or Scrabble anyone?
Photo: Jade Maguire Photography via DIY Boho Wedding
7. Envelopes
Another simple and ingenious idea. Stick guest book envelopes onto a board, let guests write secret messages and spend the next morning opening them together. Perfect.
Photo: Will Patrick from Bonhams Barn Wedding
8. Globe
Love travelling? This globe wedding guest book will really look the part on your wedding day but also displayed in your home afterwards.
Photo: The Kindred Collective via Kindred Barn Wedding
9. Plate
A simple but retro idea of a display plate guest book, which will sit pride of place on your wall post-wedding. Just lovely.
Photo: Siobhan Beales Photography via Barn Upcote Wedding
10. Message In A Bottle
Secret messages to be stashed in a bottle guest book, which you could open on your anniversary. Really sentimental and something to look forward to too.
Photo: Aden Priest Photography via Navy Winter Wedding
11. Fingerprint Tree
Fingerprint trees are really popular at weddings. You can buy kits or create your own. How about tree alternatives, such as balloons or planets in the sky? Grab a free fingerprint tree download here to create your own guest book.
Photo: Sarah-Jane Ethan via Newton Hall Wedding
12. Photo Frame
This photo frame guest book is a perfect way to display your beautiful wedding photographs when they arrive.
Photo: Simon Murray Images via Crug Glas Country House Wedding
13. Bucket List
A bucket list guest book is a fun way for adventurous couples to enjoy their first years as a married couple. Not for the faint-hearted, will you do all the suggestions?
Photo: Stevie Jay Photography from Arches Dean Clough Wedding
14. Tea Towel
A school day classic, the tea towel guest book. Don't just ask guests to sign, ask them for a portrait for the full experience.
Photo: Kate McCarthy Photography via Victoria Warehouse Wedding
15. Bench
A bench guest book is perfect to use for years and years. Place in a pretty spot and read the messages each and every time.
Photo: Kirsty Mackenzie Photography via Summer Wedding with Pet Pug
16. Travel Map
Ask guests to add messages to a map guest book. A fun a striking alternative idea to brighten up your home too.
Photo: Emily + Katy Photography via Creative Village Hall Wedding
17. Table
Instead of a coffee table book, why not turn your coffee table into a guest book? Such a lovely statement piece for your lounge.
Photo: Nicola Casey Photography via Mismatched Marquee Wedding
18. Wooden Heart Jar
A pretty jar guest book complete with wooden hearts, the cutest idea!
Photo: Mark O'Brien via Morden Hall Wedding
19. Artwork
Instead of a framed photo, how about a framed artwork where guests could then sign the border?
Photo: Shutter Go Click Photography via North Yorkshire Pub Wedding
20. Wooden Box Cards
A beautiful keepsake wooden box guest book to store on a special shelf or in your memory box.
Photo: Lisa and Neil via Haughley Park Barn Wedding
21. Jigsaw
The idea of a jigsaw guest book is lovely. Seeing the tapestry of all your loved ones joining as one.
Photo: Jessica Reeve Photography via Llanrhaeadr Springs Wedding
22. Shelf
Grab a plank of wood, some sharpies and you have a shelf guest book ready to display in your home.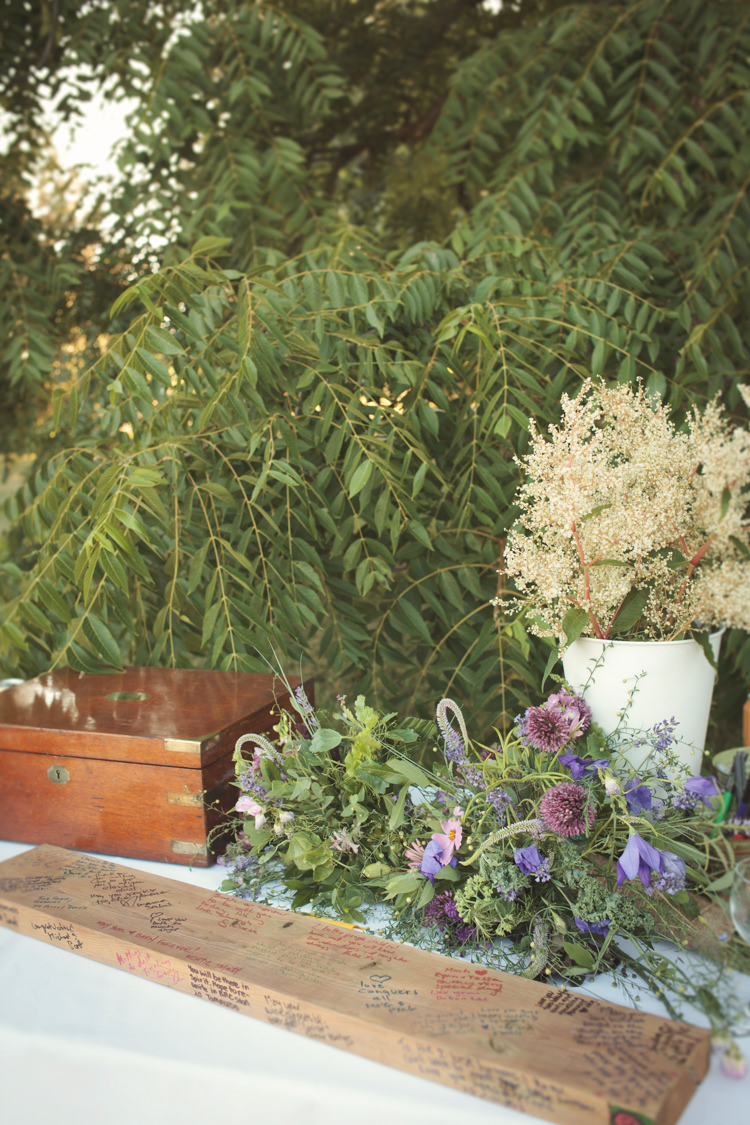 Photo: Tied Photo & Films via Farm Wedding Ontario
23. Postcards
Find postcards for a guest book that is personal to you. You could choose a hobby, locations or even vintage style cards.
Photo: Holly Driver Photography via Fairy Wedding
24. Hammer Nails
A unique idea I've only ever seen once. Ask guests to hammer a nail into a log, it's certainly interactive and a great talking point on the day.
Photo: Stott and Atkinson via Industrial Glam Wedding
25. Surfboard
If you love catching waves then a surfboard guest book will be a really fun idea for your wedding.
Photo: Claudia Noelle Photography via Washington Lakeside Wedding
26. Wishing Tree
Leaving wishes on a wishing tree guest book not only is a lovely way to relive memories but makes for a gorgeous display.
Photo: Irene Yap Photography via Romantic Rainy Wedding
27. Snowboard
Perhaps you are a fan of the slopes? A snowboard guest book would really make a splash.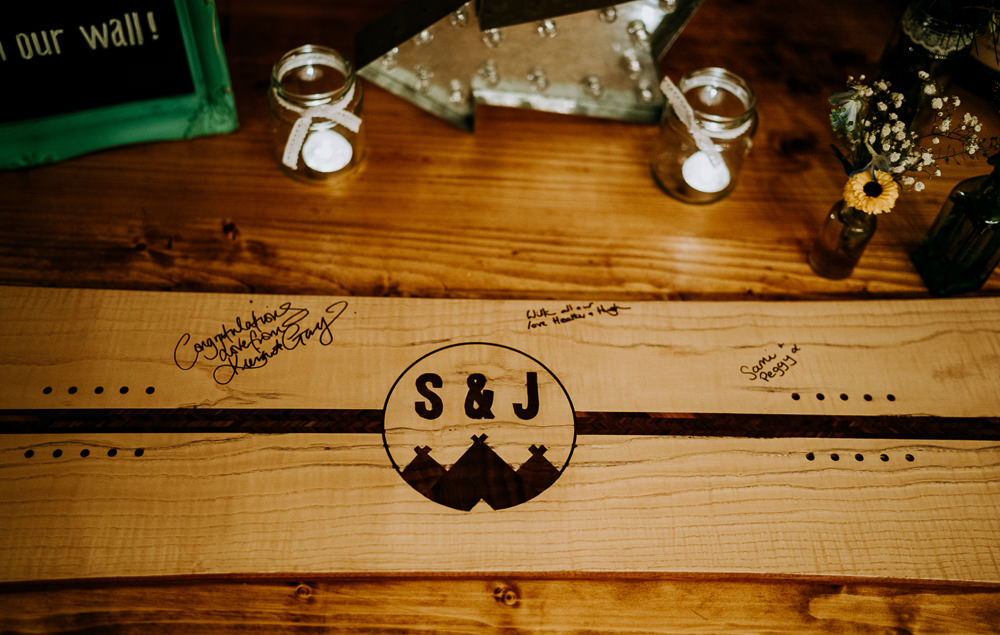 Photo: Bridgwood Wedding Photography via Individual Tipi Wedding
28. Guitar
This guitar guest book idea is perfect if you are a dab hand on the strings. How about using another instrument or instrument case that you use?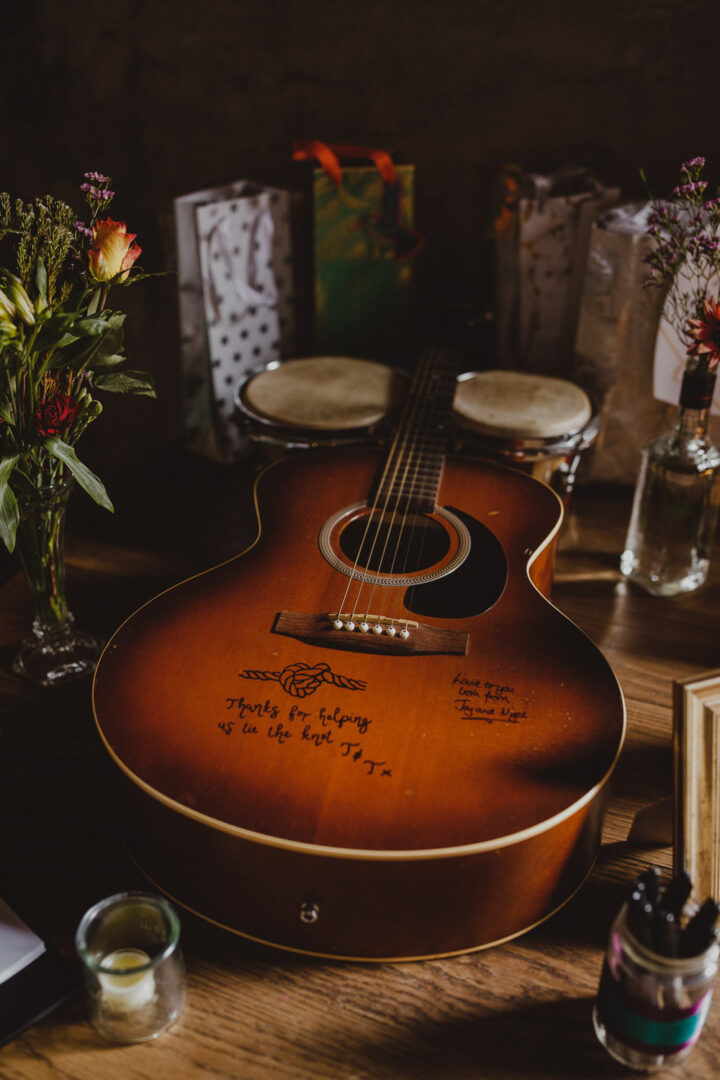 Photo: Photography34 via Wiltshire Barn Wedding
29. Sign A Teabag
What a fantastic idea! A tea bag guest book for every time you make a brew.
Photo: Lisa-Marie Halliday Photography via Damerham Village Hall Wedding
30. Initial
Grab yourself a wooden letter guest book and ask guests to make their mark.
Photo: Oobaloos Photography via Kingscote Barn Wedding
31. Pick a Word
Lovers of literature will adore this wedding guest book idea. Ask guests to pick a word from a book on display that gives meaning to their message.
Photo Potters Instinct Photography via Homemade Country Tipi Wedding
32. Social Media
It's always great to think about things that reflect you both. Obsessed with social media? Well, why not have a Facebook or Instagram theme guest book table?
Photo: HBA Photography via Fun Tipi Wedding
33. Colouring In
Having guests make your own wedding artwork is the best idea. I love this colouring in poster guest book idea. How about a graffiti wall or paint by numbers? Let's hope your guests stay inside the lines.
Photo: Paul Joseph Photography via Music City Wedding
34. Wishing Well
A wedding wishing well guest book is the loveliest idea. So sweet.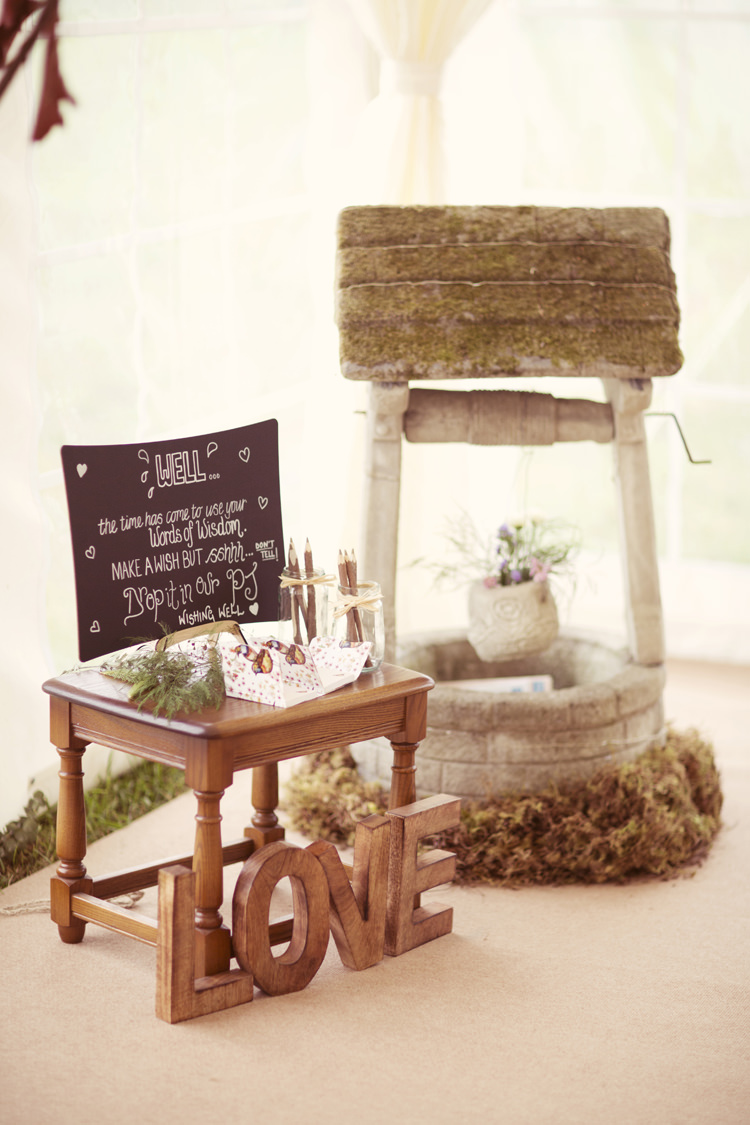 Photo: Rebecca Wedding Photography via Whimsical Woodland Autumn Wedding
35. Instant Photos
Have a photo booth using an Instax or Polaroid camera and get our guests to stick or pin-up their photos beside a message as a guest book. It keeps your guests entertained and looks cute.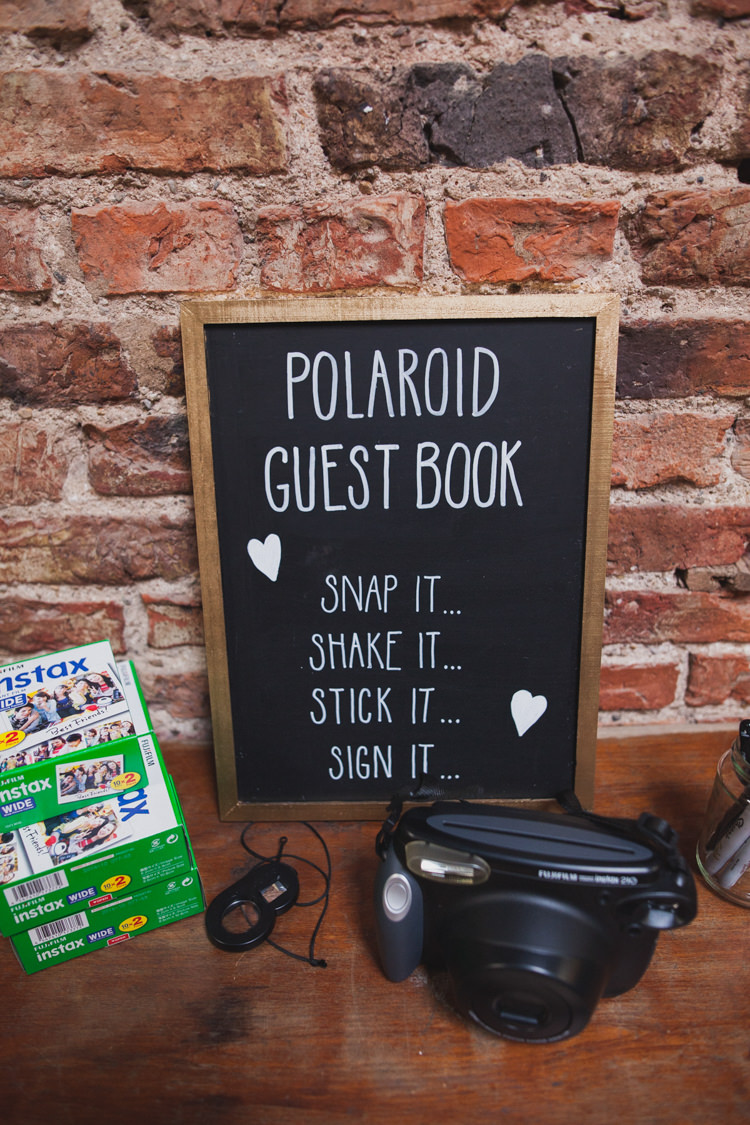 Photos: Sally T Photography via York Maze Wedding
36. Race Registration
Do you love to race? How about this alternative race registration wedding guest book idea?
Photo: Damian Wills via French Theme Wedding
37. Replace Your Face
A fun and interactive guest book game, replace your face! Make sure you snag a guest book sign for instructions.
Photo: Melissa Beattie via Beautiful Barn Wedding
38. Drop Heart Frame
Rustic and beautiful, a drop heart guest book frame is such a beautiful memento.
Photo: Albert Palmer Photography via Floral Vineyard Wedding
39. Wooden Pallet
Wooden pallets for the win. Is there anything that they can't be upcycled into?
Photo: Naomi Jane Photography via Rustic Spring Wedding
40. Dual Purpose
Think of ways to have a 2 in 1 decor option. The couple below asked guests to sign their wedding seating plan. Brilliant. Saves money and DIY time as well as good for the planet.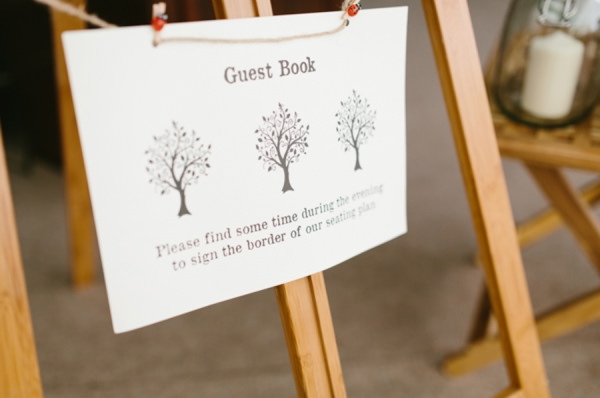 Photo: Jay Mountford via Farm Marquee Wedding
41. Books
And of course! The wedding guest book itself. A pure classic which you just can't go wrong with if nothing else floats your boat.
Photo: Miss Gen Photography via Yellow Navy Wedding
Wedding Guest Book FAQ
✨ What is the point of a guest book?
A wedding guest book is a way of recording your guests' attendance of your day. It's also a great opportunity to ask them for their well wishes or advice messages to read back and enjoy after your wedding.
📖 What is inside a wedding guest book?
Inside a wedding guest book, usually are blank pages. These are for guests to sign their name, add an instant photo or write a meaningful message to the happy couple.
💡 Do we need a guest book at our wedding?
There are no rules when it comes to having a wedding guest book. It's purely personal preference if you would like a guest book. It's a great way to relive your wedding, but if you don't want one, skip it.
👉 Where should the guest book be at a wedding?
The wedding guest book should be placed at the reception, ideally at an entrance or by the bar. A place with ample room for guests to write messages, but ideally in a place where guests will see it.
⚡️ What do you do with a guest book after the wedding?
After the wedding, you can keep your guest book. Depending on the type of gust book you choose, you can display it or store it safely away to bring out on anniversaries or special occasions.
❤️ What can you do instead of a guest book?
There are so many different wedding guest book alternatives. Incorporate interests and hobbies and ask guests to sign objects. Guests could do a drawing, have fun colouring in, leave marriage advice or ideas for adventures. The way you display them is really up to you, from jars and bottles to frames and jigsaws, the ideas are endless.
Now you should have all the ideas and know-how to create your dream wedding guest book. It's time to get planning, buying or making your guest book idea ready for your big day. Hooray!
Further Reading