Unsure where to start with your wedding colour scheme? Let's face facts, there are so many colour palette options and ideas that it can feel overwhelming.
However, that is what I am here for! To make choosing your colours easy-breezy. Not only will I be sharing 78 wedding colour ideas, but I will share my top tips on how to choose your scheme.
Wedding Colour Ideas In All The Colours Of The Rainbow
To make things really simple, I've broken down all the colour palettes into sections. Here is the order in which you will find the inspiration:
❤️ Red

🧡 Orange

💛 Yellow


💚 Green

💙 Blue

💜 Purple

🌸 Pink

🌈 Multicolour
Then I will share my advice on how to pair colours and pick your hues.
Red Wedding Colour Scheme
Rich reds are suited perfectly for weddings in Autumn and Winter. That being said, burgundy and rouge can work in Spring and Summer weddings too!
1. Red & Greenery
Team deep red with lashings of greenery for a lush feel.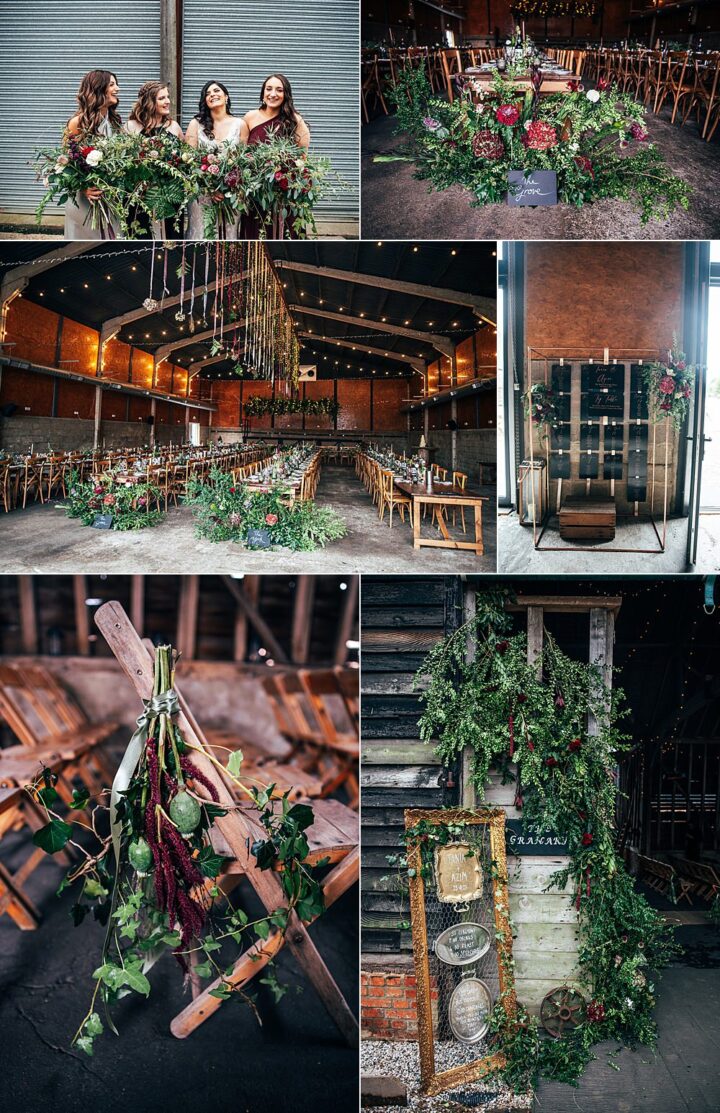 Photo: Three Flowers Photography via Red Greenery Wedding
2. Red & Blue
Red and blue work in harmony together for a sophisticated style.
Photo: Becky Weir Photography via Springhead Trust Wedding
3. Red & Pink
Pink and red are said to clash, but I beg to differ. It looks cool, modern and pretty to boot.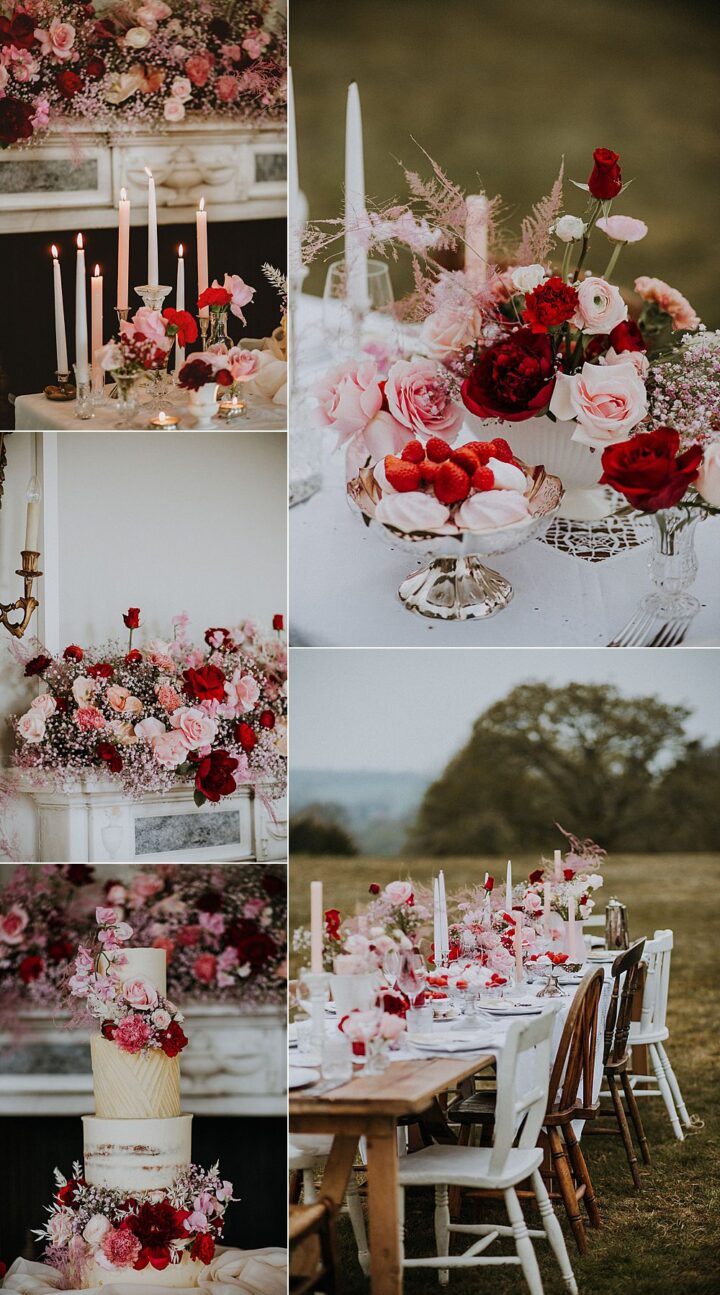 Photo: Lola Rose Photography via Hale Park Wedding
4. Burgundy & Blush
Use pretty blush with rich burgundy to add a sense of light and contrast.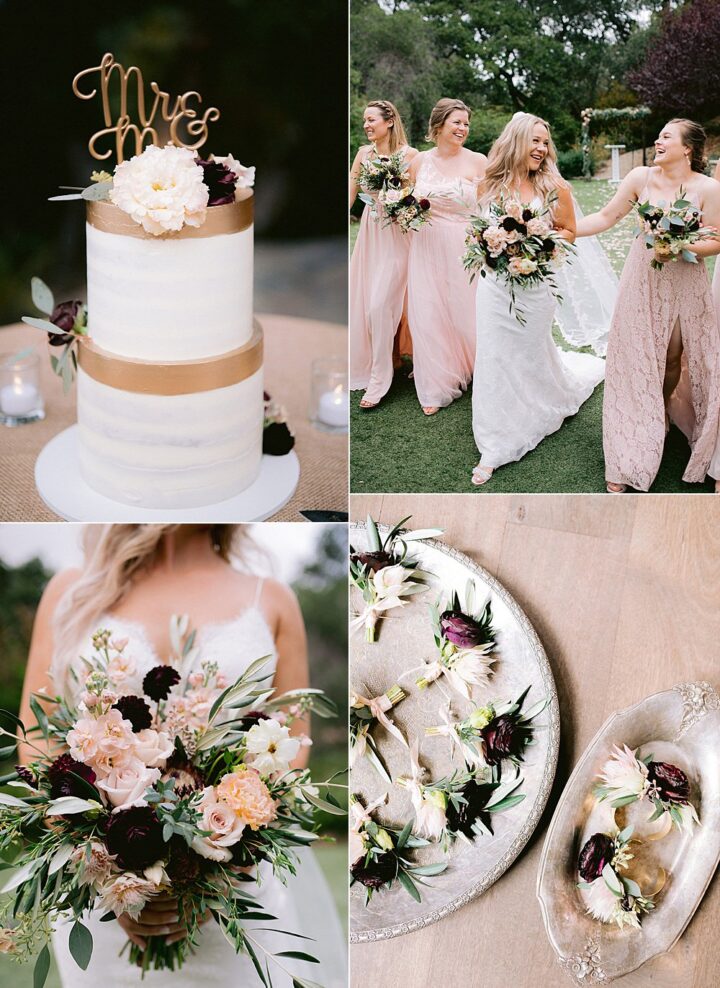 Photo: Apollo Fotografie via San Rafael Wedding
5. Burgundy & Gold
Opulent burgundy and gold could be perfect for winter or even Christmas weddings.
Photo: Victoria Crocker Photography via Burgundy Wedding Theme
6. Red Blue & Yellow
Three tones of red, blue and yellow are surprisingly stunning together.
Photo: Holly Driver Photography via Fairy Wedding
7. Burgundy & Mustard
Autumnal tones of burgundy and mustard really look cosy and warm.
Photo: Ruby Walker Photography via Outdoor Autumn Wedding
8. Red Forest Green & Gold
Add gold to forest green and red for a sumptuous style.
Photo: When Charlie Met Hannah via St Tewdrics House Wedding
9. Burgundy & Brass
How about brass to offset deep red?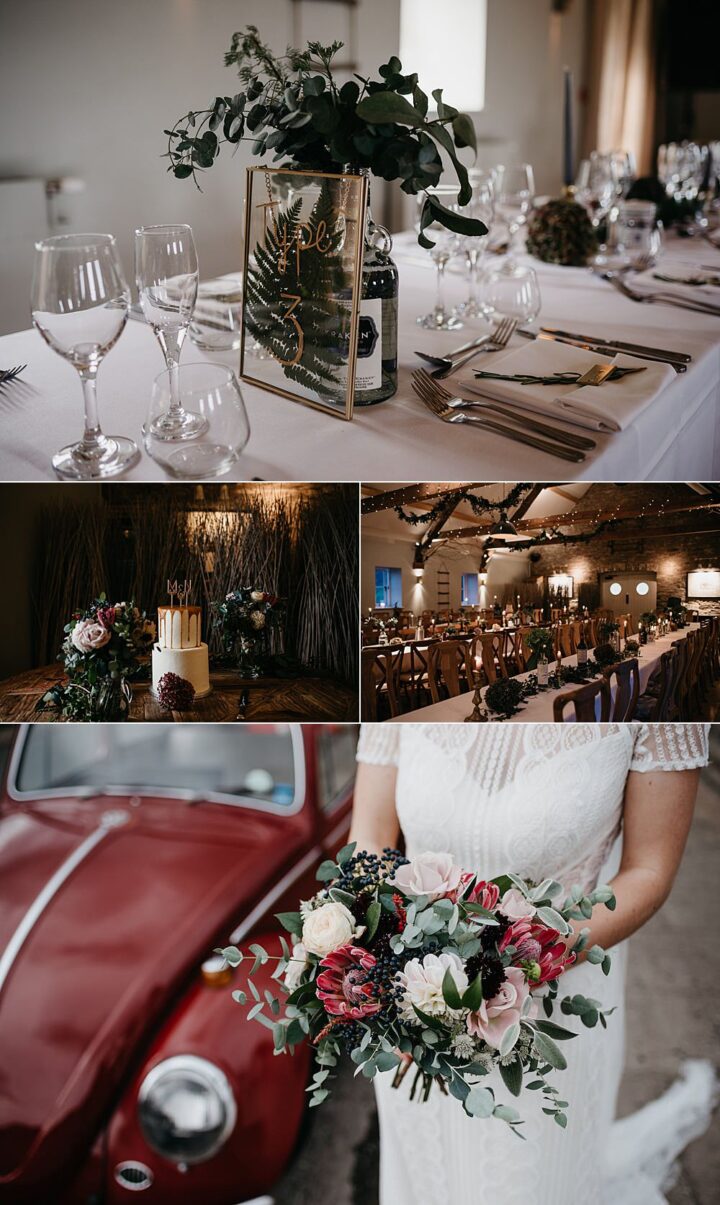 Photo: Elaine Williams Photography via Bodnant Welsh Food Wedding
10. Dark Red
Go bold with a stunning deep red colour palette, from flowers to outfits.
Photo: Belle Art Photography via Dark Red Burgundy Wedding
11. Burgundy & Rose Gold
Soft rose gold looks ever so pretty with burgundy.
Photo: Jake Morley Photography via Rose Gold Burgundy Wedding
12. Red & Coral
Red and coral are not two colours you'd expect to work. But boy do they!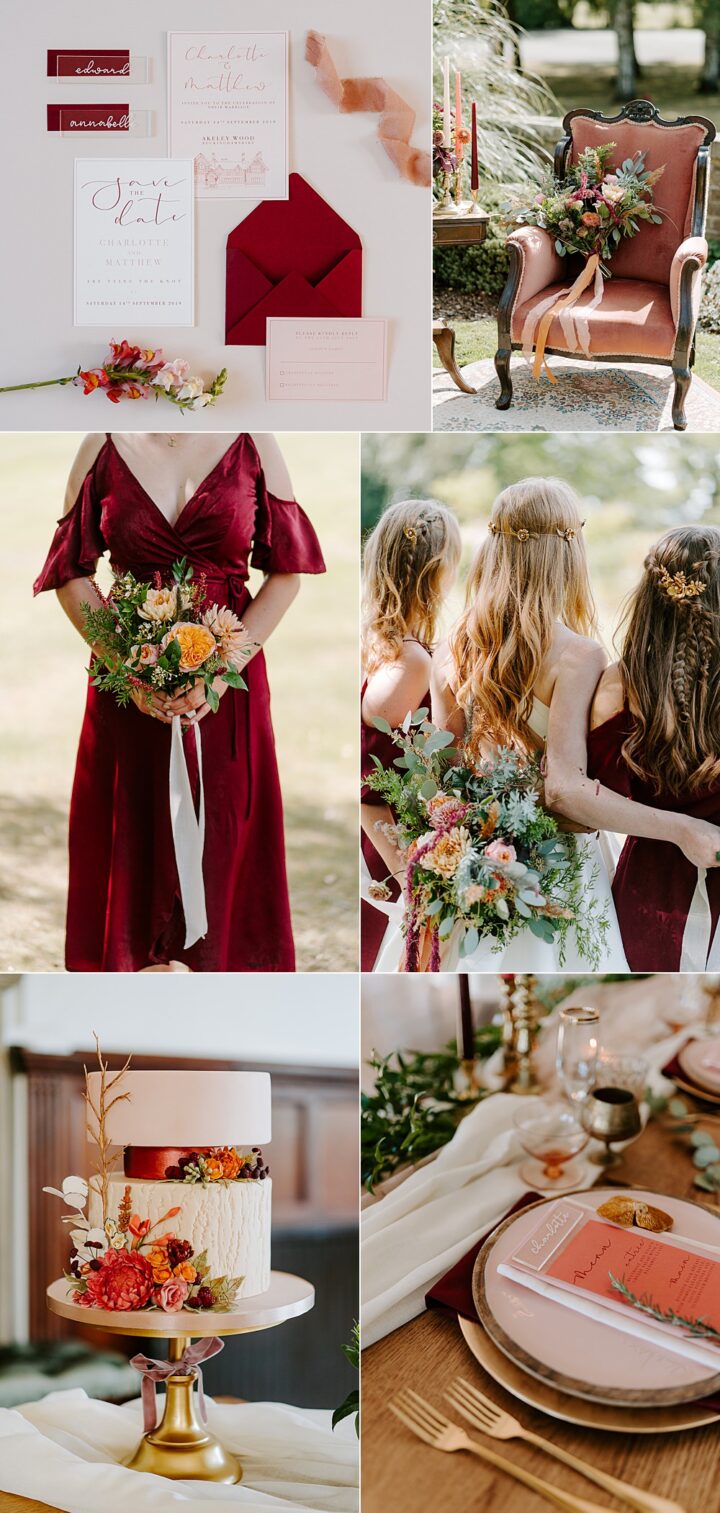 Photo: Chloe Ely Photography via Contemporary Wedding Ideas
Orange Wedding Colour Palette
Energising and glowy orange is a wonderful colour way for weddings no matter the season.
13. Orange & Blue
Vibrant orange and blue together creates a fabulous colour pop.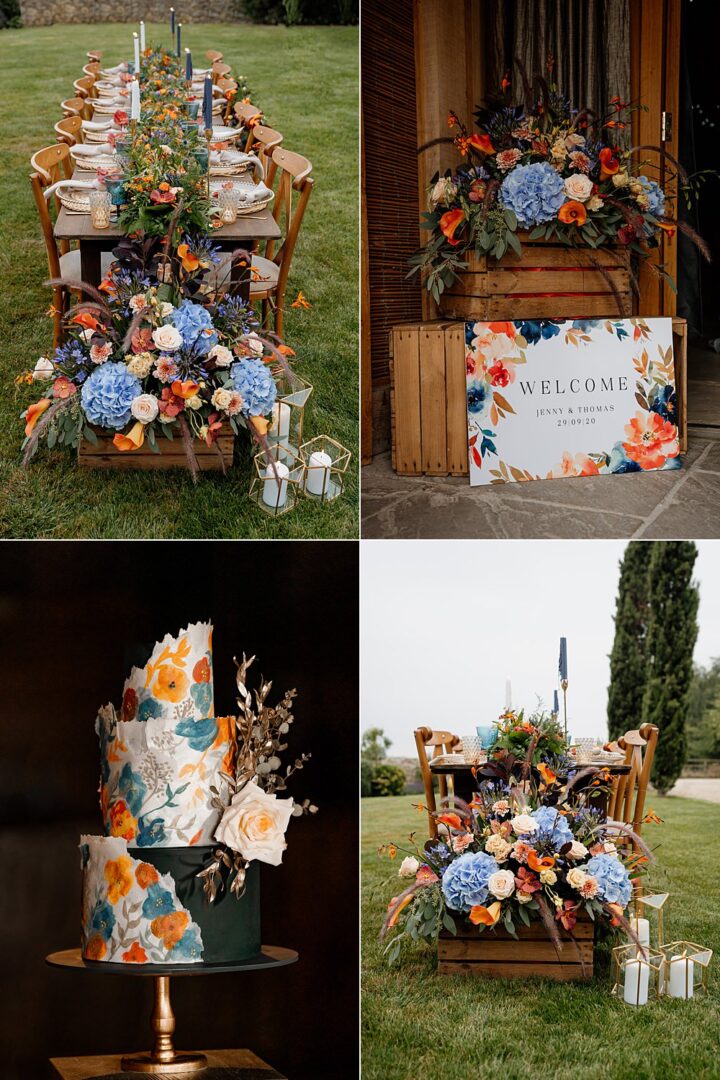 Photo: Steph Kiely Photography via Orange Blue Wedding
Photo: Flashback Images via Old Cowshed Wedding
14. Black & Orange
Grounding black with colour pop orange looks fantastic. Halloween wedding anyone?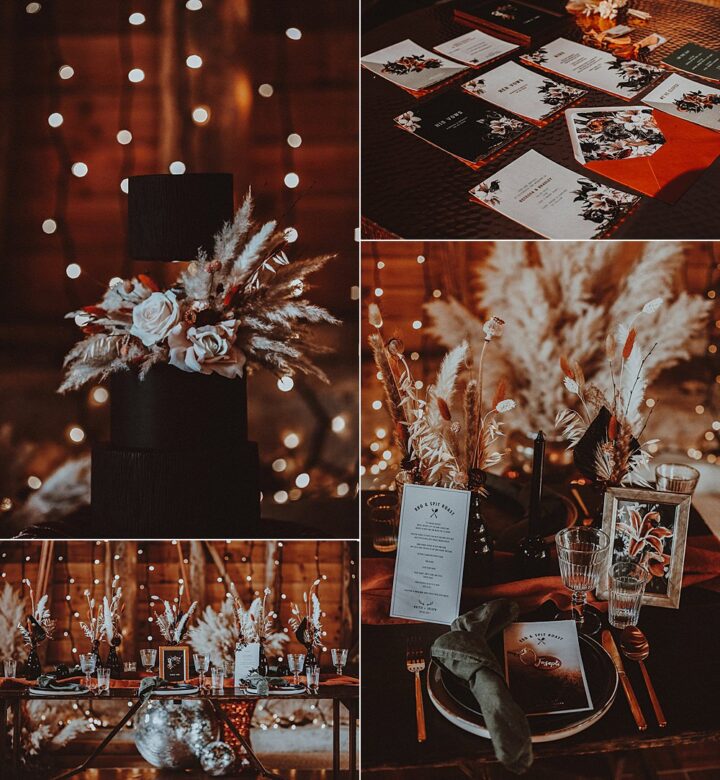 Photo: YTZ Weddings via Dark Bohemian Wedding
15. Burnt Orange
Burnt orange is classic yet glowing especially with rustic wooden elements.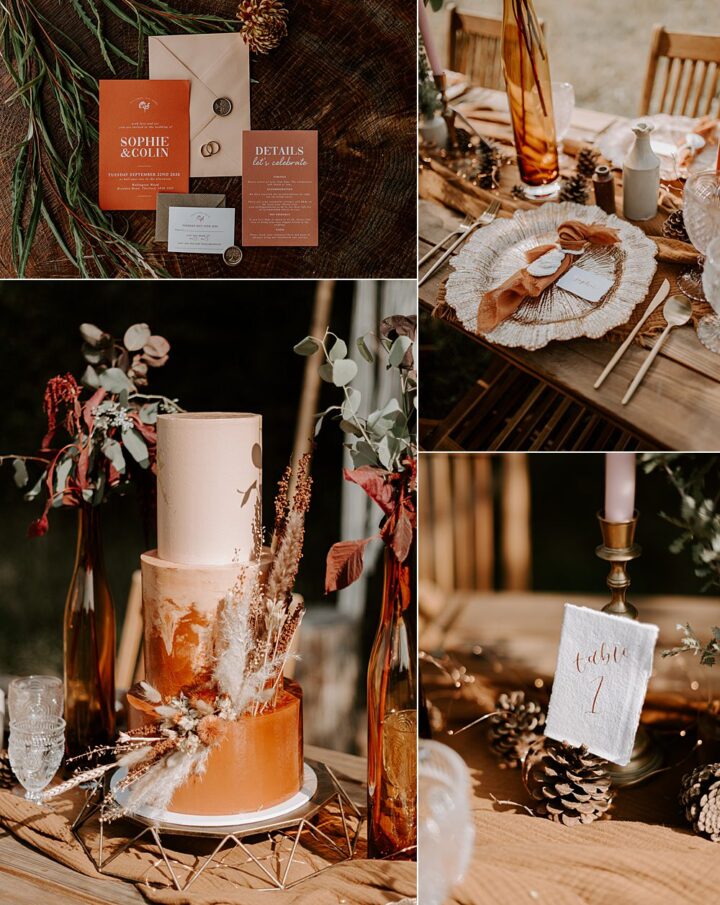 Photo: Laura Williams Photography via Burnt Orange Wedding Ideas
16. Orange & Teal
Teal is a great accent colour against orange.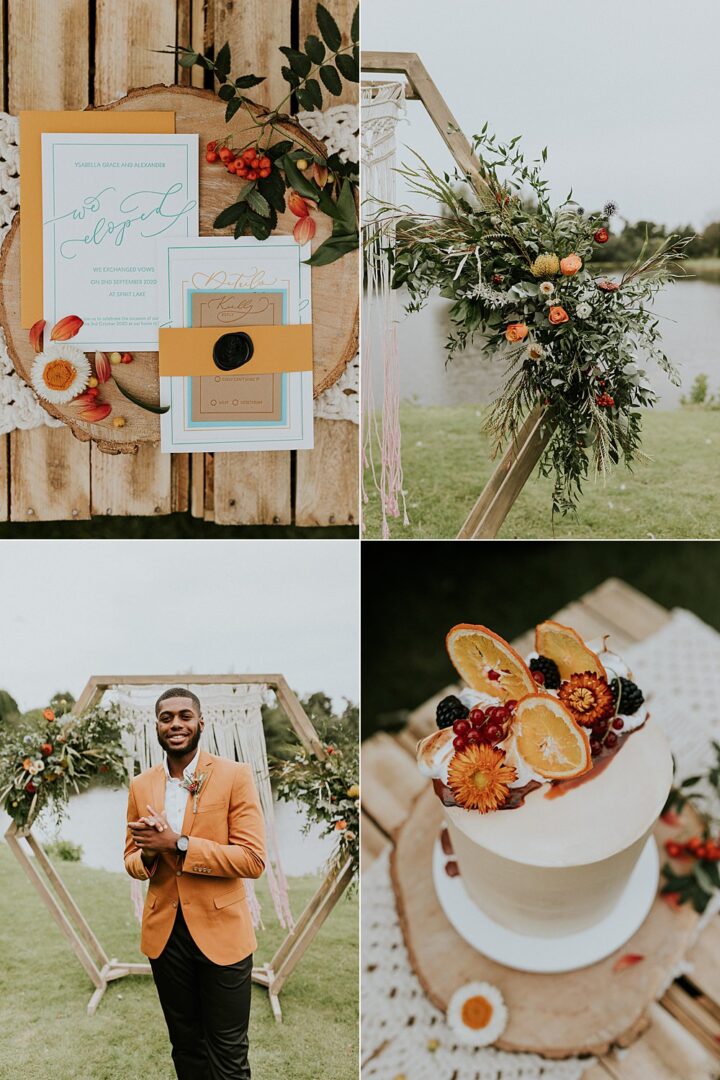 Photo: Heather Sham via Capervan Wedding Ideas
17. Orange & Navy
Classic navy is modernised with bright orange tones.
Photo: Rachael Connerton Photography via Floral Wedding
18. Orange & Burgundy
Burgundy and orange together create an autumn leaf vibe, ideal for autumnal wedding palettes.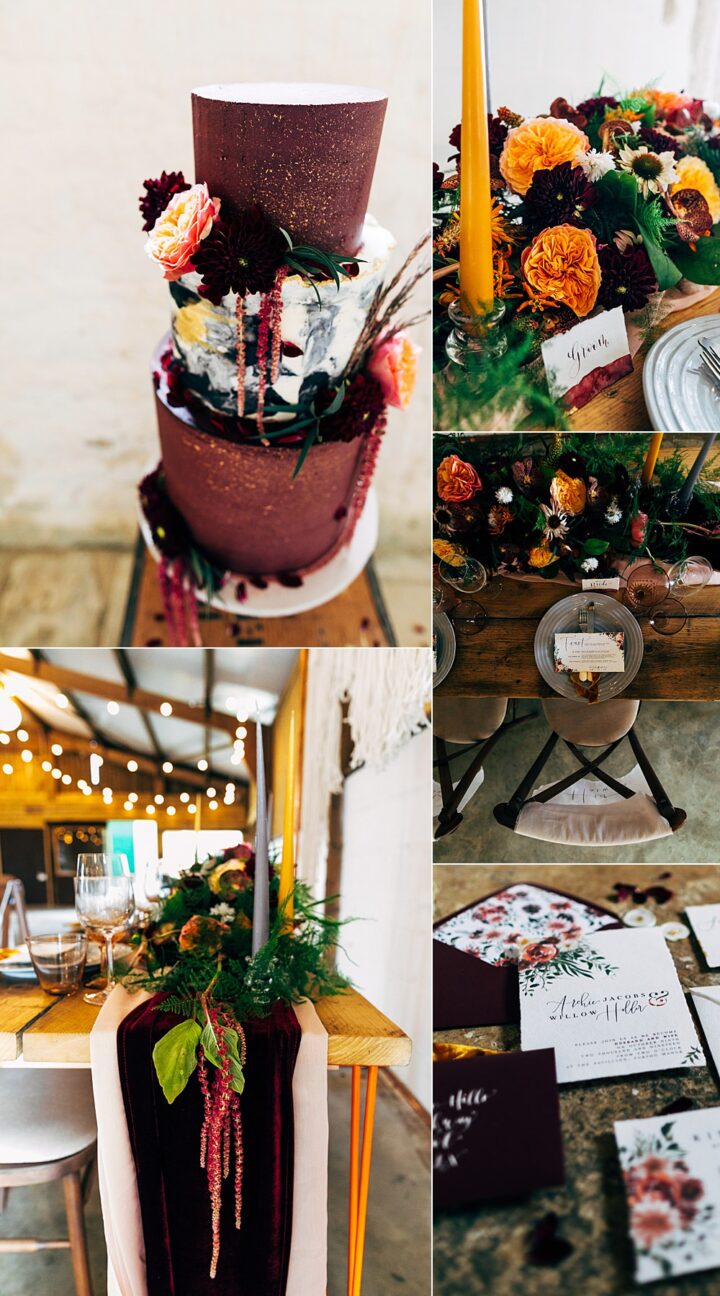 Photo: Emily Little Photography via Retro Wedding Ideas
19. Orange & Pink
Bold orange and pink look so striking and modern.
Photo: Michelle Huggleston Photography via Disco Ball Wedding Inspiration
20. Orange & Yellow
Citrus tones of orange and yellow are fresh and pretty.
Photo: Bohemian Rose Photography via Yellow Orange Wedding
21. Orange & Blush
Paired back orange and blush create a neutral feel palette.
Photo: Till Death Do We Adventure via 70s Elopement
Yellow Wedding Colour Hues
Pretty and delicate yellows add a summery feel. Plus yellow can be found in many flowers which makes for an easy choice.
22. Yellow & Purple
Yes, yellow and purple look absolutely gorgeous together!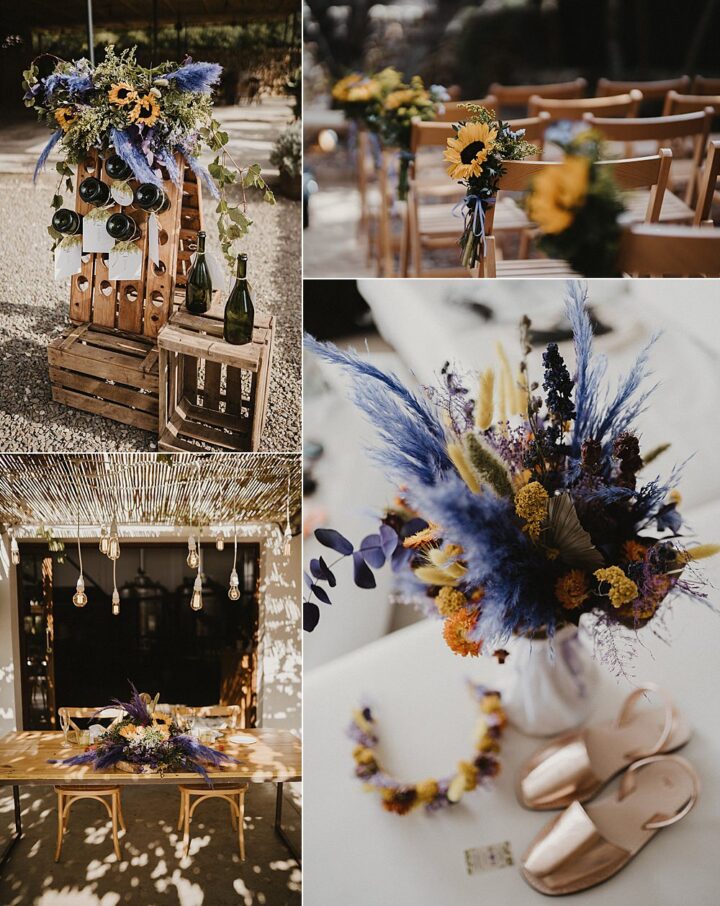 Photo: Laura Mazzello Photography via Binifadet Wedding
23. Yellow & Pink
Pretty pink and yellow together is a fun, fresh option.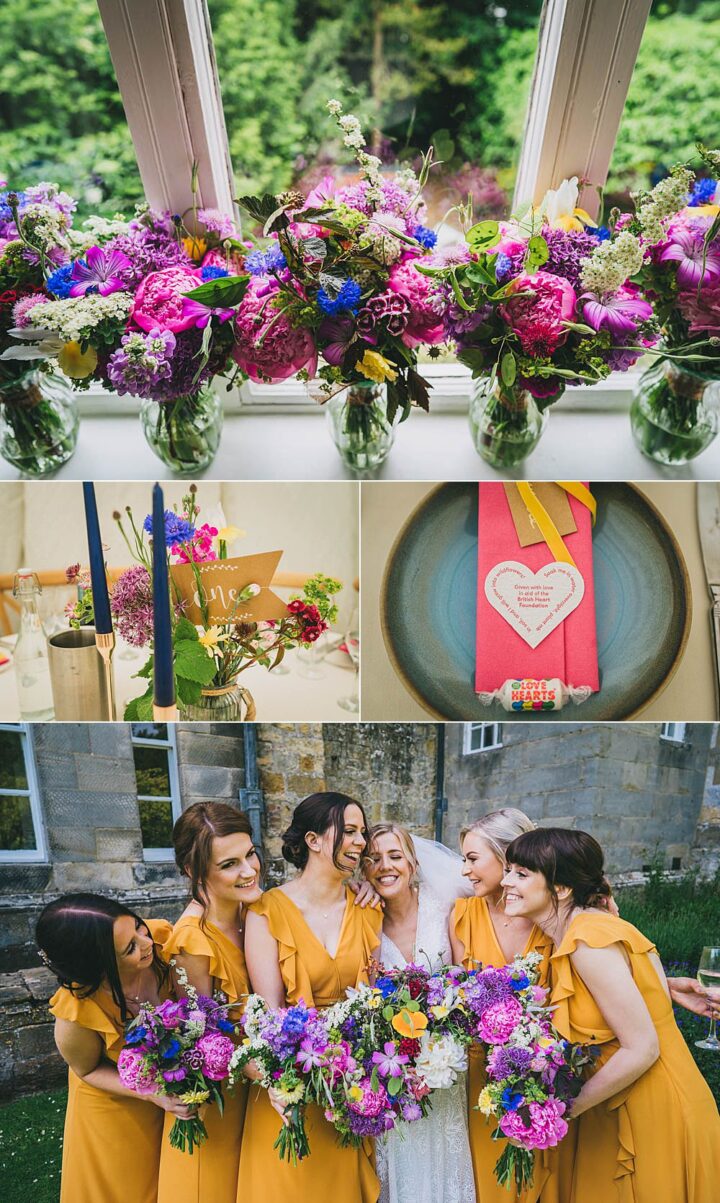 Photo: Amy Jordison Photography via Yellow Pink Wedding
24. Citrus Lemon & Royal Blue
Mediterranean vibes with lemon and royal blue.
Photo: Paige Mary Photography via Italian Wedding Ideas
25. Yellow & Cream
Add creams to yellow for a softer, more romantic style.
Photo: Jessica Holt Photography via Boho Spring Wedding
26. Sunflower Yellow
Use the happiest flower of them all, sunflowers!
Photo: Emily and Steve Photography via Hampshire Woodland Wedding
27. Yellow & Blue
Blues and yellows work beautifully for rustic weddings.
Photo: Mary W-Thomas Photography via Yellow Blue Wedding
28. Yellow & Terracotta
Trendy terracotta can be accented with soft yellows for a unique style.
Photo: Megan Duffield via Meadows Norfolk Wedding
29. Yellow & Grey
Add a neutral grey to yellows to tone down the impact.
Photo: Hajley via Yellow Grey Wedding
30. Yellow & Navy
Yellow will really sing gorgeously against navy.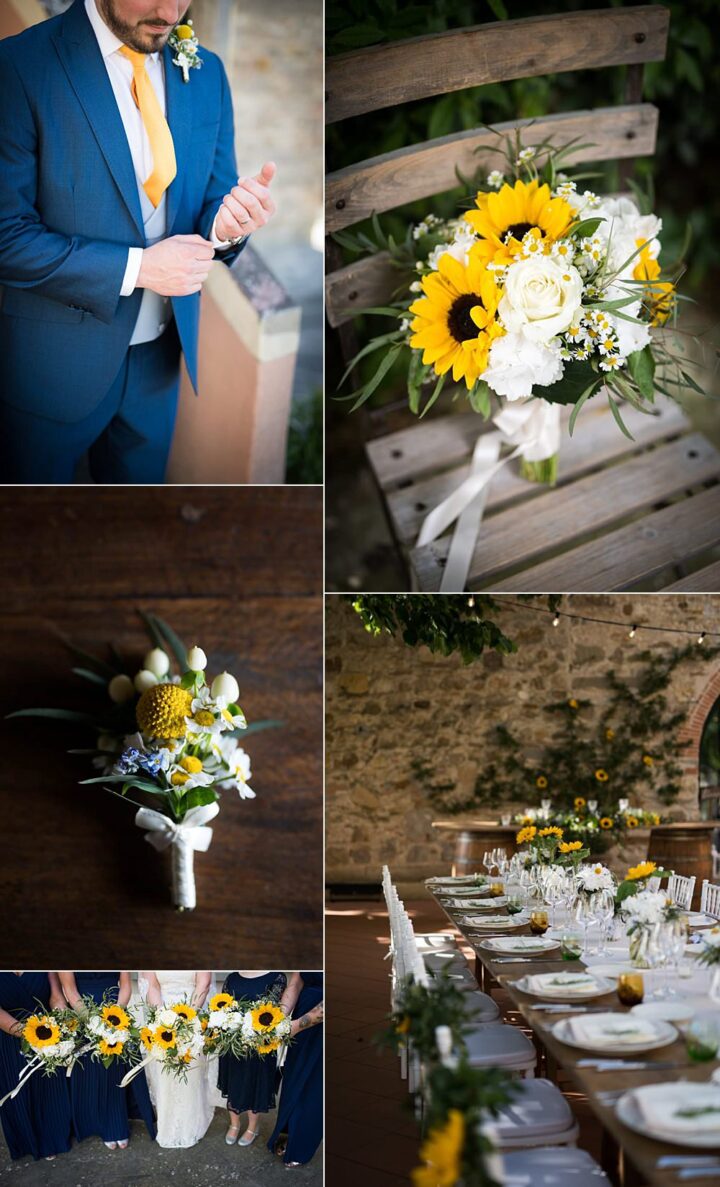 Photo: Nataly Montanari via Yellow Navy Wedding
31. Lemon & Peach
Peach and lemon tones are really delicate and will suit the prettiest of days.
Photo: Lucy Dracott Photography via Northbrook Park Wedding
Green Wedding Colour Scheme
Thanks to green predominantly being the colour of foliage, it's a great accent tone. Plus it means, generally, it matches well with most other colours.
32. Sage Green
Soft and pretty, sage green is super popular at weddings.
Photo: Richard Skins Photography via Berkshire Barn Wedding
33. Forest Green & Copper
Opt for vibrant forest green and use metallic copper for a modern luxe look.
Photo: Holly Collings Photography via Greek English Fusion Wedding
34. Sage Green & Taupe
Add neutral taupe to sage green for a tonal effect.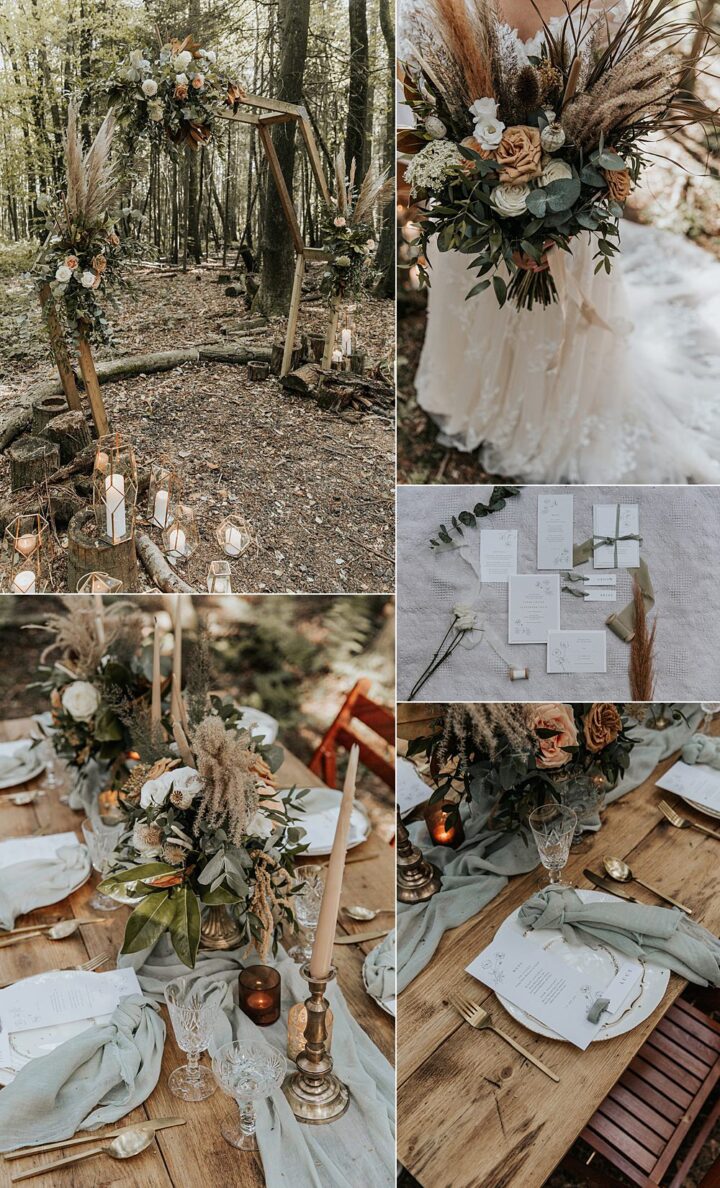 Photo: Amy Cutliffe Photography via Sage Green Wedding Ideas
35. Green & White
White is classic and teamed with greenery will look ever so fresh.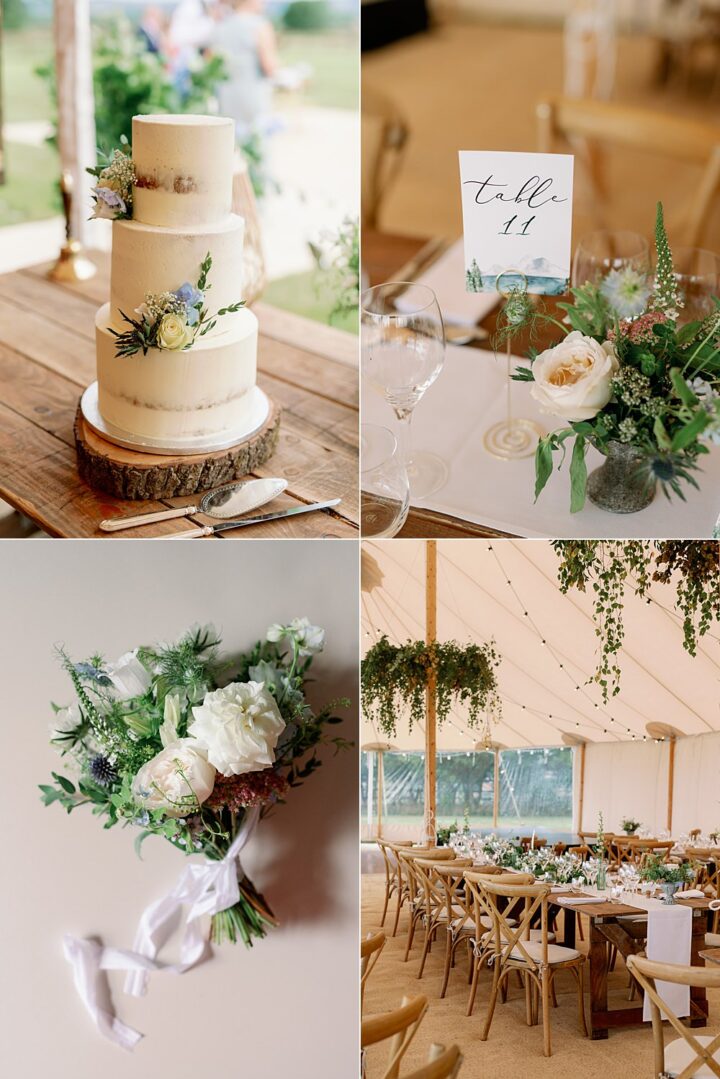 Photo: Captured by Katrina via Cotswold Marquee Wedding
36. Sage Green & Pale Pink
Pink and green are a winning combination.
Photo: Katherine Ashdown Photography via Holkham Hall Wedding
37. Green & Coral
For a modern style, add coral to green.
Photo: Kate Boston via Tropical Bohemian Wedding
38. Emerald Green
Go for one dominant colour such as emerald green.
Photo: Amy Lou Photography via Castletown Woodland Weddings
39. Green & Dusky Pink
Dusky pinks with greens is a romantic style for sure.
Photo: Milkbottle Photography via Letchworth Wedding
40. Green Black & Gold
Full on glamour with black, gold and green hues.
Photo: Gina Fernandes Photography via 1920s Wedding Ideas
41. Peach & Emerald Green
Pretty peach and emerald look elegant as well as high-end.
Photo: Claire Gutierrez Photography via Wizard Of Oz Emerald City Wedding Ideas
Blue Wedding Colour Palette
From navy to powder and pastels, blue is a versatile colour. Be warned, the choice for blue flowers is limited so be sure to check with your florist what is in season.
42. Pale Blue & Yellow
Blues with colour pop yellow really look lovely.
Photo: Emily Collett Photography via Blue Yellow Wedding Ideas
43. Pastel Blue & Pink
Pastel tones of pink and blue are so stunning.
Photo: Caterina Neri Fotografie via Tuscany Villa Wedding
44. Dusky Blue & Brass
Dusky blue with metallic brass has an antique effect which is also modern in style.
Photo: SJP Photography via Dusky Blue Wedding
45. Blue & White
Fresh blue and white are ideal for winter or spring weddings alike.
Photo: Clare Smith Photography via Blue Spring Wedding
46. Blue & Lilac
How pretty are these blue and lilac tones together?
Photo: Cleya Asulon via Bridgerton Wedding Ideas
47. Blue & Grey
Deep blue with a neutral grey is classy and chic.
Photo: The Backyard Studios via Philippines Wedding
48. Midnight Blue & Gold
Take inspiration from the night sky with midnight blue and gold accents.
Photo: Olegs Samsonovs Photography via Moon Stars Wedding Ideas
49. Pale Blue & Peach
Pretty peach pops next to pale blues.
Photo: Yll Weddings via Elegant Wedding Ideas
50. Navy & Gold
Navy and gold is always a great combination.
Photo: Gina Fernandes Photography via Navy Gold Wedding Ideas
51. Blue & Blush
Blush with a pop of blue is a really unusual style.
Photo: Into The Light Fine Art Photography via Blue Wedding Dress
52. Blue & Silver
Silver with blue creates a winter wonderland feel.
Photo: Laura Coughlan via Silver Blue Wedding
Purple Wedding Colour Tones
Purple has come and gone over the years as a popular wedding colour. But I predict lilac is coming back with a vengeance soon.
53. Lilac & Yellow
Pretty lilac and yellow is a unique and cool colour scheme.
Photo: Aurora Grey Photography via Norfolk Barn Wedding
54. Purple & Gold
Gold with purple has to be the ultimate in luxury.
Photo: Photography By Petrina via Moon Wedding Ideas
55. Lilac & Cream
Lilac with soft cream is always going to look pretty.
Photo: Katherine Ashdown Photography via Barnston Lodge Wedding
56. Dusty Plum
Rich plum works well with blues and reds for a divine palette.
Photo: Steph Kiely Photography via Purple Winter Wedding Ideas
57. Purple & Grey
Add a foundational colour such as grey to berry purple brights.
Photo: Love and Life Studio via Lakeside Wild Berry Farm Wedding
58. Deep Purple & Green
Deep purple and jewel-like green are a match made in heaven.
Photo: New Forest Studio via Pylewell Park Wedding
59. Ultra Violet
Violet is a striking colour that'll make guests' heads turn.
Photo: Captured by Katrina via Ultra Violet Wedding Ideas
Pink Wedding Colours
Pink has been a firm favourite at weddings in forever. It's no wonder as it's a really versatile colour, with lots of flower options too.
60. Pink & Gold
Use gold to highlight pretty pinks.
Photo: Becky Wright Photography via Sunset Wedding Ideas
61. Apricot & Pink
Apricot is an unusual wedding colour and with pink looks glorious.
Photo: Gem Hicks Photography via Apricot Wedding Ideas
62. Pink & Green
Add green to pink for a fresh take on wedding colours.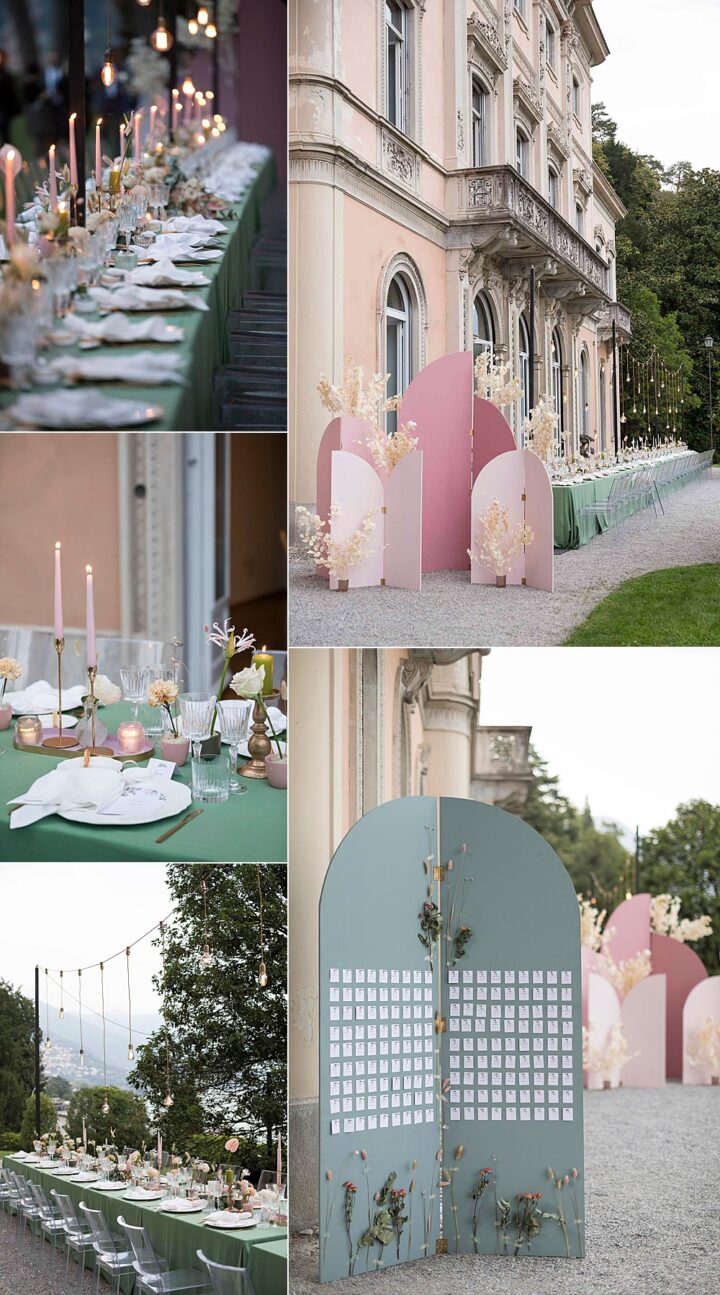 Photo: L'Ordine della Giarrettiera via Villa Del Grumello Wedding
63. Pink & Lilac
Pink and lilac are made for each other, don't you think?
Photo: Hannah Brooke Photography via 90s Wedding Ideas
64. Coral & Peach
Zingy coral with muted peach can look fantastic.
Photo: Courtney Dee Photography via Coral & Peach Wedding Ideas
65. Dusky Pink & Green
Dusky pink is a wedding classic, timeless and elegant.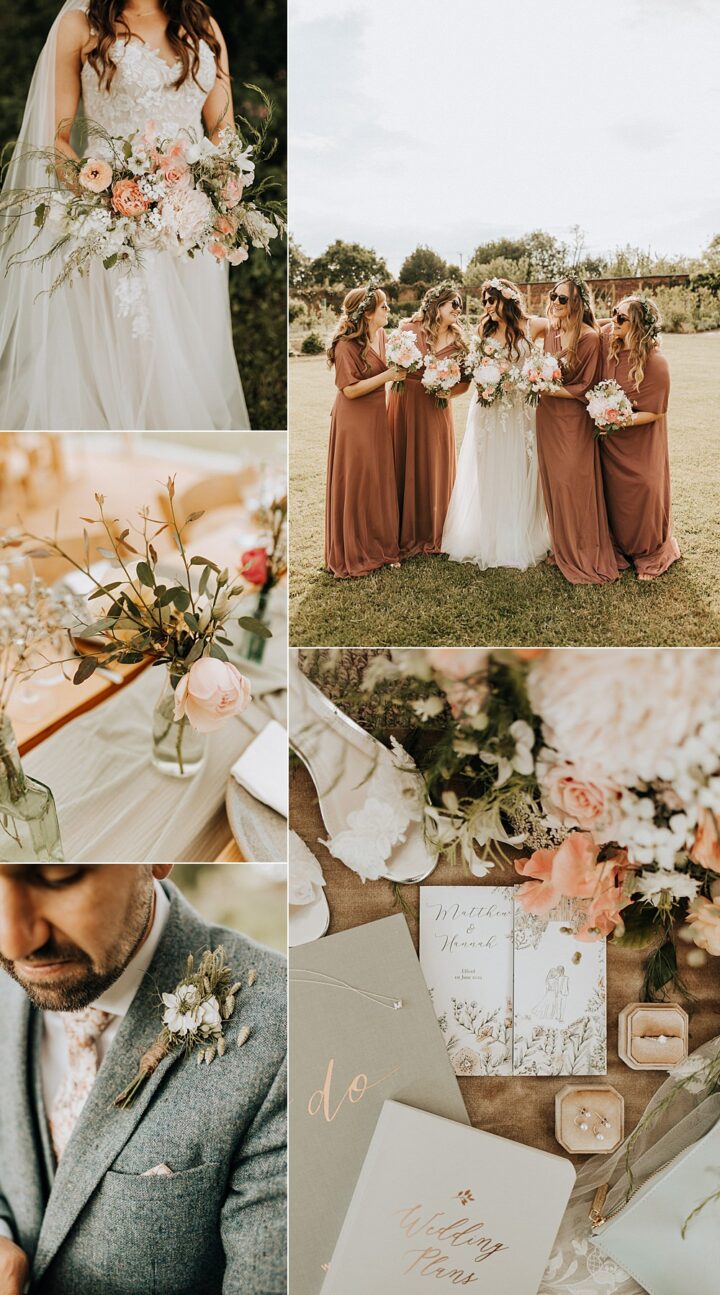 Photo: Wyldbee Photography via Elford Hall Garden Wedding
66. Teal & Pink
Teal and pink are really complementary. Perfect for quirky and retro style days.
Photo: Matt Moore Photography via Bohemian Tipi Wedding
67. Rust & Pink
Rust teamed with pink is a great theme idea.
Photo: Photos By Hash via Beer Garden Wedding
68. Blush & White
Does it get any more timeless that blush and white?
Photo: Matt Horan Photography via Willow Marsh Farm Wedding
69. Pink & Black
Dramatic, bold and modern, pink and black is sure to wow.
Photo: Aurora Grey Photography via Modern Pink Wedding Ideas
70. Blossom Pink
Take inspiration from Spring blossom with delicate pink.
Photo: Sugarbird Photography via Cherry Blossom Wedding Ideas
71. Pink & Red
Tonal pink and red make for a contemporary feel.
Photo: Heledd Roberts via Garden Picnic Wedding
72. Pink & Plum
Rich plum with soft blush is a surefire way to add style.
Photo: Camilla Andrea Photography via Modern Pink Wedding Ideas
73. Dusky Pink & Taupe
Neutralise dusky pink with warm taupe tones.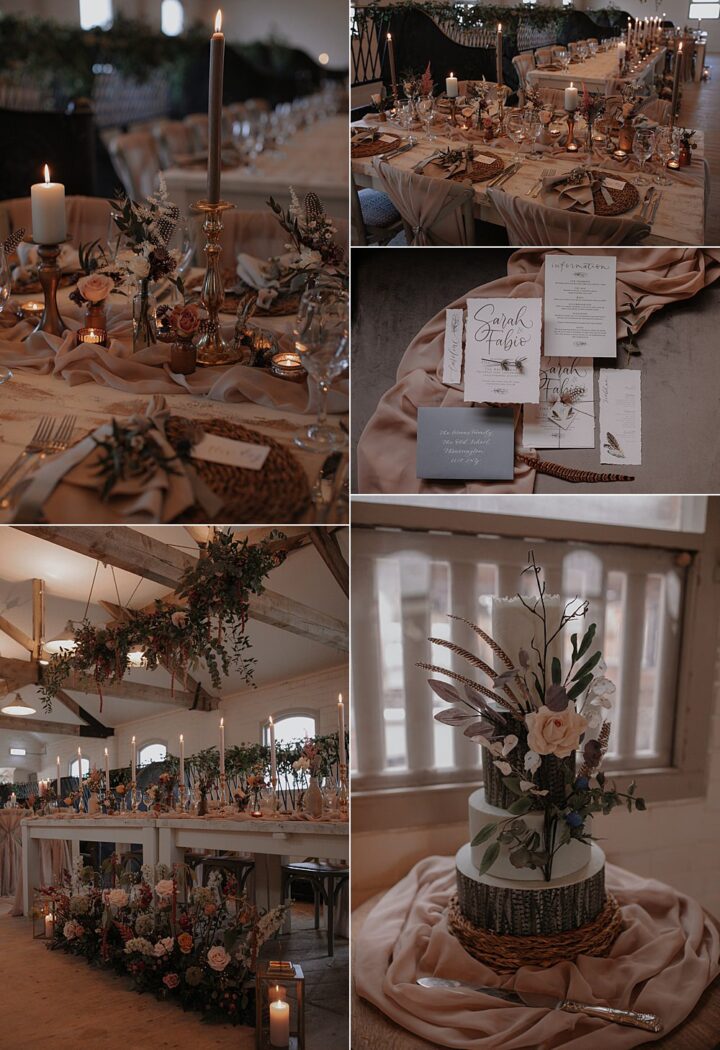 Photo: Helen Rose Photography via Dusky Pink Taupe Wedding
Multicolour Wedding Colour Palette
For the colour lover, a multicolour rainbow colour scheme will bring all the fun. For our wedding, we choose a rainbow scheme and am so happy we did. Bright, beautiful and so unique.
For a multicolour scheme, choose multiple tones or all the colours of the rainbow.
74. Rainbow Brights
Bright rainbow hues using paper decorations is a simple and effective approach.
Photo: Kim Williams Weddings via Rainbow Brights Barn Wedding
75. Pastel Rainbow
Tone down the rainbow touch with pastel hues.
Photo: Michelle Huggleston Photography via Rainbow Wedding Ideas
76. Multicolour Forest
Choose one bold primary colour, then use other tones as an accent.
Photo: Holly Smith via Rainbow Forest Wedding
77. Festival Brights
Use neon and metallics for the ultimate festival rainbow theme.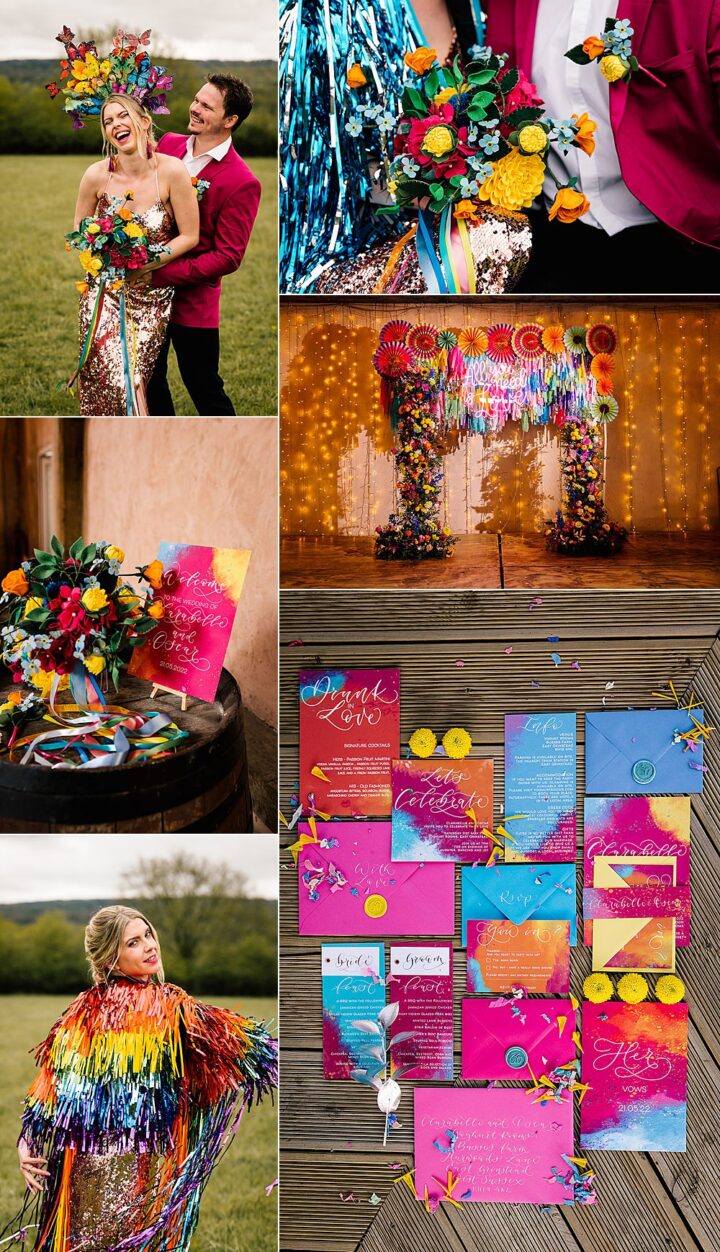 Photo: Teddy Pig Photography via Rainbow Festival Wedding
78. Crafty Rainbow
Make cute decorations in all the colours of the rainbow, keeping other elements simple.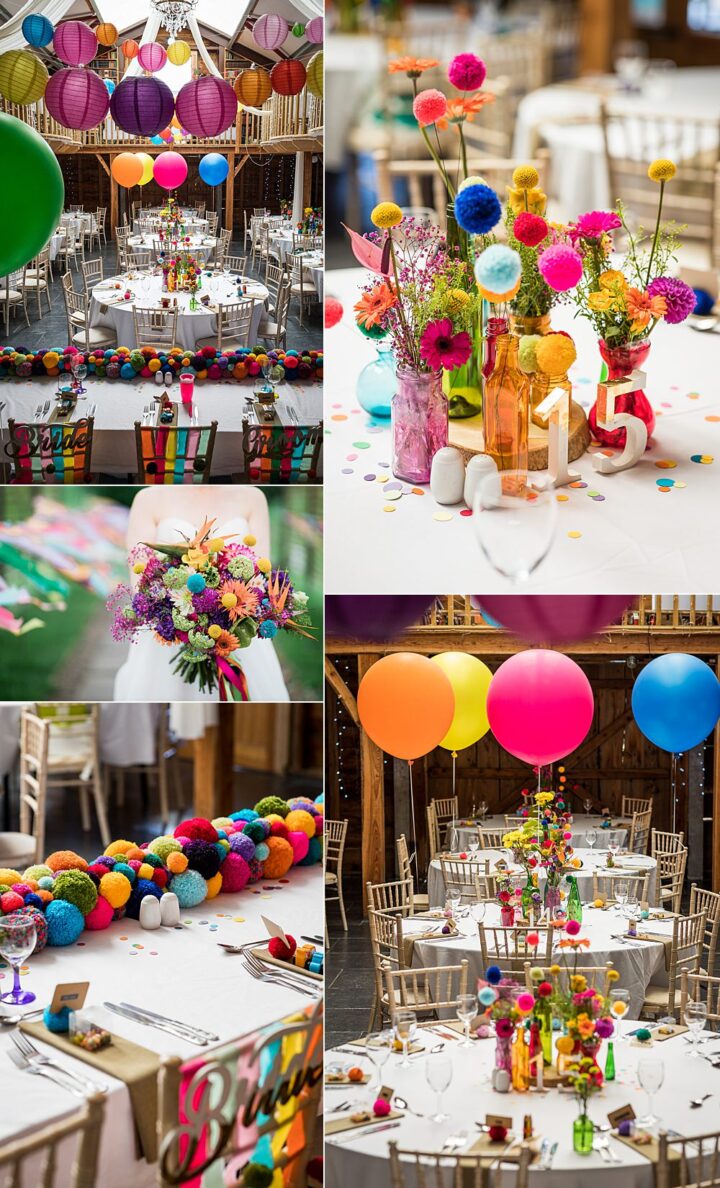 Photo: John Wellings via Woodhouse Barn Wedding
Do I Need A Colour Scheme For My Wedding?
No, you don't actually need to have a wedding colour scheme. Many couples simply pick and choose items they love. They mostly look amazing together as a mismatched palette.
But, if you want a more stylised day, a colour scheme will look more polished. It can also help to make finding and picking elements of your day easier.
How Do I Choose My Wedding Colour Theme?
There are many ways to choose your wedding colours. It all comes down to your personal preference and loves. Here are some ways to get inspired:
Seasonal Tones
Venue Room
Hobbies
Team Colours
Favourite Hues
Colour Wheel
Paint Charts
Flowers
Interiors
Colour Meanings
Once you have some colours chosen, think about narrowing them down. Or see if they look right by creating a mood board.
How Many Colours Should My Wedding Have?
There are no rules when it comes to weddings. Colour palettes can span all the colours of the rainbow. Which means all seven colours. Or you can opt for one hue. Think about having one colour in many tones for an ombre or tonal look.
Alternatively, choose two or three colours for your scheme. Adding metallics is always a winner as they add texture, as are neutrals teamed with bolder tones.
What Colour Is Best For A Wedding?
When it comes to which colour is best for a wedding, there is no winner. All colours can be beautiful and equally stylish. Trends come and go when it comes to colour, so be sure to stay true to your heart rather than what's in fashion. That way when you look back at your wedding photos, you'll always love your decor.
That's a wrap! Not only do you have a plethora of wedding colour ideas, but you have answers to your wedding colour planning questions. YES!