Wedding centrepieces are definitely one of the most fun elements of wedding planning. Perhaps one of the iconic aesthetic elements of a wedding day.
And now you are here, looking for your own wedding centrepiece ideas. It's an exciting moment, but I also know that it can be stressful trying to decide on the perfect focal point for your wedding table.
There's no need to fret, I am here to the rescue with my round-up of drop-dead-gorgeous centrepieces. I am also going to break down choosing your centrepiece, sharing budget-friendly options and my top tips on wedding table styling. Hooray!
Photo: Camilla Andrea Photography via Modern Pink Wedding Flowers: Ivy Floral Event
Wedding Centrepiece Inspiration Gallery
Ready to take a look at all the pretty ideas? Let's go!
1. Gin Bottles
As gin has grown in popularity, so has the gin bottle centrepiece. Save up bottles and ask loved ones to collect bottles, then use them to display blooms.
Photo: Emma B Photography via Spring Cottage Rivington Wedding Styling: Pretty Little Parties
2. Wool Pom Poms
For a touch of colourful fun, add wool pom poms to flowers. Plus for extra jazz, use multicoloured glassware.
Photo: John Wellings via Woodhouse Barn Wedding
3. Tall Flower Arrangement
For drama and luxe, if you have the budget why not opt for tall centrepieces? Ensure the stand is thin enough so as not to disturb guests' views.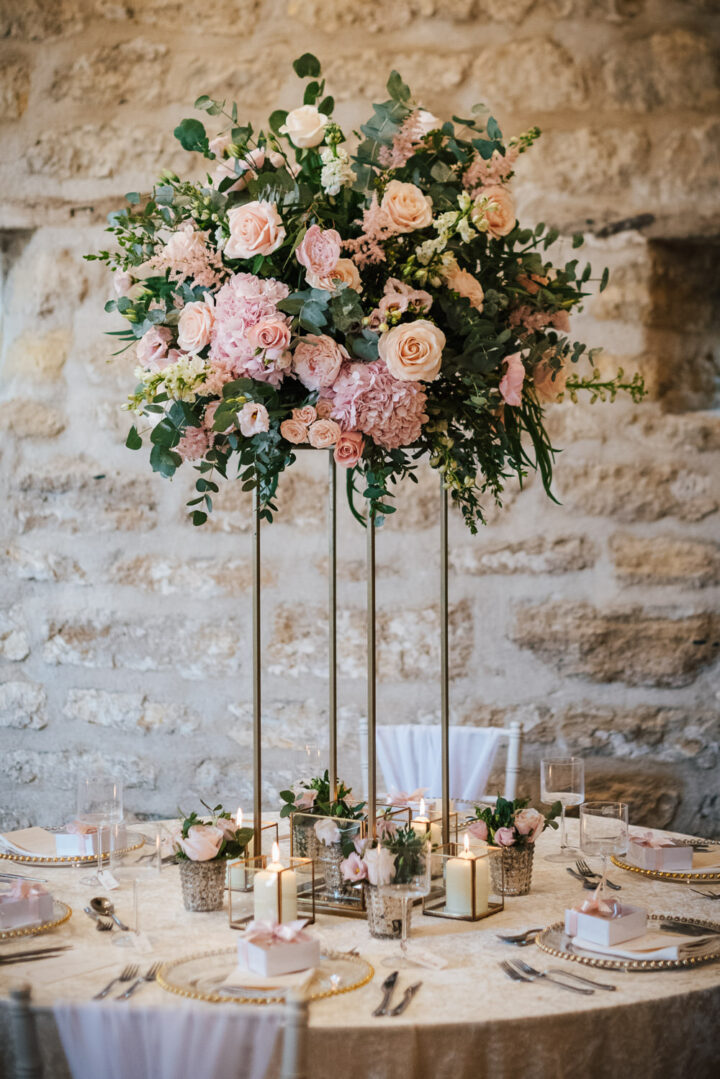 Photo: Sugarbird Photography via Cherry Blossom Wedding Ideas Flowers: Natasha Jane Events
4. Terracotta Plant Pots
How rustic and cute are these terracotta plant pots? Using herbs also adds to wedding day scent as well as making for a perfect wedding gift.
Photo: Richard Skins Photography – Hornington Manor Wedding
5. Candelabra With Flowers
Traditional and always beautiful, is the candelabra draped with flowers. Perfect for stately homes and historic wedding venues.
Photo: Photography34 via Carlton Towers Wedding Flowers: Petals by Louise
6. Watering Can Flowers
Adorable mini watering cans filled with flowers. Perhaps the ideal centrepiece for the green-fingered?
Photo: Siobhan Beales Photography via Barn Upcote Wedding Flowers: AQUA Wedding Flowers & Events
7. Greenery Bottles
A simple yet elegant and budget-friendly centrepiece idea. Collect wine bottles, and fill them with water and greenery before topping bottles with a candle.
Photo: Kloe May Photography via Home Garden Tipi Wedding Flowers: @champagne_and_wellies
8. Paper & Felt Flowers
Why not try making paper or felt flowers instead of using fresh? You could even have a crafty hen/stag party to make them together.
Photo: Emma and Rich via Cowshed Woodhall Farm Wedding
9. Grazing Board
Make your food the star of the show with a grazing board centrepiece.
Photo: Opperhill Photography via Terracotta Wedding Ideas Food: Graze Cheshire
10. Autumn Banquet
An autumn table bursting with seasonal flowers and vegetables for a very dramatic wedding style.
Photo: Charly Mae Photography via Sustainable Woodland Wedding Ideas Florist: Vicki's Floral Designs
11. Wellie Boot
I love this wellington boot centrepiece, perfect for festival or farming wedding themes. Just ensure it's scrubbed clean!
Photo: Albatross and Mariner via Rainy Festival Wedding Flowers: Flowers by Nic
12. Hoop Table Decor
For a modern yet beautiful centrepiece, why not use a hoop to hang tea lights?
Photo: Emilie May Photography via Holmes Mill Wedding Flowers: The Rose Boutique Wigan
13. Balloons
Balloons can make such a fun and bold statement in a wedding reception room scheme.
Photo: Wild Tide Weddings via Trevanna Barns Wedding Flowers: Sharon Mesher Wedding Flowers
14. Milk Churn Flowers
Source mini milk churns and fill with flowers for your table centre. How cute!?
Photo: Photographer Liam Gillan via Willingale Village Hall Wedding Flowers: Abridge Florist
15. Lampshades
For a non-floral centrepiece idea, how about statement lamps with pretty lampshades?
Photo: Harriet Bird Photography via Glazebrook House Wedding
16. Candles
Rather than using candles as a supporting act, make them centre stage with hurricane lamp holders.
Photo: Siobhan Beales Photography via Wick Farm Bath Wedding Flowers: Hibiscus and Hodge
17. Vase
Keep things simple and go for pretty blooms with a classic glass vase.
Photo: Ellie Gillard Photography via Riverside London Wedding Flowers: Palais Flowers
18. Jars & Log Slice
One of the most popular wedding centrepieces in the UK has to be the log slice teamed with jars filled with blooms. And it's easy to see why.
Photo: Faye Amare Photography via Quirky Barn Rustic Wedding Flowers: Rambling Rose
19. Floating Tea Lights
Floating tea lights have a modern airy feel, yet are really classic. Add pine cones or other decor ideas to add extra flare.
Photo: Dani Nicole Photography via Cedar Creek Ranch Wedding Flowers: Petal Shoppe of Monroe
20. Wooden Crate
Use a wooden crate to hold flowers. You could even personalise the box for a wonderful post-wedding keepsake.
Photo: Amy Lou Photography via Castletown Woodland Weddings
21. Fruit
Add seasonal fruit to a vase and fill it with water for a pretty centrepiece idea.
Photo: The Edge Photography via Tipi Farm Wedding Decor: Starry Eyed Weddings
22. Rainbow
Can't choose just one colour? Go for the full spectrum with an ombre rainbow flower runner straight down the middle of your table.
Photo: Michelle Huggleston Photography via Rainbow Wedding Ideas Flowers: Far Hill Flowers
23. Glass Box
Industrial meets modern with a glass box centrepiece. Add dried flowers and candles for a real show-stopper.
Photo: Wyldbee Photography via Industrial Derbyshire Wedding
24. Blossom Tree
Create wow factor with cherry blossom trees on your tables. Surely it'd make the perfect talking point for your guests?
Photo: Sally T Photography via Whinstone View Wedding
25. Halloween
If you are getting married at Halloween, how about using pumpkins and ivy just like this?
Photo: Thyme Lane Photography – Cooling Castle Barn Wedding Flowers: Danny Watchorn
26. Afternoon Tea Stand
Using alternative stands can create really unique displays, such as this afternoon tea stand filled with flowers.
Photo: Paul Underhill via Knighton House Wedding Flowers: Elizabeth Morgan Flowers
27. Seaside
Bring the beach to you by adding shells to a pretty tablescape of blooms. Be sure to source them ethically though.
Photo: Gianmarco Amico via Salina Elopement Ideas Styling: Dandelion Celebrations
28. Umbrella
Theme tables and add unusual props such as umbrellas for added height.
Photo: Masha Unwerth via Sunflower Rustic Wedding Flowers: Luke and Lottie
29. Hessian
Hessian has been a popular choice over the years. It's natural and neutral which lends itself well to a wedding day style.
Photo: Gemma Gaskins Photography
 via Mint Gold Barn Wedding Styling: Pumpkin Events
30. Drumsticks
Are you musical? Why not add an instrument or prop such as this drum stick centrepiece?
Photo: Mark Newton Wedding Photography via Vintage Personal Wedding
31. Buttons
If sewing is your jam, show off your personality. Fill a bottle with mismatched buttons.
Photo: James Grist via Tea Infused Wedding
32. Woodland
Bring the outdoors in with a woodland effect centrepiece. Choose logs and moss for real authenticity.
Photo: Kerry Diamond Photography – Woodland Boho Wedding
33. Wool Bottles
Wrap colourful wool around bottles to make them really shine. Then simply add flowers.
Photo: Benjamin Mathers Photography via Beautiful Multicolour Wedding Flowers: Fresh and Silk Flowers
34. Teapot
Using what you already own, such as a teapot collection is a lovely way to display blooms.
Photo: Lina and Tom via Doctor Who Wedding
35. Globe
For travel-themed weddings, use globes as a centrepiece rather than flowers.
Photo: Nikki van der Molen via Wedding On Concorde
36. Tea
Have fun with your centrepieces by using themes like tea! In-jokes are sure to be a great ice-breaker at tables too.
Photo: Jo Bradbury via Jo Bradbury
37. Cactus
Using plants such as cacti is a great sustainable centrepiece idea. They will live way after your wedding day if well looked after.
Photo: Katherine Ashdown via Colourful Cactus Wedding
38. Book Art
Create book art for a really unusual centrepiece idea, that you can display at home after the big day.
Photo: Sue Slique Photography via Relaxed Watercolour Wedding
39. Pinecones
Foraging for items such as pinecones is a great cost-effective centrepiece option. Add to a jar and you have an easy decor idea that can also be made in advance.
Photo: Donna Murray Photography via Ancient Forest Wedding
40. Lavender
Dress pot plants such as lavender in hessian bags. Can you even imagine the beautiful lavender scent at this wedding?
Photo: Lydia Stamps Photography via Lavender Filled Wedding
41. Bell Jar
Bell jars are a great way to add texture to what could be an otherwise boring display. Pop trinkets or flowers underneath to make them a real focus of your centrepiece.
Photo: The Life Romantic via Circus Funfair Wedding
42. Painted Jars
Spray paint jars and vessels to revamp them for your day. I spray-painted bottles for my wedding and loved the end result.
Photo: Leah Lombardi via Pimhill Barn Wedding Flowers: The Shropshire Field
43. Painted Terrarium
How beautiful is this hand-painted terrarium? What an amazing idea.
Photo: Robert Leons Photography via Langar Hall Wedding
44. Emma Bridgewater
If you are an Emma Bridgewater super-fan, use their vases and jugs for the prettiest of centrepieces.
Photo: The Chamberlins via Marquee Wedding at Home
45. Feathers Wheat & Dried Flowers
Feathers, wheat or dried flowers can work so well as centrepieces I am sure you will agree.
Photo: Ellie Gillard Photography via Voewood Wedding
46. Jug
Find beautiful jugs and use them to display your flowers. Simply gorgeous!
Photo: Hayley Baxter Photography via Yorkshire Barn Wedding
47. Paper Art
For a really unusual centrepiece, why not create a paper masterpiece?
Photo: Anna Pumer Photography via Big Top Wedding
48. Mini Buckets
Galvanised mini buckets make for a perfect flower vessel.
Photo: Nick Walker Photography via Bre Pen Farm Wedding Flowers: Coastal Flowers
49. Christmas
Getting married at Christmas? Add mistletoe, seasonal greenery and fairy lights to your table centres.
Photo: Thyme Lane Photography via Christmas Marquee Wedding Styling: Starry Eyed Weddings
50. Books & Harry Potter
My Harry Potter book collection is my most treasured item. If you are happy to crack out your treasured books, use them to add height to your centrepiece.
Photo: Honeydew Moments via Treehouse Wedding
51. Moss
Moss is a really beautiful natural material to incorporate into your wedding party. Do be sure to source from an ethical supplier though.
Photo: Aden Priest Photography via Geodome Campsite Wedding
52. Disco Balls
Bring drama down from the ceiling or add disco balls to the table itself.
Photo: Michelle Huggleston Photography via Disco Ball Wedding Inspiration Styling: AMW Events
53. Crystals & Moons
Using elements such as crystals is a really unusual display idea. Bring a celestial theme truly to life.
Photo: Limelight Entertainment via Witchy Wedding
54. Optician
Use your job as inspiration for your centrepiece like the couple below did.
Photo: Adam and Grace via Tullyveery House Wedding
55. Board Games
If you love nothing more than spending your evenings playing board games, please do bring them along to your wedding.
Photo: Fox and Bear Photography via Chateau Rhianfa Wedding
56. Personalised Table Cloth
Make your table cloth stand out with a touch of personalisation.
Photo: Danielle Leslie Photography via Netherdale House Wedding Flowers: The Flower Shop Peterhead
57. Living Terrarium
Create a mini habitat for fairies. This centrepiece is from a fairy-inspired wedding and it's just magical.
Photo: Holly Driver Photography via Fairy Wedding
58. Festive Greenery
For a winter wedding, use spruce and atmospheric candles, so romantic!
Photo: Mini and Me Photography via Christmas Wedding Ideas Flowers: East Kent Flower Company
59. Animals
Add a nod to your love of animals by using animal trinkets and painted toy animals.
Photo: Kerry Ann Duffy via Greatest Showman Wedding Flowers: Blubelle Creative
60. Tin Can
Strip tin cans and use them to hold flowers. They really are transformational in the right setting and add a beautiful metallic touch.
Photo: Emma Lawson via Glen Dye Wedding Flowers: Hays Flowers
61. Painted Glass Bottle
Beautify plain glass bottles with paint for a stained glass effect.
Photo: Anna Rose Heaton Photography via Lower Damgate Farm Wedding
62. Fairytale
Take inspiration from fairytales or films for individual centrepieces for each table.
Photo: Mine & Thine Photography via Yorkshire Woodland Wedding Decor: Maria Jakulus at Detail. Styling
63. Suspended Flowers
Raise your table runner flowers into the air for a super beautiful style.
Photo: Jessica Bevan Photography via Montague Farm Wedding Flowers: Tawny Flower Shed
64. Floral Meadow
More is more with this look, pile on the flowers for the prettiest of looks.
Photo: Gem Hicks Photography via Apricot Wedding Ideas Flowers: The Floral Potager
65. Scattered Candles
Add delicate candlelight throughout your table at different heights. It will create such a romantic atmosphere.
Photo: Helen Rose Photography via Dusky Pink Taupe Wedding Flowers: The Flower Fox Studio
Top Wedding Table Styling Tips
Work In Odds
The golden rule of any table styling is to work in odd numbers. It just looks so much better. For instance, using one rather than two bottles with flowers or three rather than two candles.
It looks more natural and visually is more pleasing to the eye. You'll probably now notice how stylists use this rule from interiors to weddings.
Use Height
Don't be afraid of using height in your centrepiece. It adds pizzazz to your wedding reception room. A word of warning though, you need to hit the middle ground.
Too low and no one will see the centrepiece through their drink glasses, too tall and guests won't be able to see each other, or you!
For each table try to use different heights as well as a more organic feel. Low-level tea lights, mixed with tall candles for example can look magical. The same goes for different height vessels for flowers, it really works.
Do A Mock-Up
Once you have all your different elements, be sure to do a mock-up before the day. OK, so you won't have the actual flowers ready, but you can have a stand-in.
Adjust until you are happy, you can then add or remove items from your centrepiece. And once you are happy, take a photo!
This photo will then form the base of your design for your wedding suppliers to see and your set-up crew. That way everyone knows what they are doing and how the centrepiece is meant to look. Then you won't need to step in to micro-manage and organise every little detail.
Photo: Rachel Kenyon via Bashall Barn Wedding Flowers: The Flower Shop Garstang
Don't Bust Your Budget
Never ever feel like you have to bust your budget to have your dream wedding day. No wedding is worth wrecking your finances for your future marriage.
If your budget is tight, keep things simple. For example, reuse items you already own or will reuse. Buy second-hand items or resell them after the wedding. You can also use dried flowers or foraged greenery instead of more expensive flowers.
Some florists or flower farms sell DIY flower buckets or head to a flower wholesaler for budget-friendly blooms. Reuse your bouquets as centrepieces, simply pop them in vases in the centre of tables.
Your guests may be wowed when they first sit down by a show-stopping centrepiece. But after 10 minutes or so, they will be more interested in the company at the table, the food and of course, the drinks. So don't fret if you can't stretch to all-out table decor.
Think About Your Table Shape
Before concentrating on your centrepieces, do plan out your table shapes and wedding table layout. Your floor plan may dictate the options. However, your centrepieces are likely to change depending on whether you have round or rectangular tables.
Generally, for round tables, it's best to have one main focal point, with other elements surrounding it.
If you are opting for rectangular tables, have centrepieces dotted along the centre of the tables. Begin with one central centrepiece and work your way outwards in odd numbers.
Leave Enough Space
The main purpose of your wedding tables don't forget, is for your wedding guests to eat and drink. As well as socialise.
So do be sure not to overwhelm your table space, think about room for plates, cutlery, condiments, drinks and any other serving dishes.
What Does A Wedding Centrepiece Consist Of?
Seeing as we've dived into the gorgeous visual centrepiece inspiration, let's break down the centrepiece. That way you can spot the ideal elements for your own tables.
Table centrepieces traditionally would have consisted of a small flower arrangement. These days, most commonly centrepieces have more styling to them.
At least they can do, after all, whatever works best for you and your budget! But sometimes more is more and other times a more low-key approach works well. But here are the key parts that make up a wedding centrepiece.
Wedding Centrepiece Elements
Focal point - flower/decor
Fabric - runner/napkin/cloth
Stand - mirror/log slice/wire/tray
Lighting - candles/fairy lights
Vessel - for flower/decor
Extras - confetti/fruit/vegetables etc.
Information - table name/number/menu/sign
Now you know the main elements, you can essentially create your own pick n' mix for your unique centrepiece look, cool huh?
So when you are looking at the below photos, start making some notes on which of each element you are loving the most. Then see if you can make them work together!
And there we have it, the elements that make up a wedding centrepiece, your wedding centrepiece ideas photo gallery as well as my top centrepiece planning tips. It's now time to go off and enjoy arranging your table centres!
Further Reading