There are so many little touches to consider when it comes to planning a wedding. Right? And one of those is the wedding post box.
If you think your guests will be generous enough to bring a card along to your day to wish you well. Then these wedding post box ideas for cards are going to be ideal! No matter your budget or style, you'll be sure to find the perfect wedding card storage holder.
Photo: Joshua Rhys Photography via Old Barn Wedding
Unique & Stylish Wedding Post Box Ideas
Let's take a look at some unique ideas. From DIY post boxes to budget-friendly boxes and modern card storage, I've got them all.
Stylish, practical and relevant ideas for every couple and wedding style. Yes!
1. Wooden Crates
Wooden crates are beautifully rustic, but can also be picked up fairly cheaply. If you are lucky you may even find one for free! Add flowers and cute decor items that tie into your wedding theme too.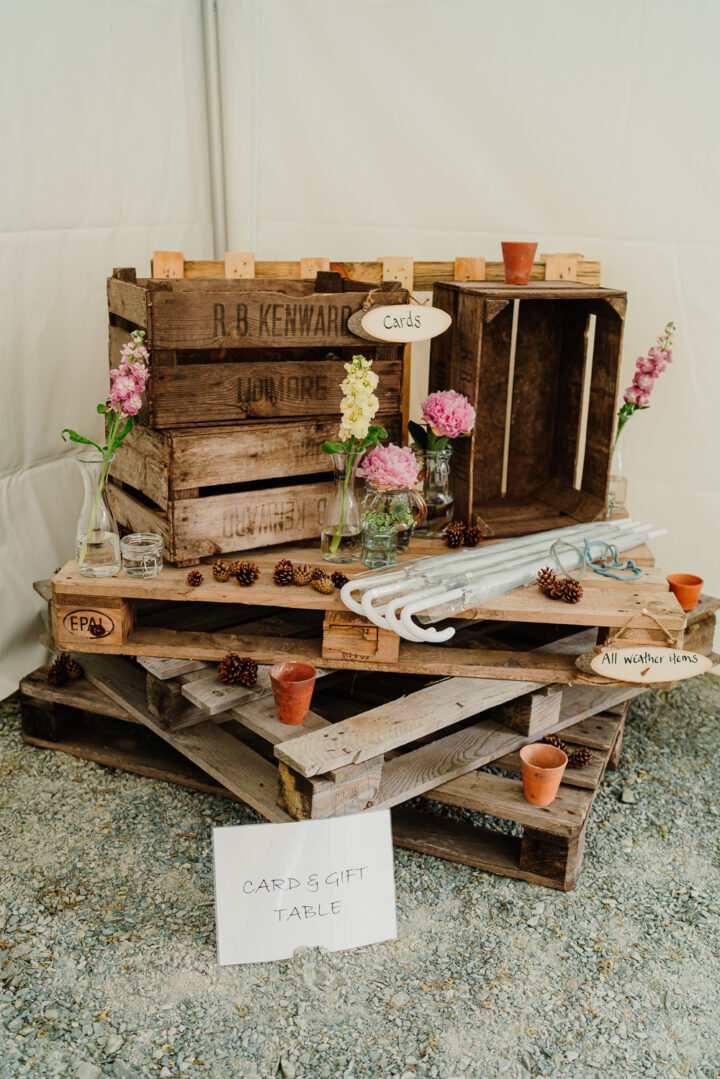 Photo: Lauren May Photos via Yew Tree Farm Wedding
2. Mini Ottoman
For the perfect keepsake post-wedding, a custom mini ottoman card box is perfect. You could always make your own too, but upholstering a plain box and adding a lid with hinges. So cute!
Photo: James and Kerrie Photography via Holbrook Manor Wedding Card Box: Sparrow and Plumb
3. Wooden Campervan
This couple made their own mini campervan from wood. You could also source this style of post box to hire or buy if you aren't a dab hand with a saw.
Photo: Daniel Lightening Photography via Farmyard Wedding
4. Traditional Post Box
Go traditional and buy or rent a wedding post box. Personalise with a sign sharing your name and wedding date too.
Photo: Firewood Film via Fun Colourful Barn Wedding
5. Terrarium
You can pick up this classy white terrarium from IKEA. Simple, stylish and sure to fit with any wedding decorations. It's also ideal to keep and grow plants inside post-wedding.
Photo: Terri & Lori Photo and Film via Boho Rustic Barn Wedding
6. Wooden Barrel Table
Think outside of the box with your card table, such as using a wooden barrel.
Photo: Martin Venherm Photography via Falside Mill Wedding Styling & Props: Fifty Six Events
7. Mailbox
This metal mailbox is from my own wedding! We spray painted our hands, alongside our children's as well as our surname to personalise. We're planning to display it in our garden or home too.
Photo: Alexa Loy via Our Wedding Reception
8. Vintage Suitcase
Search your loft or local charity shops for a cool vintage suitcase to hold cards.
Photo: Bloom Weddings via Animal Lovers Wedding
9. Wooden House
How adorable is this simple wedding post box made from wood?
Photo: Lisa-Marie Halliday Photography via Beauvale Priory Wedding
10. Painted Post Box
DIY your own cardboard box and paint it with your wedding colours.
Photo: The Dignums via Birtsmorton Court Wedding
11. Cardboard Box
Simple and pretty, this cardboard box is likely to be inexpensive and looks great. You could also try making your own.
Photo: Bloom Weddings via The Barns East Yorkshire Wedding
12. Wicker Basket
A wicker basket with a lid could be something you already own. It will definitely get used after your celebrations too for a sustainable card box idea.
Photo: Emma Adamson Photography via Whinstone View Barn Wedding
13. Wooden Drawer
Have a lovely piece of furniture at home? Bring along one of its drawers and pop on a sign. Free and cute!
Photo: Photography34 via Industrial Cool Museum Wedding
14. Metal Bucket
Get yourself a pretty metal bucket, which can then be used for keeping drinks cold on your wedding anniversary!
Photo: Grace Elizabeth Photography via Iridescent Sequin Wedding Dress
15. Guitar Case
Guitarist? Bring along your case for a music-inspired wedding post box idea.
Photo: Thyme Lane Photography via Barn Norfolk Wedding
16. Drum
If a guitar isn't your thing, how about a drum?
Photo: Ayesha Photography via Elsecar Heritage Centre Wedding
17. Glass House
Isn't this glass house with scrabble tile decoration lovely?
Photo: Amy Lou Photography via Wylam Brewery Wedding
18. Doll's House
Craft or buy a doll's house for the most adorable card box. This is perfect if you have kids or are planning to. Imagine them being able to play with it in years to come.
Photo: Hannah Dornford-May Photography via Whimsical Floral Lodge Wedding
19. Birdbox
Pick up an inexpensive birdbox (or DIY one) before accessorising. It'll feel good to know you'll be giving a bird a home in the future too.
Photo: James Grist Photography via Crafty Tea Wedding
20. Shopping Trolley
An alternative card box idea has to be a decorated shopping trolley! So fun.
Photo: Pete Cranston via Alternative Creative Budget Wedding
21. Picnic Hamper
Who doesn't love a picnic? Bring along your picnic hamper to use for a quaint style.
Photo: Story & Colour via Homespun Fun Country Barn Wedding
22. Wire Basket
Wire baskets are readily available to pick up from many stores and will do the job perfectly.
Photo: Two D Photography via Raw Industrial Barn Wedding Ideas Styling: Songbird Weddings and Events
23. Rope Card Box
Decorate your card box with rope for a nautical style.
Photo: Michelle Huggleston via Relaxed Fun Beach DIY Wedding
24. Round Boxes
I love how these stacked round boxes look like a wedding cake.
Photo: Cornelia Lietz via Cool Summer Germany Wedding
25. Paper File
The simplest of items can be the most ingenious. Scour your local stationery store or car boot sales for inspiration.
Photo: Samantha Ward Photography via Medieval Astronomy Wedding
How Do You Collect Wedding Cards On The Day?
To collect wedding cards, the best way to do so is to create a card table or post box. That way guests know exactly where to leave their cards or gifts and they can be kept safe.
How Do You Display A Card Box At A Wedding?
The best way to display a wedding card box is to give it a table! You can pop your post box alongside other similar details such as your guest book. Be sure to place your wedding post box table in a visible location so guests can spot it. Keep the table area with plenty of space for guests to walk around it.
Do consider keeping your card or gift table in a safe, secure place where your venue or a loved one can keep an eye on it. It's best to keep it further back from the exit if you have high-value items and the general public is able to access the table. You could also ask someone to take away cards and gifts at intervals to store them securely during the day/evening festivities.
It's also a good idea to think about possible damage from drinks, so it may be useful to keep cards and gifts away from the bar area.
Do You Need A Wedding Card Box?
There are no rules when it comes to wedding planning. You definitely do not need a wedding card box. If you aren't expecting cards and gifts or have asked not to have them, feel free not to have one.
It is an important thought to think about where guests will put cards and gifts if you don't provide a box or table. Will they hand them to you directly, and will you have somewhere to put them? Perhaps you won't want to be sorting this during the dancefloor action or in the middle of your drinks reception.
The great thing about a wedding post box is it's pretty much self-service.
What Can You Do With A Wedding Card Box After The Day?
If you don't hire your wedding card box from a wedding decor hire company, then it's a great idea to consider it's future home. Here are some ideas on what to do with your box after the wedding:
Sell it to another couple.
Give it away to someone you know getting married.
Reuse it in your home/garden as storage.
Display it in your home/garden as decor.
And that's a wrap! All the wedding post box ideas you are ever going to need. It's time to now plan yours. Hooray!
Further Reading
This feature was originally written by intern Anna and has since been updated by Lou to ensure it's full of fresh ideas and content to inspire your day.