Vintage and retro inspired weddings always make my heart pound that little bit faster. Old fashioned romance, timeless attire and sweet decorations, this wedding has it all.
Alice and Jake were married on the 24th June 2017 at Ivy House Country Hotel in Suffolk. They used the two venues at the location, with a ceremony in the barn and the reception in the hall. This worked perfectly with the vibe of their day and the home made décor really looked gorgeous in situ. The hand made items don't end with the decorations though. Alice's mum is a seamstress and made not only her dreamy blush gown, but the bridesmaids dresses, bow ties and the table runners too. WOW!
There is really so much to love here today, for me though it just has to be the loved up beautiful portraits of the couple by Georgia Rachael Photography. Swoon! Thanks so much for sharing them with us Georgia.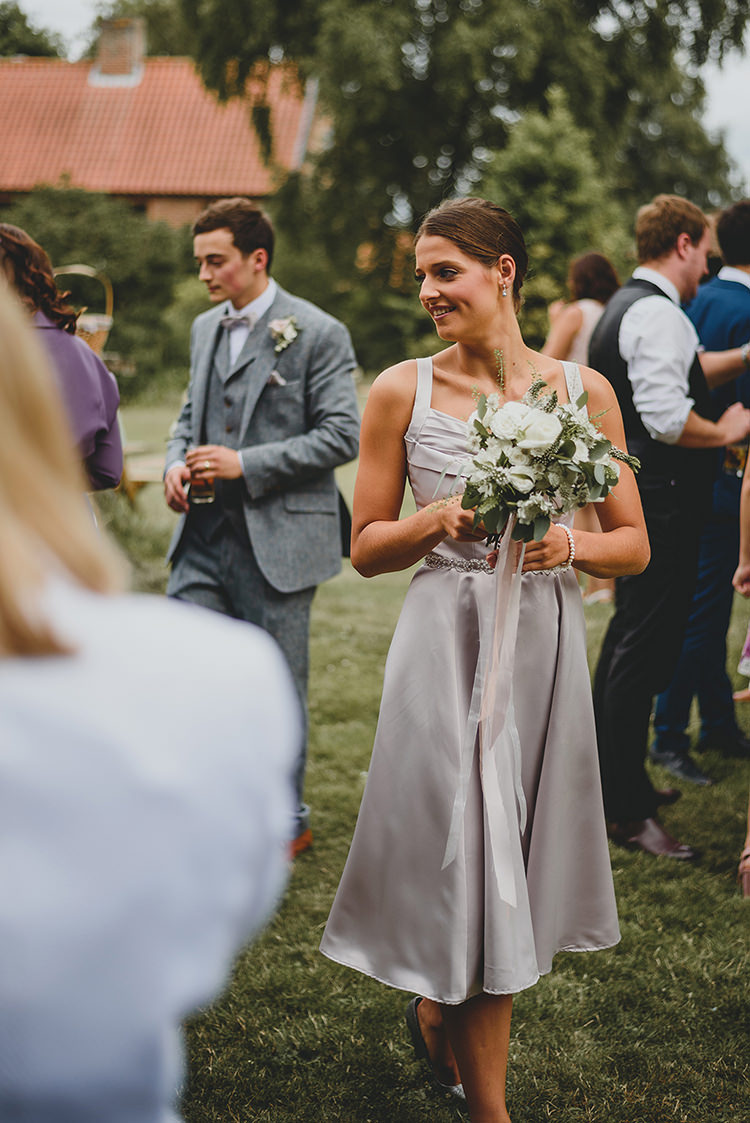 THE PROPOSAL | Jake took me to Paris as a surprise birthday trip for my 22nd birthday. We spent the day in Disneyland then on the way home we went to look at the Eiffel tower lit up at night, this is when Jake proposed.
THE VISION | I love the 50's/60's style music and décor so we decided to have a handmade vintage style theme for our wedding.
THE PLANNING PROCESS | We spent two years planning but most of the key things we booked straight away. We only looked at two venues but loved the first one straight away. It wasn't a difficult process as we took our time as got things when we saw them.
THE VENUE | Ivy House Country Hotel, Oulton Broad. We picked Ivy House because it has beautiful gardens and two lovely venues, which we used. We got married in the crooked barn and then had our reception in Ivy Hall. We had around 55 guests in the day and up to 120 in the evening.
THE DRESS & ACCESSORIES | My beautiful mum is a seamstress so I was lucky enough to have her make my dress. I designed it and she followed my picture. We wanted to give it a vintage feel with some beautiful lace and delicate cap sleeves. I didn't want a white dress so I opted for a champagne/blush colour, which I loved! My accessories were made by Sparkily Ever After. A small company I found on Facebook who were very happy to help and made my beautiful crystal accessories.
GROOM'S ATTIRE | My mum made the boys their bow ties in grey to match the bridesmaids. Jake picked his suit it was grey tweed and fitted the theme perfectly. The suits were hired from Parkers Formalwear in Lowestoft.
THE READINGS & MUSIC | "He's not perfect. You aren't either, and the two of you will never be perfect. But if he can make you laugh at least once, causes you to think twice, and if he admits to being human and making mistakes, hold onto him and give him the most you can. He isn't going to quote poetry, he's not thinking about you every moment, but he will give you a part of him that he knows you could break. Don't hurt him, don't change him, and don't expect for more than he can give. Don't analyze. Smile when he makes you happy, yell when he makes you mad, and miss him when he's not there. Love hard when there is love to be had. Because perfect guys don't exist, but there's always one guy that is perfect for you." My mum did this reading.
We created a playlist of our favourite 50's/60's music for our ceremony and reception.
BEAUTIFUL BRIDESMAIDS | I had my two close friend's Kim and Stephanie and two little bridesmaid my goddaughters Sophia and Daisy-Belle. The older girls wore beautiful knee length grey vintage dresses made by my mum and the younger girls wore ivory dresses with a grey sash also made by my mum.
THE FLOWERS | Irene's House of Flowers provided our bouquets and buttonholes. We chose pale pinks and creams with soft grey foliage for my bouquet and my bridesmaids had all cream flowers in theirs.
THE CAKE | We were very lucky to have our cake made for us as a wedding present. I designed the cake, which was fun, I chose to have a simple but elegant design with a pale colour to each layer.
YOUR PHOTOGRAPHER | Georgia Rachael. Georgia was amazing she was there from start to finish and listened to everything we wanted. She was patient and made us all feel very comfortable. We are thrilled with our wedding photos which capture every part of our incredible day.
THE DETAILS & DÉCOR | I made a fair bit myself, including signs and bunting and my mum made table runners and other decorations. We then hired some pieces from Best Wishes Special Occasions who also did our centre pieces, which were beautiful jugs of flowers in our colour scheme. They were great at creating exactly what we asked for and helping make our day run smoothly.
THE HONEYMOON | We had an incredible honeymoon travelling across America. We started in San Fransisco then drove to Los Angeles and finally drove to Las Vegas. Our honeymoon was organised by Donna Bidwell Travel Counsellor.
MEMORABLE MOMENTS | Walking down the aisle and seeing all our favourite people in one room was definitely a highlight of the day. Also the speeches were amazing and made me very emotional!
ADVICE FOR OTHER COUPLES | Don't sweat the small stuff, you soon realise on the day that little details really weren't as important as you thought! The best thing is having the perfect group of friends and family around you and marrying the love of your life.
CREDIT WHERE CREDIT IS DUE |
Photography | Georgia Rachael Photography
Venue | Ivy House Country Hotel
Jewellery | Sparkily Ever After Jewellery
Hire | Best Wishes Special Occasions
Suit | Parkers
Flowers | Irene's House of Flowers
Honeymoon | Donna Bidwell Travel Counsellor
Hair | Laura Klyne Hairdresser – Hair by Lawrence
Nails | Bellablue Nails
How perfect!
Alice and Jake, thank you both ever so much for sharing your splendid story with us xo Lou