Amy and Matt chose not one but two cracking wedding venues for their Manchester city wedding celebrations. First they were married at The Deaf Institute followed by a big party at Victoria Warehouse on the 26th May 2018. The couple had connections with both of the venues, so they meant a lot to them.
Their day was all about the fun, with an unpretentious no-nonsense atmosphere. There was also a first look, which was shot so wonderfully by Kate McCarthy Photography, those images are filled to the brim with love and emotion. Amazing!
There is so much to take in, beautiful florals, an incredible fairy lit reception, two outfits for Amy and quirky touches like the hangover kits for guests to name a few. You're in for a real treat.
Sponsored Ads
The Proposal
We'd talked about the fact we'd get married someday many times, but had never put any pressure on ourselves to do so in a rush. We'd been out enjoying some drinks in the sun with our friends at our local in Chorlton last summer. On our way home we stopped off on the way for a final drink and got talking about it again. At that point we said to each other why don't we just do it. We had already been together for 9 years and it just felt right, so we thought, why not!? It's an excuse to get all of our family and friends together and throw a party too!
The Vision
Once we'd got engaged, we were keen to get planning and not to drag it out for years. Within a month or so, we had all the big details planned out and booked in. We love where we live so there was no question that we wanted to have it in Manchester and as guests would be travelling from all over the country, we wanted the venues to be easy to get to.
We're not religious, or overly traditional, so we wanted to do it in a way that felt right for us. That meant we didn't want to take it too seriously or 'put on a show'. It was really important to us that it felt real and a true reflection of our personalities. We didn't want any part of the day to feel forced or like we were trying to portray an image of ourselves that wasn't true.
The main focus of the day was for all our friends and family to have fun so we knew there needed to be plenty of food and drink and minimal, boring waiting around.
The Planning Process
We didn't really have a plan and things just seemed to sort themselves out, it was really stress free.
The main concern was how to dress the warehouse, as it's such a blank canvas. We had no idea where to start! Our friend Alex stepped in and drew me up a floor plan and some ideas for décor. I then spent the next 6 months trawling charity shops for vintage glassware for MANY tea lights. Unfortunately for Matt, he was required to drive and accompany me on this mission and has embraced a new-found appreciation for charity shop-free weekends since the wedding.
The Venue
Ceremony – The Deaf Institute
When we found out that The Deaf Institute was a registered venue to host wedding ceremonies, there was no question that we wanted ours there.
We didn't want to get married in a church or a barn and The Deaf Institute is such a beautiful old building, in a central location. The Music hall is beautiful and we liked the idea that guests could sit on the steps at the back too. We've attended countless gigs there over the years, including the first time we saw a band called The Growlers. This is a band that we (and Matt's best man too) are obsessed with – we even went to California on our honeymoon to see them play in LA – so all of which combined means the venue already had a special place in our hearts.
Reception – Victoria Warehouse
We wanted something urban and big enough to comfortably accommodate all our guests. Again, we wanted it to be somewhere that felt comfortable/relatable for us – not trying to be too fancy, and definitely not another soulless, cardboard cut out, generic wedding venue – no seat covers/bows on the back of chairs etc!
Victoria Warehouse ticked the box for all of that and had sentimental meaning too. Matt's Grandad used to work on the railway in Salford and Manchester, including handling the goods that used to come through Victoria Warehouse too. He's no longer with us, so it was a nice way to feel closer to him on the day too. Plus, it's right next to Old Trafford too, which admittedly was more of a plus to Matt (a lifelong Manchester United fan).
The Victoria Warehouse event planners were really lovely and super helpful which made us feel more comfortable too. They talked us through all of the possible options, allowed us to decorate and put our own stamp on the venue and helped us decide on food and drink options too. They organised a food tasting for us and we knew all of our guests would enjoy it after that. Everybody really enjoyed the food!
Your Outfits & Accessories
Bride – I had no idea what I wanted to wear but I just knew that I didn't want anything that was too far removed from what I would normally wear. I started looking for Vintage bridal shops and was lucky to find a really good one in my home town of York – Glory Days. They had an amazing selection of vintage dresses but not the right one for me. I felt so comfortable there as they were lovely and not pushy at all so after not having much luck elsewhere, I opted for their bespoke service. I went for a simple 70s style silk dress, with a lace neck detail. My shoes were green velvet Miu Miu platform sandals (I think I subconsciously planned the dress around the shoes).
For the reception I changed into a Stella McCartney jumpsuit.
Groom – Matt looked around all over the place to find the right suit and ended up finding 'the one' in Ted Baker – Not everyone knows about the suits and bridalwear section downstairs in the shop on New Cathedral Street – it's really good.
Matt wanted a mix of a traditional style suit but with a modern fit. He loved the suit straight away and bought it immediately, but it needed a few tweaks. The girls at Stitches in took care of this and tailored it perfectly for what he wanted. Those guys are the best in town for anything like that! It was a three-piece suit in navy blue with a subtle check.
For his shoes he chose a pair of burgundy brogues by Loake and a tie in the same colour to match. The tie had a bee pattern on it which Matt wore proudly as a nod to Manchester and in respect to the victims of the attack at the MEN arena.
Matt also wore the pocket watch which his Grandad was given for his service on the railway.
Bridesmaids
My bridesmaids are my oldest friends, Steph and Jen, we have been friends for 20 years. I wanted them both to wear what they wanted to wear and be comfortable so I didn't dress them. Steph's dress was from ASOS and Jen's was from Anthropologie.
Beauty
Martine (@mbmakeupandhair) did mine and my bridesmaids make up and was fantastic. She listened to and understood exactly what kind of look each of us wanted and translated that exactly as we had imagined. We were all really pleased. I did my hair myself and luckily it worked out OK!
Your Photographer
Kate McCarthy.
At first we didn't want a photographer but after some parental pressure we started looking for one and as soon as we met Kate we knew we had made the right choice. She understood exactly what we wanted and she did not disappoint. She is so much more than a photographer as she helped to co-ordinate the day too, we cannot recommend her enough. She's given us some amazing photographs to remember the day forever.
The Music
We booked a local band called the Gobots and they had the dance floor filled; there was even some crowd participation.
The Details & Décor
Tea lights – charity shops
Fairy lights
Chairs to compliment the venue
The Flowers
The bouquets and buttonholes were made by my bridesmaid Jen. I wanted her to make them as I felt it had more sentiment and she knows my style and personality better than anybody. It was also nice to be part of the process, buying flowers from all over Manchester.
The venue flowers were by Sass Flower. They looked amazing, she knew exactly what we wanted from just asking a few questions.
The Honeymoon
A few months after the wedding we went to LA followed by Palm Springs. In LA we went to see the band, The Growlers (which we mentioned earlier are our favourite band who we first saw at The Deaf Institute together). After a few days in LA we drove over to Palm Springs and just lazed around the pool with drinks for a few days, trying to survive in the 41 degree heat!
The Cake
My friend Abi made it. I wasn't going to have one but she offered to make us one, which was really thoughtful of her. She has always been a star baker so we knew we were in good hands and she did not disappoint. It was a naked cake dressed with fruit and mini doughnuts, with mini Lego versions of me and Matt on the top (she even managed to find a mini slice of pizza for Matt).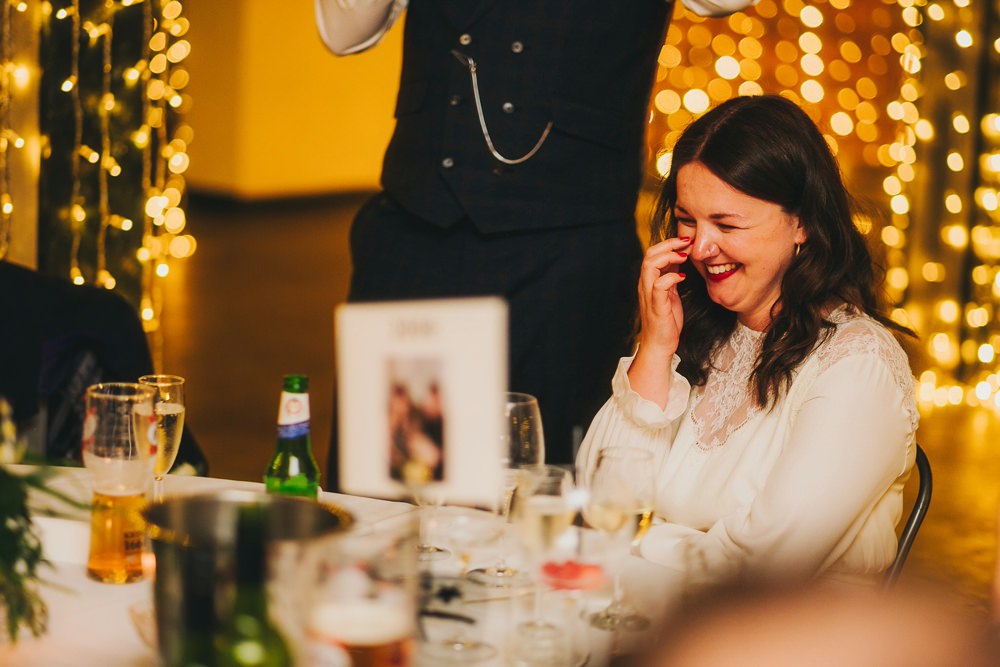 Memorable Moments
How much our friends and family did for us made the whole experience the best it could have been. We didn't ask for any help from anybody but all our friends and family were so excited and wanted to be involved and help out as much as possible. It really made us aware of how lucky we are to have these people in our lives.
Also, just having all of our family and friends all together in one place for the first, and probably only time ever was really special and one of the things that stands out the most from the whole day is the distinct memory of the warm feeling that gave us. It really makes you appreciate what you have.
Before the ceremony we both sat outside, at the back of The Deaf Institute, with the bridesmaids and best man. It made a really surreal experience just seem normal and helped keep us calm despite the nerves!
Advice For Other Couples
Just do it in your own way, on your own terms. Obviously don't be selfish; you still need to try and make everyone comfortable (fed, watered and not bored or out of pocket) but when it comes to everything else, don't worry about what people will think – it's your day, so do it in your own style.
Credit Where Credit Is Due
Amy and Matt, thank you both so so much for sharing your celebrations with us xo Lou