We are honoured to begin this fine late Autumn week with a luxe, romantic and oh so chic wedding; held at the most beautiful of venues, Le Petit Château in Northumberland. We love featuring this exquisite location, why? Just look at the French style country hotel, complete with shabby chic interior and you'll see.
WWW readers Jenny and James fell for the venue before it was even finished and swiftly booked Friday 11th August 2017 as their wedding date. They were lucky enough to have fair weather, perfect for their fine art style portraits with the fabulous Katy Melling, whose work we are always thrilled to share here at Whimsical Wonderland Weddings, thank you so much Katy.
The couple's vision was to create a simple and elegant affair, adding in things they love too, which also reflected them as a couple. Just like the tooth shaped cookie favours, a nod to their careers in dentistry. Such fun.
The style was of course impeccable, James and the gents went for casual country chic in blazers, bow ties and braces. While Jenny wore the loveliest gown ever, covered with intricate detail with her fave girls wearing blush pink frocks. Oh my!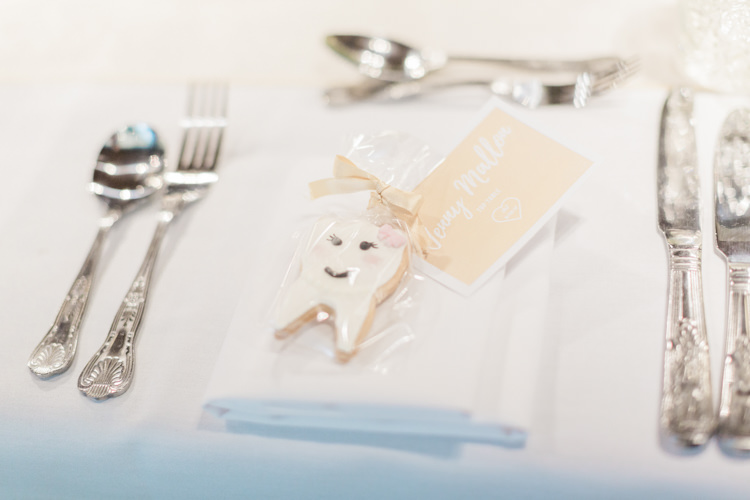 THE PROPOSAL | April 24th 2016 – in our first home together, James had placed flowers in my favourite vase in my dressing room and as I headed upstairs after being out shopping, he was behind me as a read the card beside it, which said 'will you marry me?' I turned around and he was waiting with the ring! It was the biggest shock – so unexpected, which made it so special. We were already planned for a night out that evening with our close friends so made it a celebration – It was perfect.
THE VISION | Unlike everyone I speak to, growing up I never had my wedding planned in my head. It was something I'd never put much thought into. My vision soon became simple but elegant.
THE PLANNING PROCESS | I found the planning process quite stressful. In my work life, I have to make important decisions fast but strangely in my home life I find decision making difficult (just ask my family/friends) – probably because usually it is not important. With our wedding, I wanted everything to be perfect and making the right decision was important to me, I also found it difficult to delegate as I like to be in control!
BUDGET | We did not set a budget – probably a downfall! I'd highly recommend this, it can easily get out of hand.
THE VENUE | Le Petit Chateaü in Otterburn, Northumberland. It was amazing! We viewed this venue after seeing the plans and it did not disappoint, we booked before the first wedding took place there!
THE DRESS & ACCESSORIES | My dress was an Eddy K design – it was incredible if I do say so myself. To compliment the design, I wore a very long, plain but very beautiful veil. I wore a simple silver bracelet with a sweet delicate diamante heart (given as a gift by my mother-in-law) earrings were my something borrowed – beautiful diamond drop earrings that matched the design of my engagement ring. I also wore Kurt Geiger open toe, diamante court shoes.
FINDING THE DRESS | It was only the second dress shop I visited, my mam, sister and two cousins (who were bridesmaids) all gasped at how beautiful the dress was when I put it on for the first time. Everyone told me, 'you will know when it's the one' I felt like I didn't (probably down to my indecisiveness!) so, as a result I went away and made an appointment for a week later on my birthday. I soon realised It was 'the one' as it was all I thought and dreamt about that week and I could not wait to put it back on!
GROOM'S ATTIRE | James wanted a more casual feel instead of the usual very smart suit, he wanted to be smart but comfortable. He chose a navy-blue jacket with a plain white shirt and sand/stone colour trousers. He finished off the look with a pink suede bow tie to match the bridesmaid dresses (my choice) brown shoes and navy blue braces. This look really suited the venue and our whole wedding vibe.
THE READINGS & MUSIC | We had a civil ceremony and chose 3 beautiful readings. Two of which chosen by my Mam – 'What Is love' and 'The union' they were read by my uncle and one of my best friends. The third reading was Disney themed and read beautifully by our 8-year-old nephew – off by heart! It made everyone cry, happy tears.
Our music related to us both. I chose a beautiful rendition of 'The Power of Love' by Gabrielle Aplin, which was haunting and very atmospheric to play as I walked down the aisle. The lyrics of this song expressed all of my emotions.
James chose 'Local Hero' the music his favourite, hometown football team walk out to. A lot of our guests shared the love for this song, it's very upbeat and created the perfect atmosphere to us walking past all of our friends and family as the new Mr & Mrs Mallon.
Our first dance was a song that was out at the time we got together – Beyoncé – smash into you. It's not a particularly well known song but meant a lot to us – the lyrics are perfect and related to how we both felt.
BEAUTIFUL BRIDESMAIDS | The three girls I looked up to growing up, my sister and my two cousins. They all looked amazing in beautiful soft blush pink dresses with delicate diamante and pearl detail across the chest.
THE FLOWERS | Bouquets, table centres, ceremony chair ties, and the corsages were all simple, but beautiful gypsophila. I had one separate arrangement on the fireplace of our ceremony room, which was transferred to the top table, which was a mixture of gypsophila, white roses, eucalyptus and other foliage.
THE CAKE | Was all chocolate made by My Auntie Janet, as it is my favourite cake of all time. It was a naked cake, I'd not seen a naked chocolate cake before so thought this would be a little different to usual. It was decorated with chocolate butter cream between layers and summer berries. It had a simple, gold Mr & Mrs sign in the top. It tasted incredible and went down a storm with our guests.
YOUR PHOTOGRAPHER | The incredible Katy Melling – she made us both feel at ease on our wedding day, having the photographs taken was actually fun and gave us some time alone together on the day. She has captured our day so perfectly we are so grateful.
THE DETAILS & DÉCOR | Simple and elegant. Gold touches – vases, table runners etc and gypsophila as our table centres. We both work in dentistry and therefore decided on tooth shaped cookies as part of our favours – they tasted divine and looked SO fantastic! They were made by my sister's friend Sam. Everyone loved them – especially our work colleagues who were guests. We also made a donation to Alzheimer's society and bought every guest an Alzheimer's society badge to wear. I am a big supporter of this particular charity. This offered an opportunity to raise a glass to my Grandma who is still with us but due to dementia could not be there on our wedding day, the majority of our guests all put their badges on and this really meant a lot to us.
THE HONEYMOON | We chose the Maldives and Dubai. It was the best holiday we have ever been lucky enough to experience, it was perfect in every way.
MEMORABLE MOMENTS | One of the funniest and heart-warming moments of the day was when my Dad sang the Postman Pat theme tune, in full, as part of his speech (with background music!) and everyone joined in! He used to read me the stories as a child and we'd sing the song together.
Another special moment has to be when our nephew read us the sweetest Disney reading as part of our ceremony – he memorised it all, we were so proud of him. I was so overcome with emotion I cried throughout and as a result the photographs capturing this moment is me trying to hold back tears!
A final special moment for us both was dancing with our 2 beautiful nieces at our evening party who are 3 and 5 years old – they were so excited to be a part of the celebrations and had been practising their moves in the run up.
ADVICE FOR OTHER COUPLES | Take just one moment to yourselves during your day and think about how much everyone there means to you, capture that feeling and hold it in your heart forever. It really will be one of the best days of your lives – I don't think I was quite prepared for how much this was true.
CREDIT WHERE CREDIT IS DUE |
Photography | Katy Melling Photography
Flowers | Katherines Florists Gosforth, Newcastle
Videographer | Jon Lunt, Table Top Films
Table runners |  Country Baskets
Tooth Cookie favours |  Sam
Bow ties | Mrs Bow Tie
Bridesmaid dresses | Little Mistress
Dress | Eddy K, The Wedding Dress Company
Grooms/groomsmen | Trousers – Zara, Shirts – Next, Jackets – Marks and Spencer, Braces – H&M
Alzheimer's badges | Alzheimer's Society
Bridal Shoes | Kurt Geiger
Hair | Hunter and Dublin – our amazing hairdressers
Make up | CostaChic – Marta Makeup
Utterly beautiful.
Huge thanks to Jenny and James for sharing their wonderful wedding day with us today xo Lou