Who doesn't love cake? So it's only natural you are wanting to have a spectacular cake design at your wedding.
Rustic wedding cakes are so on trend and it's easy to see why. In this article, I'll be looking at what exactly makes a cake rustic, as well as all the show-stopping rustic wedding cake ideas you'll ever need. Yes!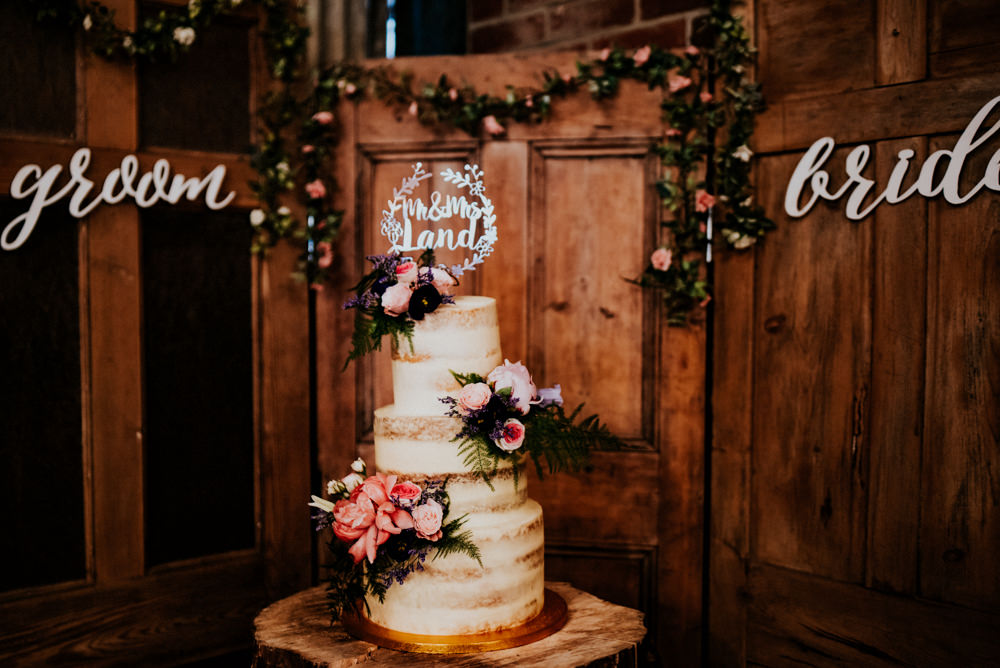 Photo: Shutter Go Click Photography via Berts Barrow Wedding Cake: Beth's Kitchen
Natural & Beautiful Rustic Wedding Cake Ideas
Shall we dive into all the cake inspiration? Ohh, go on then.
1. Single Tier Beauty
Rustic cakes don't have to be towering to be beautiful. A single-tier cake can look so very beautiful too.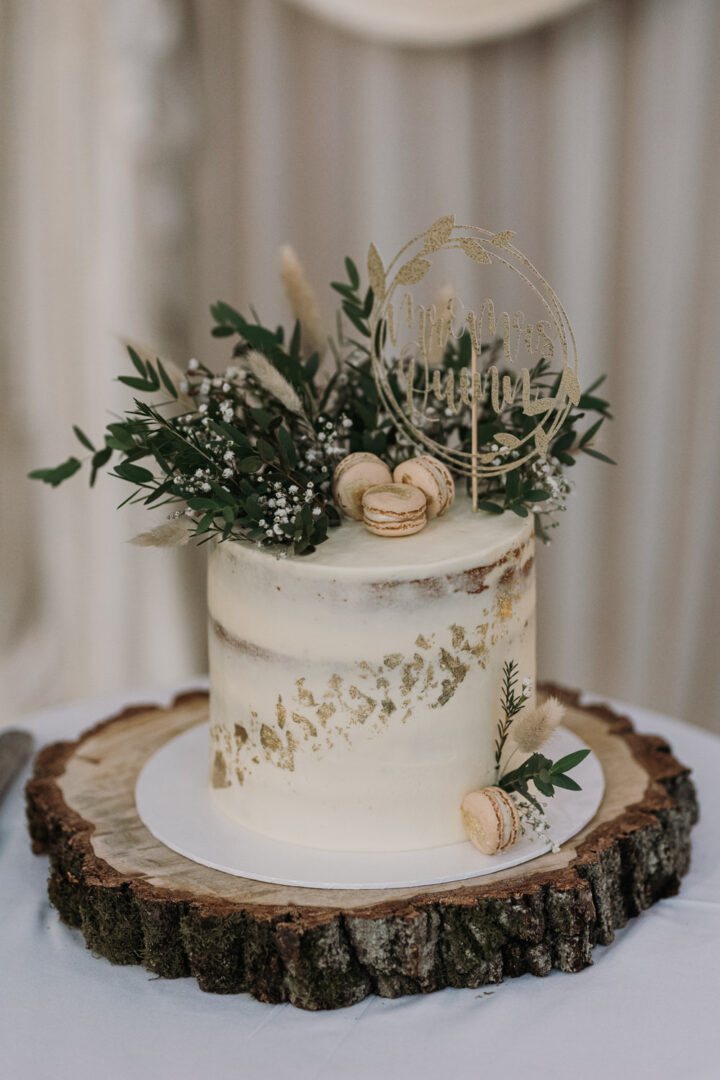 Photo: Victoria Whiting Photography via La Mon Hotel Spa Wedding Cake: Cakes By Pheebs
2. Gold Sponge
Add a touch of shine with a gold wedding cake design teamed with rustic buttercream.
Photo: Paul Fuller Kent Photography via Ferry House Inn Wedding Cake: blossomandwilduk
3. Statement Flowers
Add pretty to a rustic bake with statement pretty blooms.
Photo: Marianne Chua via Tanner Warehouse Wedding Cake: Isobel Bakes
4. Boho Beautiful
Bring a touch of boho to your wedding cake idea with dried flowers, cotton and gold leaf.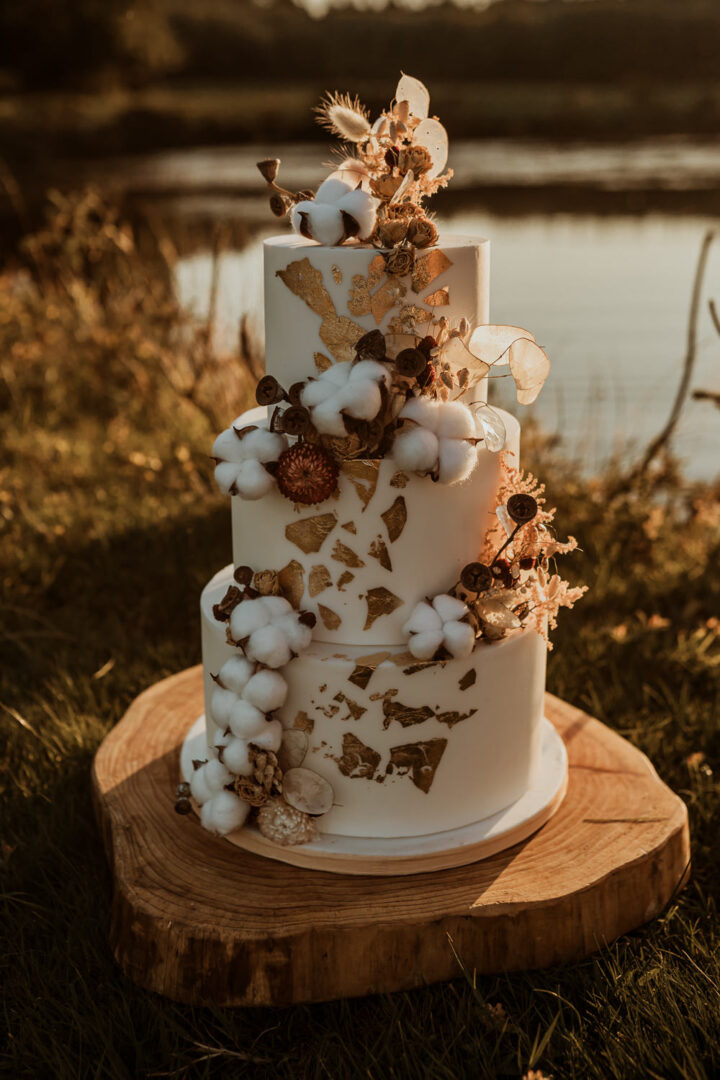 Photo: Finn and the Fox Photography via Wilderness Wedding Ideas Cake: Claire's Sweet Temptations
5. Autumn Vibes
Bring the season to your rustic cake with autumn leaves.
Photo: Grace Pham Photography via Pylewell Park Wedding Cake: @baked__bean_
6. Rustic Icing
Rustic cakes can be colourful, simply go for a heavily textured icing style.
Photo: Katherine Newman Photography via Ethereal Romantic Wedding Ideas Cake: The Silver Cake
7. Simple Buttercream
For a rustic wedding, sometimes simplicity is key. Just like this darling buttercream wedding cake with light-as-air icing.
Photo: Peter Reynolds Photography via Kent Coast Wedding Cake: All Shapes & Slices
8. Semi Naked Cake
Semi-naked cakes are super popular and the perfect choice for a rustic look.
Photo: Wyldbee Photography via Rousham House Wedding Cake: Cakes By Em
9. Flower Power
Does it get any more pretty than an edible flower cake? The more flowers the merrier with this rustic vibe.
Photo: James and Kerrie Photography via Holbrook Manor Wedding Cake: Little Buttercup Cakery
10. Bunting Topper
Add a rustic flourish to your cake with a rustic brown paper bunting topper.
Photo: Daniel Lightening Photography via Farmyard Wedding Cake: Victoria Jane Bakes
11. Doughnut Tower
This doughnut wedding cake has a gorgeously rustic feel thanks to the log stand and mismatched treats.
Photo: Aden Priest Photography via Offley Place Wedding Doughnuts: Krispy Kreme
12. Savoury Alternative
What's more rustic than a homely, pastry treat such as a pork pie cake? The perfect alternative wedding cake idea!
Photo: Maddie Farris Photography via West Yorkshire Hall Wedding Pork Pie: Wilsons Pies
13. Naked Cake
Naked wedding cakes are the ultimate rustic wedding style. Yes!
Photo: Jarek Lepak via Burgundy Barn Wedding Cake: Danielle Jones
14. Floral Dream
Pile on flowers and pressed edible flowers for a super boho rustic cake effect.
Photo: Emily & Steve Photography via Floral Barn Wedding Cake: The Boho Bakery
15. Pearl
Pretty pearls can look rustic with imperfect icing and wooden accessories.
Photo: Matt Horan Photography via Willow Marsh Farm Wedding

16. Log Style
Think of a rustic wedding and thoughts turn to woodland and trees. So what better way to bring the outdoors in than with a log stump cake?
Photo: Mini and Me Photography via Christmas Wedding Ideas Cake: The Cake Witch
17. Cheese Tower
If a sweet sponge isn't your thing. How about a gorgeous and natural look cheese wedding cake?
Photo: Lola Rose Photography via Bonfires Autumn Wedding Ideas Cake: The Cheese Plate
18. Woodland Flower
Use dainty flowers and log slices to bring a woodland feel to your rustic wedding cake design.
Photo: Kerry Diamond Photography via Woodland Boho Wedding Cake: Everydays A Cupcake
19. Drip Heaven
Drip cakes really add a scrumptious feel as you can almost taste how good they're going to be, before the first bite. Yum.
Photo: Kate Gray Photography via Autumn Gaynes Park Wedding Cake: The Cake Doll
20. Sweet Treats
Whether you are planning a wedding sweet table or not. Why not add sweets to your cake as decor and for flavour?
Photo: Holly Collings Photography via Coombe Lodge Wedding Cake: M&S
21. Botanical
This botanical cake design is ever so clever. With a pressed leaf and flower pattern that will suit any wedding theme.
Photo: Oilvejoy Photography via Elopement Wedding Ideas Cake: The Beachside Bakery
22. Feathers & Wicker
Other great natural elements to incorporate into a rustic design are feathers and wicker!
Photo: Helen Rose Photography via Dusky Pink Taupe Wedding Cake: Urban Cakehouse
23. Ombre
Ombre cakes can be made into a rustic design with flowers and gold leaf touches.
Photo: Photos By Hash via Beer Garden Wedding Cake: Vics Vegan Bakes
24. Rainbow
This retro textured buttercream cake with rainbow sponges is actually my own wedding cake. The buttercream pattern really works at a rustic wedding.
Photo: Alexa Loy via Our Wedding Reception Cake: Minkiemoo Bakery
25. Concrete
Concrete isn't a natural material, but its texture lends itself well to rustic affairs.
Photo: Agrestal Visuals via Waterside Country Barn Wedding Cake: Cake Design By Holly Miller
26. Terracotta
Terracotta wedding colours have been huge at weddings recently. This two-tier wedding cake is bringing a rustic feel with its texture and log stump stand.
Photo: Sam Sparks Photo via White Syke Fields Wedding Cake: Elizabeth Anna Cake Design
27. Dried Flower Hoop
Keep icing rustic and add a simple embellishment such as a dried flower hoop.
Photo: Holly Rose Stones via Naked Tipi Wedding Ideas Cake: Cherry Blossom Cakes
28. Greenery
Natural, beautiful greenery will add all the rustic style you'll ever need to a cake. Be sure to check it's safe for guests to eat after removing from your cake though.
Photo: Steven Haddock via The Faversham Wedding Leeds Cake: Amber's Little Cakery
29. Chocolate Sponge
Naked cakes don't have to be plain, add in different flavour layers such as chocolate.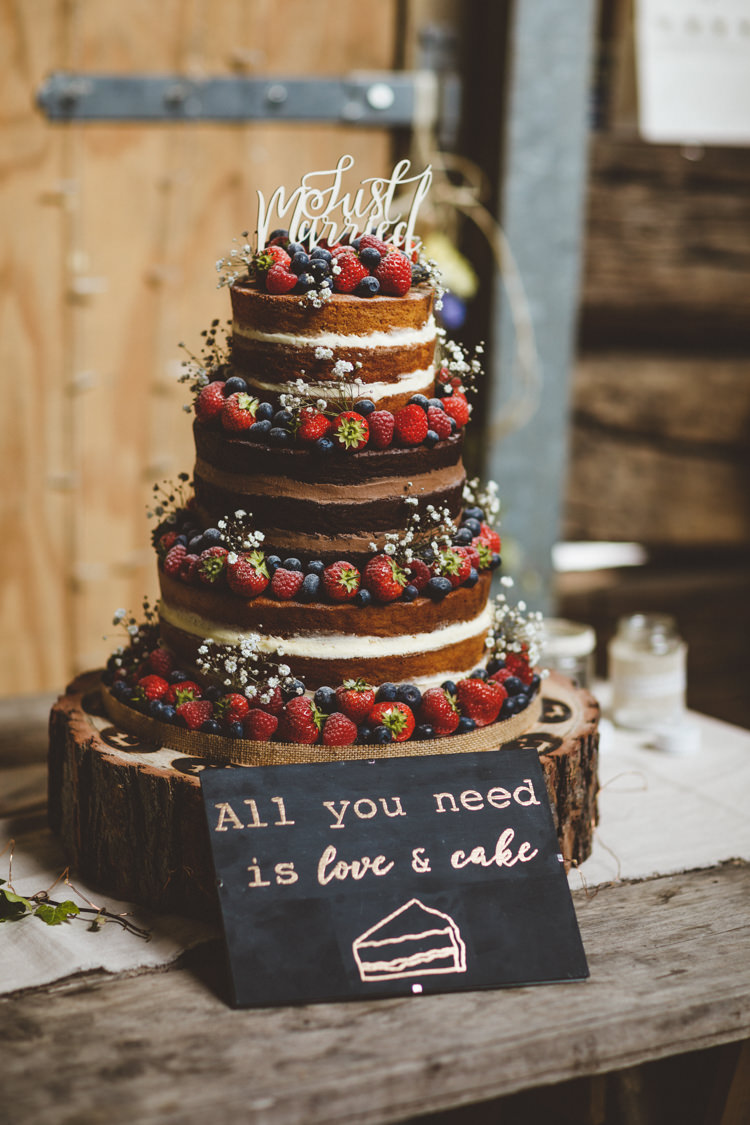 Photo: Photography34 via Rustic Relaxed Farm Wedding
30. Flower Tier
Swirling icing teamed with a flower middle tier looks almost too good to eat.
Photo: Sam Gibson Photography via Medieval Barn Wedding Cake: Vanilla Pod Bakery
31. Theme
Take your wedding theme and add it to your cake design, such as this mountain look.
Photo: Kate Hensley Phillips Photography via Cenita Vineyards Wedding Cake: C&N Cakes
32. Pine Cones
Pine cones are easy to find for free and add the perfect rustic finish.
Photo: Tiree Dawson via Alpine Christmas Wedding Cake: The Cake Lady
33. Leaves
Rustic leaves made from icing can look beautifully natural.
Photo: Maree Frances Photography via Hazel Gap Wedding Cake: April Delights
34. Winter Rustic
This cake is ideal for winter weddings. With its natural foraged decor, the actual cake design can be kept really simple.
Photo: Victoria Phipps via Rustic Christmas Wedding Inspiration Cake: Cake Chester
35. Autumn Dreams
An autumn wedding cake of dreams complete with pumpkins and trees. It's a smashing design.
Photo: Photography34 via Ox Pasture Hall Wedding Cake: Birdgate Chocolatiers
36. Rustic Christmas
Yes, you can bring rustic style to a Christmas wedding! Voila.
Photo: Barbara Markiewicz Photography via Christmas Tree Farm Wedding Ideas Cake: Natalie Cake Studio
37. Green & Gold
Rustic style doesn't mean you can't play with colour!
Photo: Thyme Lane Photography via Milton Keynes Wedding Cake: Nicole's Celebration Cakes
38. Dried Flowers
Use dried flowers to add a rustic touch to your cake design like this orange and pink delight.
Photo: Laura Williams Photography via Burnt Orange Wedding Ideas Cake: Beth Haxby Cakes
39. Fruit & Berries
Take a simple sponge and adorn it with fruits for a picture-perfect effect.
Photo: Belle Art Photography via Northside Farm Wedding Cake: Jill Agnew
40. Fruit Cake
Does a cake get any more rustic than a naked fruit sponge?
Photo: Karen Flower Photography via Woodland Autumnal Boho Wedding Ideas Cake: Blueberry Hill Cakes
41. Rough Icing
Rough icing creates a perfectly imperfect style ideal for a rustic vibe.
Photo: Thyme Lane Photography via Northamptonshire Barn Wedding Cake: The Iced Vegan
42. Stone
Taking inspiration from natural materials such as stone can have surprisingly beautiful results.
Photo: Tara Florence via Game of Thrones Wedding Ideas Cake: Lilibet Bakes
43. Hoop Backdrop
Decorate your wedding cake table with a rustic wedding backdrop to tie together your wedding decor.
Photo: Daniel Ackerley Photography via Chippenham Park Wedding Cake: Honeyshed Bakery
44. Autumn Feast
Create a real feast for your guests with a whole table of rustic treats.
Photo: Kirsty Mackenzie Photography via Outdoorsy Woodland Wedding Ideas Cake: Kensington Lane Cakes
45. Marble
A marble cake can look ever so rustic with rough icing and flowers.
Photo: Opperhill Photography via Terracotta Wedding Ideas Cake: The Sugared Rose
What Does Rustic Cake Actually Mean?
When it comes to a rustic cake aesthetic it can be one or a combination of elements. First things first, a rustic wedding cake has an undone quality about it. It's a little rough around the edges and is perfectly imperfect. A rustic cake could look homemade and less polished.
To make a cake look more rustic try adding one of these elements:
Wooden decor or cake stand
Natural decor such as hessian fabric or kraft paper topper
Rough icing
Naked sponge
Real flowers or greenery
And so there we have it, all the rustic wedding cakes you'll ever need to inspire your own cake look. Hooray!
Further Reading