The peony has to be one of spring/summer's most incredible wedding flowers. It's no wonder you are thinking of having a peony wedding bouquet. I mean what's not to love?
Fluffy petals? Check. Soft pastel tones? Check. Divine fragrance? Check. Gorgeous impact? Check.
However, perhaps you are unsure just what kind of peonies to opt for or how to incorporate peonies into your wedding bouquet. Well, you are in luck. As today I am sharing with you fifty stunning peony wedding bouquet ideas.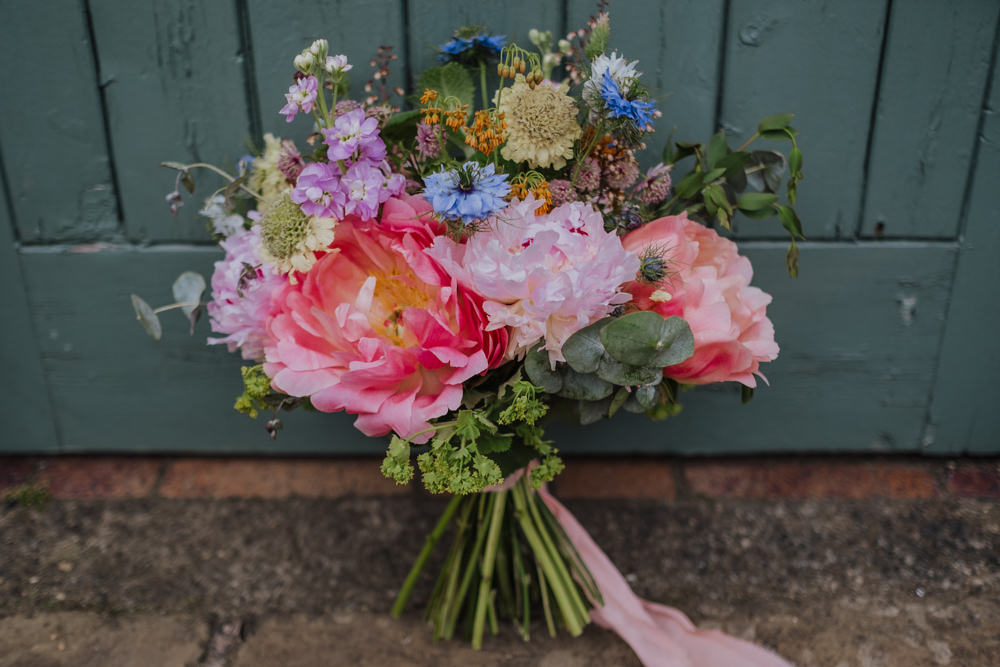 Photo: Jenna Kathleen via Oakwell Hall Wedding Bouquet: Daisy Hoban Wedding & Event Florist
The Prettiest Peony Wedding Bouquet Ideas… Of All Time?
OK, so before we cover the practicalities of peony wedding bouquets, let's look at all the pretty ideas, shall we?
1. Bright Colours
This bouquet utilises fuchsia peonies with seasonal summer wedding flowers in bold tones.
Photo: Ellie Gillard Photography via Riverside London Wedding Flowers: Palais Flowers
2. Natural Shape
Peonies are used in this bouquet with tall flowers in contrasting tones, creating a wild, natural shape.
Photo: Iain Irwin Photography via Coming Soon Bouquet: Zoe Conville
3. Multiple Peony Varieties
Mix and match different peony bouquets in complementing tones. In this bouquet you will find:
Coral Charm Peony
Bright Pink Peony (Variety Unknown)
Pale Pink Peony (Variety Unknown)
Rose
Lisianthus
Stocks
Photo: Angela Ward Brown via Clock Barn Wedding Flowers: Eden Blooms
4. Round Peony Bouquet
These fluffy pink peonies have been teamed with a matching rose and kept tight for a uniform round bouquet style.
Photos: Kelly Hiscox Photography via Peony Pink Wedding Bouquet: With Love & Roses
5. White Peony Bouquet
This all-white peony bouquet is so romantic and soft, what a beauty. Don't you just love white wedding flowers?
Photo: Sanshine Photography via Aynhoe Park Wedding Bouquet: Studio Sorores
6. Pink & Blue Flowers
Using bright tones in contrasting hues is so striking. In this gorgeous peony bouquet you will find:
Coral Charm Peonies
Blue Delphiniums
Peach Juliet Roses
Daisies
Wax Flower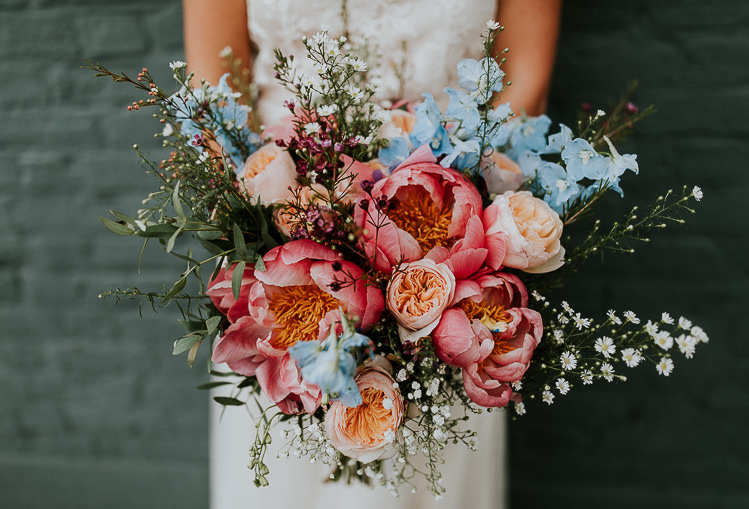 Photo: Jonny MP via DIY Back Garden Wedding Flowers: Clarke's Florist
7. Wildflower Style Bouquet
Dream of having a bouquet that looks as though it's from a wildflower field? This is the bouquet for you! It has so many lovely Spring wedding flowers such as:
Tulip
Peony
Sweet Pea
Ranunculus
Daisy
Photo: Georgia Rachael via Spring Meadow Wedding Flowers: Fiori & Co
8. Red Peony Bouquet
Red peonies look so decadent, especially when teamed with luxe red roses.
Photo: Brandon and Serena Photography via Red Rose Wedding Ideas Bouquet: Simply Elegant by Emma
9. Yellow Blue & Pink Bouquet
For a subtle peony bouquet, add one or two peonies to a multitude of other bright blooms.
Photo: Charlotte Razzell Photography via Colourful Bright Summer Pub Wedding Bouquet: Chobham Flowers
10. Closed Peony Bouquet
Sometimes peonies won't quite open and the effect is just as beautiful as open petals.
Photo: Sally T Photography via Bright Wedding Bouquet: Amanda Randell Cox
11. White Peonies & Grasses
Peonies are versatile and can work even in modern bouquets with grasses.
Photo: The Light Painters via Cockliffe Country House Wedding Bouquet: Sophie's Flower Co
12. Spring Peony Bouquet
This woodland editorial displayed brilliantly how gorgeous peony flower arrangements look in the spring. Here are the flowers in this bouquet:
Poppy
Forget-Me-Not
Bluebell
Peony
Hellebore
Ranunculus
Photo: Ideal Imaging Photography via Bluebell Wood Wedding Flowers: Buds Floristry
13. Blush & Bright Pink Bouquet
This bright pink bouquet looks striking with blush flower highlights.
Photo: Cecelina Photography via Romantic Pink Gold Wedding Ideas Bouquet: The Vintage Floral Design Co
14. Peony & Rose
Peonies and roses really work so well together don't they?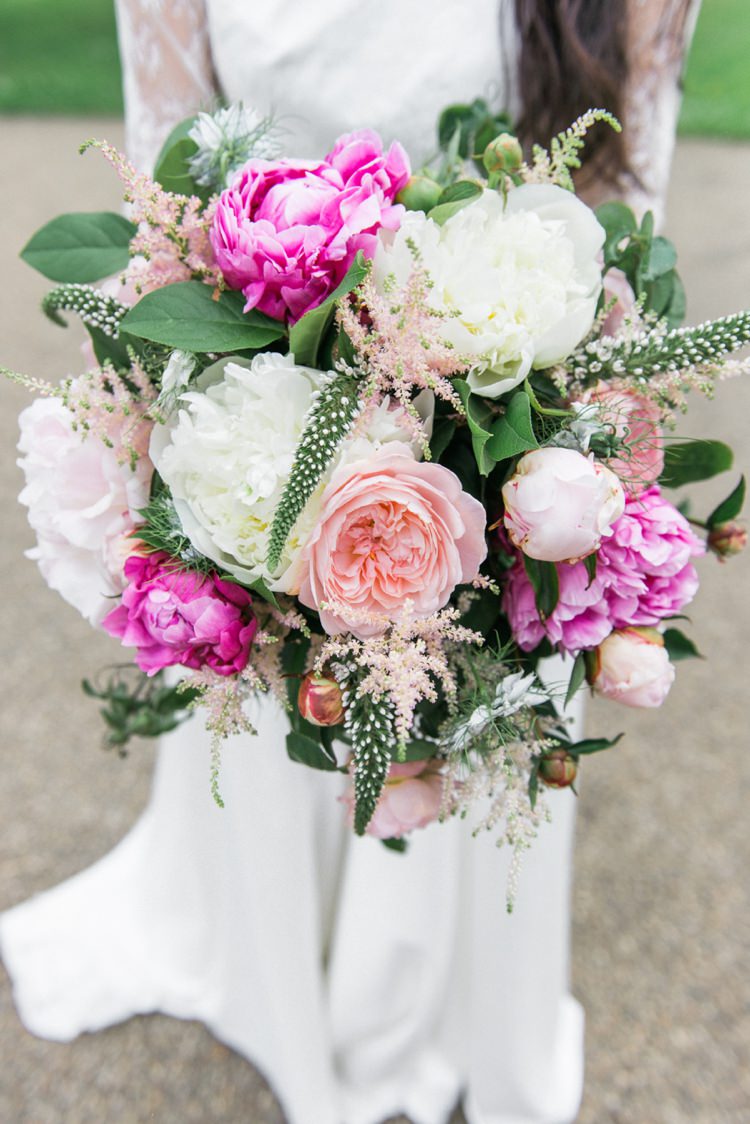 Photo: Folega Photography via Bohemian Botanical Bridal Inspiration Flowers: Paeony Floral Design
15. Lemon & Pink Bouquet
Lemon-yellow and soft pink flowers look ever so pretty.
Photo: Grace Elizabeth Photography via High House Wedding Bouquet: Floral Desire
16. Peonies & Ferns
Ferns really create a perfect backdrop to these colour-pop peonies.
Photo: Melissa Beattie Photography via Garden Ceremony Wedding Bouquet: Wedding & Events Floral Design
17. Soft Pastels
Delicate soft pink flowers look gorgeous against white structural peonies.
Photo: Natalie Coultas Photography via Love Shack Wedding Bouquet: The Flower Lounge
18. Central Peony
Ensure your peony is the star of the show by placing it front and centre.
Photo: Beth Alderson Photography via Lancashire Barn Wedding Bouquet: Flower Design Events
19. Textured Bouquet
I love how this bouquet combines different foliage, flowers and colour to create a beautiful texture.
Photo: Firewood Film via Fun Colourful Barn Wedding Bouquet: Leafy Couture
20. Greenery & White
For a simple wedding bouquet look, team greenery with blousy white flowers.
Photo: Captured by Katrina via Cotswold Marquee Wedding Bouquet: Captured by Katrina
21. Peachy Dream
Orange, peach and pink tones work beautifully with wild-style foliage.
Photo: Lily Bungay & Co via Kent Marquee Wedding Bouquet: Wild Flora
22. Succlents & Peonies
Who'd have thought that succulents and peonies were a match made in heaven?
Photo: Jasmine Skye Photography via Paper Mill Wedding Bouquet: Pollen8
23. Hot Pink & Orange
Hot pinks and oranges look so gorgeous together.
Photo: AW Wedding Photography via Tiki Wedding Bouquet: Brompton Buds
24. Woodland Feel
Planning a woodland wedding? You'll love this flower style.
Photo: Bowl Of Corks via Bridal Barn Wedding Bouquet: Camomile & Cornflowers
25. Dahlia & Peony
Dahlias and peonies together? Does it get much better than that?!
Photo: Isabelle Elliott Photography via Hertfordshire Barn Wedding Bouquet: Stephanie Rose
26. Rannuculus & Peony Bouquet
Peonies, garden roses and peonies together create a gorgeously fluffy wedding bouquet.
Photo: Peter Reynolds Photography via Kent Coast Wedding Bouquet: Orchard Blooms
27. Delicate & Summery
Team small delicate flowers with the show-stopping peony like this bridal bouquet.
Photo: Lisa-Marie Halliday Photography via Beauvale Priory Wedding Bouquet: cheekypetal
28. Sweet Pastel
Take white peonies and add them to a blush pink bouquet.
Photo: Wyldbee Photography via Elford Hall Garden Wedding Bouquet: The Flower Patch
29. DIY Peony Bouquet
This bride created her own DIY peony bouquet by sourcing flowers from a flower farm.
Photo: Emma Stoner Photo via Middle Coombe Farm Wedding Bouquet: Windmill Farm Flowers
30. Vibrant Bouquet
Bright coral peonies with pops of teal look modern and vibrant.
Photo: Matt Moore Photography via Bohemian Tipi Wedding Bouquet: Moss Floral Artistry
31. Meadow-style
Bring a meadow look to your peony bouquet with a mix of stems.
Photo: Lorna Newman Wedding Photography via Flaxbourne Gardens Wedding Bouquet: Flowers At Fifty Eight
32. Apricot & White Bouquet
Lovely apricot tones look gorgeous with large white peonies.
Photo: Gem Hicks Photography via Apricot Wedding Ideas Bouquet: The Floral Potager
33. Artificial Peony Bouquet
You could use silk or artificial peonies to create a forever bouquet. If fresh flowers are more your vibe, you can preserve your wedding bouquet after the big day.
Photo: Whoisbenjamin via Cheddon Fitzpaine Wedding
34. Spring Blooms
Fun spring flowers such as anemone, scabiosa, craspedia, nigella and ranunculus look lovely with peonies.
Photo: Kim Williams Weddings via Brighton Barn Wedding Bouquet: Bride Collaboration with Town Garden Florist
35. White Peony & Foliage Bouquet
Classic, simple white flowers with foliage are always timeless.
Photo: Kloe May Photography via Home Garden Tipi Wedding Bouquet: Albert & Arthur
36. Peonies & Daisies
Does it get any more quintessentially English countryside than peonies and daisies?
Photo: Emma Stoner via Cornish Tipi Wedding Bouquet: Bruallen
37. Deep Reds
Rich red peonies look gorgeously moody with plenty of foliage.
Photo: Flit Photography via Halloween Elopement Bouquet: LeRoy French Flowers
38. Poppies & Peonies
Red and pink together really do work so well!
Photo: McKenna Rhyne Photography via Colourful Farm Wedding Bouquet: Thistle and Twig
39. Classic Peony Bouquet
This soft blush pink and cream bouquet is a classic look!
Photo: Gemma Giorgio via Cream Blush Wedding Flowers: Triangle Nursery
40. Sunflower & Peony
Yes, sunflowers can work with peonies, and beautifully too.
Photo: Three Flowers Photography via Essex Barn Wedding Bouquet: @henriettahickling.florals
41. Autumn Peony Bouquet
Peonies aren't usually available in the UK. But if you fancy growing them undercover, they may just bloom for your autumn wedding flowers.
Photo: Victoria Baker Weddings via Intimate Garden Wedding Bouquet: Forge Events
42. Pretty & Natural
How lovely are these pink peonies with a natural feel arrangment?
Photo: Hayley Baxter Photography via Sperry Tent Wedding Bouquet: Robie Flowers
43. Mint & Peony Bouquet
Looking for the ultimate fragrance? Use peonies with herbs such as fresh mint.
Photo: Philippa Sian Photography via English Garden Wedding Inspiration Bouquet: Hibbert & Hagström
44. Tropical Bouquet
Add peonies to tropical flowers such as anthurium.
Photo: Emily Little via Tropical Wedding Inspiration Bouquet: The Flower Story
45. Pink Pink Pink
Use different tones of the same colour, such as different pinks for a tonal bouquet style.
Photo: Taylor English Photography via Chickamauga Wedding Bouquet: May Flowers
46. Single Peony Bouquet
Add one statement peony to a colour-packed bouquet.
Photo: Laura Debourde Photography via Two Woods Estate Wedding Bouquet: Nells Flowers
47. Country Garden Bouquet
Create a country garden-style bouquet with an array of pretty summer stems.
Photo: Tiffany Gage Photography via Socially Distanced Wedding Flowers: Christina Jupe
48. All The Colours
Go bold by using all the colours and multiple flowers as well as peonies.
Photo: Jessy Jones Photography via Lincolnshire Tipi Wedding Bouquet: Rosedale House
49. Ribbon Bouquet
Don't forget how you are going to tie your peony bouquet. Use plentiful ribbons for a whimsical flourish.
Photo: Jessica Isherwood Photography via Tipis Riley Green Wedding Flowers: Sam Williams
50. Eucalyptus & Peony Bouquet
Eucalyptus is a really popular and gorgeously scented foliage to use with peonies.
Photo: Darina Stoda Photography via Stubton Hall Wedding Bouquet: FloralDeco
Are Peonies Expensive For Weddings?
Yes, peonies are one of the most expensive wedding flowers you can choose. They can work out as more expensive than roses. Factors that affect the price of peonies include the season, size, availability and variety.
Look to budget between £3-£6 per peony stem. If your budget can't stretch to all-peony displays, try mixing a few peonies with other more inexpensive flowers. Alternatively, try using peony-look flowers for the same flower style.
Buying peonies in season is likely to save you money, so try and use peonies if they are in season during your wedding.
Peony Wedding Flower Alternatives
Double Tulips
Dahlias
Carnations
Camellias
Roses or David Austin Roses
Chrysanthemums
Ranunculus
Photo: Esme Whiteside Photography via Magical Tipi Wedding Flowers: Linda Palmer
When Is Peony Flowering Time In The UK?
Peonies tend to be in season and flower between April and June.
It goes without saying though that timing may differ each year. It really depends on the weather conditions and other external factors which may not be predictable.
So, if you do have your heart set on peonies, be mindful that even though you are having a spring wedding, peonies may not be available. Always have a plan B for an alternative flower. Your wedding florist can help advise here.
What Is The Meaning Of Wedding Peonies?
The symbolism of peonies is said to be honour, love, good fortune and prosperity, depending on the shade you choose! But, don't worry too much about the meaning of the flower and think about what the peony means to you.
Perhaps you have your own personal connection or memories to the peony? That's what matters the most.
Photo: Thyme Lane Photography via Island Hall Wedding Bouquet: Thatch and Roses
What Colours Do Peonies Come In?
Peonies come in many varieties, shapes and colours luckily. There is so much choice, with peony colours including white, pale pink, bright pink, yellow, coral and red.
Are Peonies Good For Wedding Bouquets?
Peonies are ideal for wedding bouquets. They are large flowers, with lots of fragrance, texture and gorgeous colour options. What's not to love?
Photo: Amy Jordison Photography via Yellow Pink Wedding Bouquets: Ducks & Daffodils
And there we have it! Quite possibly the most beautiful peony wedding bouquets of all time. Plus answers to your most pressing peony wedding flower questions. YES!
Further Reading