The naked wedding cake is a wedding trend which doesn't seem to be disappearing any time soon.
What's not to love about the fluffy sponge, lashings of buttercream and fresh berries? They look and taste delicious, a winning combo all around. Anything goes, the rustic homemade look is super charming and can be created on the tightest of budgets.
So without further ado, let's discover all the naked wedding cake ideas you'll ever need.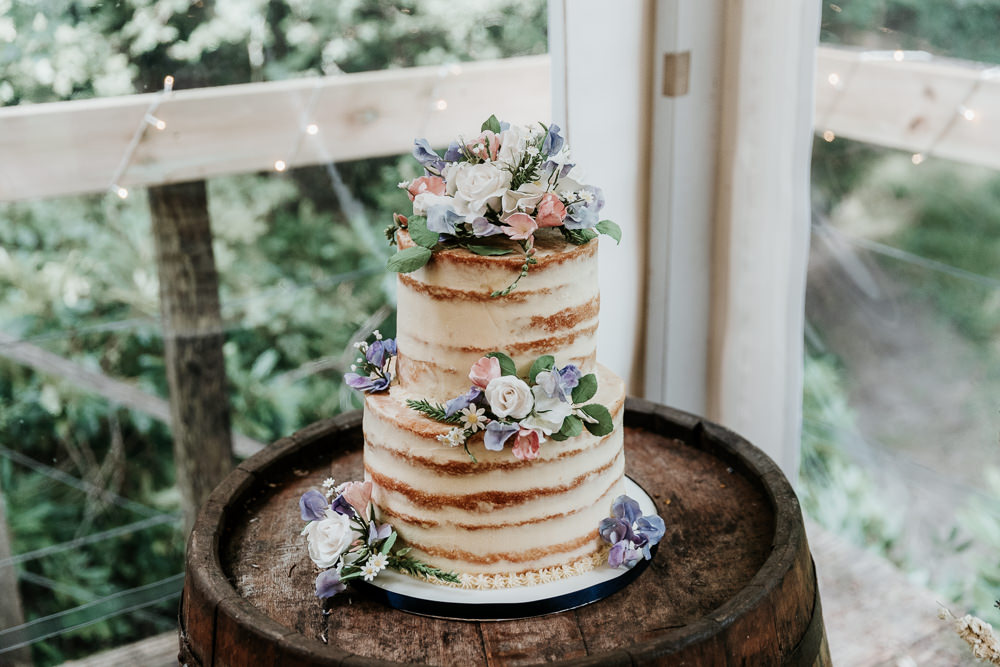 Photo: Annie Bradney Photography via Made With Love Lola Wedding Dress
Truly Scrumptious Naked Wedding Cake Ideas
I am here to give you ideas to create your own bespoke and extremely very gorgeous naked wedding cake today. Prepare to feel very hungry indeed. Yum! Ready? Let's dive in.
1. Glitter Drips
Add sparkling icing drips for an extra special touch to your wedding cake idea.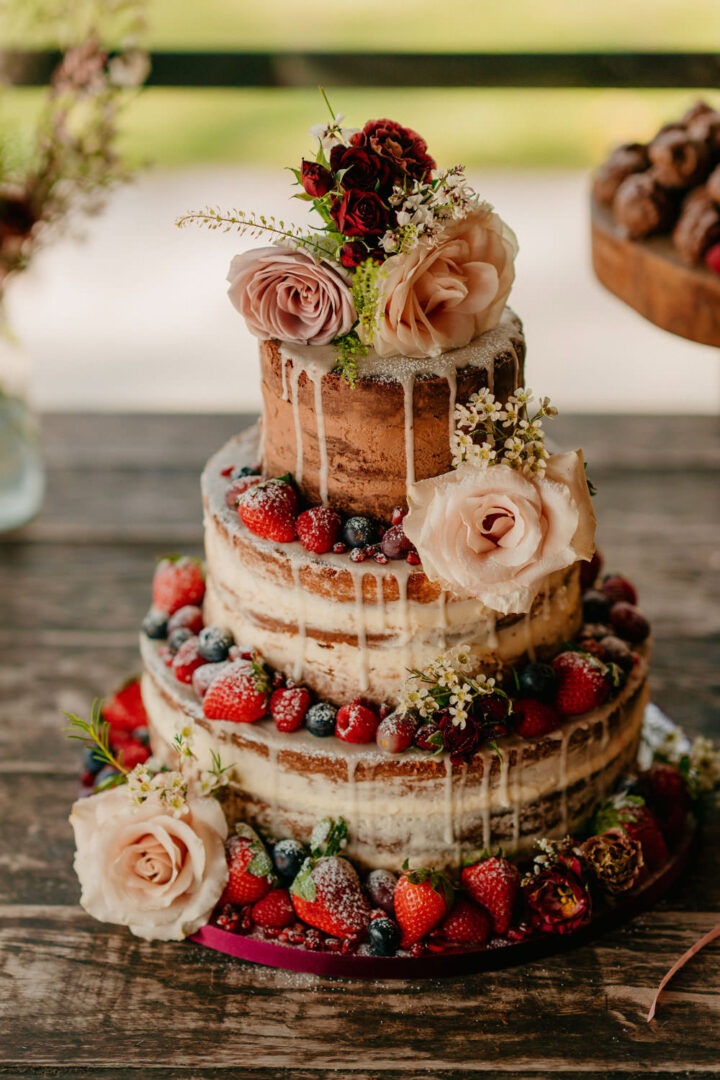 Photo: Jarek Lepak via Burgundy Barn Wedding Cake: Danielle Jones
2. Rustic Floral
Layer your cake with a variety of fruits, creams, flavours and flowers. Plus think about decorating options such as fun toppers or quirky stands.
Photo: Lauren May Photos via Yew Tree Farm Wedding
3. Fun Sign
Add a fun and informational cake wedding sign to instruct your guests and give them a giggle.
Photo: Photography34 via Rustic Relaxed Farm Wedding
4. Bare Sponge
Let's go back to basics and very classic. Bare sponge, and plenty of it in extraordinary towers, which quite frankly defy gravity.
Sandwiched with buttercream, seasonal fruits and jam. Scrumptious.
Photo: Matilda Delves via Cute & Crafty Budget Polka Dot Village Hall Wedding
5. Naked Fruit Cake
Want a traditional fruit cake? No sweat, you can make it into a naked cake and it looks stunning!
Photo: Karen Flower Photography via Woodland Autumnal Boho Wedding Ideas Cake: Blueberry Hill Cakes
6. Layer Cake
Naked wedding cakes suit many a wedding style, whether you are opting for a budget-friendly DIY wedding or a luxe timeless affair. Plus it's sure to go down a storm with hungry guests.
Photo: Jo Hastings Photography via Pretty Natural & Floral Summer Barn Wedding Cake: Butter Cream and Dreams
7. Colourful
Naked cakes can be colourful, simply pile on flowers and berries.
Photo: Jessica Grace Photography via Pretty & Fresh White Summer Informal Wedding
8. Flower Tiers
Ask your wedding florist to add pretty blooms to make your naked cake sing.
Photo: Jessy Jones Photography via Lincolnshire Tipi Wedding
9. Opulent Naked Cake
Naked cakes can be polished and high-end such as this opulent and tall design.
Photo: Robert Leons Photography via Langar Hall Wedding Cake: Couture Cakes
10. Icing Sugar
A dusting of icing sugar finishes a naked cake perfectly and can hide imperfections too.
Photo: Struth Photography via Pink Winter Wonderland Wedding
11. Mismatched Tiers
Sandwich together mismatched tiers and plates for a wonderfully eclectic cake style.
Photo: Kate Jackson Photography via London Wedding Tropical Florals
12. Unique Stand
Personalise your rustic wedding cake creation with a statement wedding cake stand.
Photo: Jon Turtle via DIY Wedding in a Dome Marquee
13. Delicate & Pretty
How pretty is this light-as-air sponge teamed with flowers and fruit?
Photo: Ilaria Petrucci via Indie Folk Hand Made Outdoor Woodland Wedding
14. Semi-Naked Cake
Semi-naked wedding cakes have grown in popularity. They add a touch of elegance to bare sponges.
Photo: Leentje loves Light via Birds of Prey Wedding Ideas Cake: Sugarlips Cakes
15. Unique Flavours
Don't be afraid to shy away from the traditional Victoria sponge flavour, think about quirky wedding cake alternatives such as chocolate.
Photo: Lush Imaging via Quirky Colourful Relaxed Fun Barn Wedding Cake: The Taylor Made Cake Company
16. Chocolate & Cherry
Or, how about an indulgent pudding flavour like chocolate and cherry?
Photo: Jen Marino via Beautiful & Relaxed Summer Blush Lavender & Hessian Wedding Cake: All Cakes and Sizes
17. Floral Fabulous
Decorate your naked cake with oodles of blooms, petals, moss and herbs for full-on pretty. This is your chance to stamp your personality and wedding theme firmly in place, so really let loose.
You can never have too many flowers now, can you? Be bold or go home.
Photo: Matt and Esther via Heartfelt Wild Flowers Outdoorsy DIY Wedding Cake: Millies Kitchens
18. Wooden Crate Stand
Pop your rustic cake onto a wooden crate stand, you could even personalise it.
Photo: Modern Vintage Weddings via Quirky Cool Street Party & Spring Flower Filled London Wedding Cake: Katy Made Cakes
19. Edible Flowers
Adorn your cake with edible flowers, they almost look too good to eat!
Photo: Cotton Candy Photography via Home Made Countryside Spring Wedding with a Sequin Dress
20. Autumn Naked Cake
Use autumnal colours, flavours and fruits to create an autumn wedding cake of dreams.
Photo: Belle Art Photography via Northside Farm Wedding Cake: Jill Agnew
21. Simple Naked Cake
Sometimes simplicity is key and this naked cake demonstrates that perfectly.
Photo: Grace Pham Photography via 10-11 Carlton House Terrace Wedding Cake: Waitrose
22. Cookie Naked Cake
If a sponge isn't your thing, how about a cookie naked cake stack?
Photo: Tasmin May Photography via Crown Lodge Wedding Cake: @chefdave_82
23. Cake For Dessert
You could also make your sponge the centrepiece to an array of desserts to spoil your nearest and dearest and ensure everyone has their favourite treat in store after dinner. Or make your cake dessert to cut costs!
Photo: Sugarbird Photography via Cherry Blossom Wedding Ideas Cake: Where The Ribbon Ends
24. Wooden Barrel Table
Think about wedding cake table alternative ideas for a visual delight.
Photo: Wyldbee Photography via Homemade Wedding
25. Single Tier Nake Cake
You don't have to have multiple tiers to your cake. A single tier with an epic flower topper may be just the ticket.
Photo: Francesca Hill Photography via Country Marquee Wedding
26. Gold Leaf Naked Cake
Add a touch of glam with a gold wedding cake design.
Photo: Emma Stoner Weddings via Holsome Park Wedding
Should I Have A Naked Wedding Cake?
A naked cake is a great idea for a wedding. Not only does it look so tempting and delicious to guests, but it also has a rustic boho vibe that may just suit your wedding theme.
Naked wedding cakes are also one of the least expensive cake designs when looking at the average cost of wedding cakes. That's due to the simplicity of their design and time to make, so if you are having a budget wedding, it may be ideal.
Image Anna Hardy via Classic Elegant Pink Wedding
How To Plan A Naked Wedding Cake?
There are a few aspects to consider in planning your naked wedding cake. First things first, decide how many portions you need to feed all your guests. Before deciding on your design and cake decoration.
Then you will need to decide if you are baking yourself, asking a loved one or hiring a pro wedding cake designer. Once you choose you can put together a plan on timings on sourcing your recipe or cake designer and arrange the best bit… cake tasting!
Be sure to think of dietary requirements, with options for a gluten-free, dairy-free, nut-free or vegan tier. Or specially selected fruits and flavours to please all your wedding guests.
Can I Make A DIY Naked Wedding Cake?
You can absolutely make your own DIY naked wedding cake. Lots of couples ask a talented baker who is a loved one to assist. Some couples even make their own and you could always make it in advance and freeze your sponge.
You will need to think about the cost of ingredients, finding a naked wedding cake tutorial and someone to help assemble your cake on the day.
So there you have it, all the seriously beautiful wedding naked cake ideas you'll ever need. Plus answers to your naked cake FAQs are solved. Yes!
Further Reading