The trend for intimate elopements and wedding adventures is sweeping the industry – and if ever there was proof that an elopement need not be elaborate to be memorable, it's this gorgeous shoot.
Set against the backdrop of the dark water and imposing, snowy mountains of a Norwegian fjord, the model's one-of-a-kind couture dress swaying in the wind completely takes our breath away. The stylists chose to combine epic landscapes with moody chic Nordic minimalism, complementing the dusky charcoal greys and steel blues with pops of pink, peach, and berry florals.  Simplicity steals the show on the tablescape, adorned with just a floral centrepiece and authentic bones, wood, and shells of the glacial waters. The marbled cake and flowing calligraphy of the stationery also fit in beautifully, adding a touch of organic femininity.
Anouk Fotografeert is enchanting in her capture of the story, and we couldn't be more excited to share the gallery with you today – grab yourself a hot chocolate, get comfortable, and enjoy!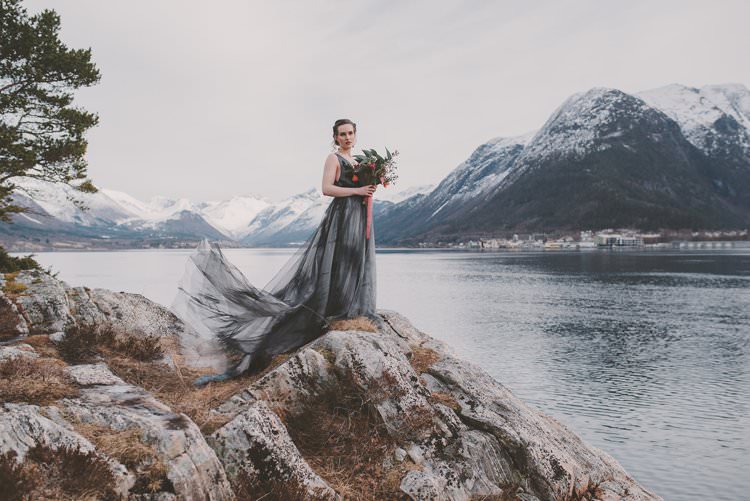 CREDIT WHERE CREDIT IS DUE |
Photography | Anouk Fotografeert
Portfolio Bootcamp Workshop by | Madame Poppy and Best Day Ever Events
Styling and flower design | Best Day Ever Events
Styling assistant | Rose Van Doninck
MUAH and Accessories | Bruid&beauty Nederland
Cake | Sugarlipscaks
Stationery | Natasja Ceulemans
Dress | Tzariena
Thank you so much to the whole team for sharing this exquisite inspo shoot with us! Val Xx