I am an absolutely huge fan of WWW readers Kylie and Nathan's fabulous wedding and I promise it's not only because Kylie told us she has been an avid reader for five years after we featured her best friend's wedding! The atmosphere on the day looks like it was absolutely electric and the whole celebration has been captured brilliantly by Chris Barber Photography. We are so thankful to be sharing these photographs with you today.
Their nuptials took place on Sunday 9th December 2018 at Hornington Manor in North Yorkshire and I just adore how they really paid attention to detail and yet managed to achieve a lovely relaxed atmosphere too. I couldn't agree with Kylie more that although it's not worth getting too stressed out, it is very satisfying to see all those little touches you've put time and effort into coming together.
Kylie's skirt and jumper combo is just brilliant and the sparkly bridesmaid dresses work perfectly for this winter wedding. There are so many beautiful decorative touches to take in, which our pair achieved with the help of Kylie's Dad crafting the metal work. It really does look like a lot of fun, with guests up and dancing before the wedding breakfast had even finished, all thanks to Sam Scherdel, booked through WWW fave and Supplier Love members Bands For Hire. Let me leave you with these wonderful images and the fantastic film by Lukas & Laura Films. Enjoy WWWers!
The Proposal
When Nathan finally proposed we'd been together just over 7 years.  I'd always said I didn't want anything public and over the top, but ideally something unplanned and laidback.  He listened!!! On Tuesday 6th June 2017, after a very bad day at work I was laid on the sofa in my dressing gown when he disappeared upstairs and re-emerged with a ring box! I had joked earlier that morning the maybe he should jet off to NYC that day and get my dream ring, not a clue he already had it!!! I had to double take when he walked in with it! He got down on both knees (I was laid down so was really low!) and asked me to marry him. I stared at the ring and him for a few seconds before crying and shouting YES! I'd pointed out a few rings I liked, and he'd remembered a specific one from Digby & Iona. 18ct rose gold with an arrow detail on the band. With a 1ct salt and pepper diamond in the centre.
The Vision
The biggest thing for us was to have a day filled with fun, food and fizz!
We aren't ones for tradition, we wanted everything to feel right for us and certain traditions made us 'dread' that part of the day! So, we just didn't do them.
The venue we chose meant everyone could stay for two nights and we had full run of the place. Staying apart the night before and not seeing each other on the morning just wasn't an option! Going to bed together the night before was brilliant, we watched a bit of TV, Match of the Day! And talked about what tomorrow might bring!!!
The venue was a barn but we weren't fans of 'rustic' so we decided to decorate with metal, lights and candles. It gave the decor an edge but kept it romantic.
The Planning Process
We started planning straight after the engagement and had the venue and registrar booked within a month, Sunday 9th December 2018 was our date!!!!
I did most of the planning myself, I didn't find it too stressful as I am really organised and actually enjoy the high-pressure planning process. I had a clear image in my head of what it would all look like. We were lucky or venue was already beautiful and gave such a beautiful romantic feeling.
Budget
We were very lucky to have our families help towards the cost of our wedding.  My parents were literally the only reason we had what we had, we'll never be able to thank them for what they did.
We didn't cut corners on what we wanted, equally I made sure I didn't waste money on anything overpriced or unnecessary. At last count we were around the £30,000 mark.
Your Outfits & Accessories
My outfit was a bespoke made top and skirt by the wonderful amazing Hayley at Glory Days Bridal, York.
Hayley was recommended to me by my hairdresser and after one appointment I knew she 'got me' I am the furthest thing from traditional bride and the thought of going to shops and trying on traditional dresses filled me with dread.
Years ago, I'd swooned over Olivia Palermo's jumper and skirt wedding dress and it never left me.
So, when I went to see Hayley with my ideas, I hoped she wouldn't freak out when I said I wanted a jumper! Luckily, she didn't! And from there, created sketches that I immediately loved. We then chose materials for both the jumper, the skirt and the cami top.  The jumper ended up being made of a charcoal grey mohair with a light grey silk cami underneath. The skirt was made from the most exquisite ivory lace, that I fell in love with immediately, using the same silk as the cami to line it. Then Hayley finished the skirt with pockets and a scalloped edge. It was perfect for me. Absolutely perfect. I felt like me and I felt comfortable.
To finish the look, I had a bespoke headpiece made by Alison at Vintage Bridal Millinery.  Again, Alison just understood me, we went for dark and light grey leather leaves with crystals and beads to give it a shimmering finish. It was beautiful and all-day people were asking to touch it!  She also made my Mums beautiful hat/fascinator!
Then just my velvet grey and rose gold ted baker shoes to finish!
When my Dad came to see me in the morning, he gave a beautiful rose gold infinity bracelet from Tiffany's, it is absolutely beautiful and just finished my entire look.
Nathan had said for years 'if we ever get married, I want to splash out on a Paul Smith suit' so that's exactly what he did! He actually ended up head to toe Paul Smith (minus the tie and pocket square which came from Mrs BowTie)
He has the ideal body shape for a suit, so he literally looked like a model from the off! He decided on navy jacket and trousers with a fine black pin dot. His shirt was white, and his tie and pocket square were burgundy with tiny white hearts. He finished his look with brown shoes, film camera cufflinks, a personalised brown belt with his initials foiled on & burgundy braces all from Paul Smith. Plus, his favourite part of the outfit, his wedding present from me a U Boat watch he's had his eye on for years!
The Venue
When we got engaged, excitement reached feverpitch! My best friend/MOH Jen is a florist and she asked me if I wanted to help her set up a wedding at Hornington Manor, I absolutely jumped at the chance!
When we drove up the driveway, I knew this was the place for us! It offers something a little extra to anywhere else we've ever been.
A huge Manor House consisting of 22 beautifully decorated bedrooms that you hire for the weekend! A big beautiful barn with high ceilings and huge metal chandeliers. Rolling hills as the back drop, perfect for photographs. And the best part, you can decorate and do exactly as you please. NO restrictions on decoration, or caterer! You can have whatever you want.
The day I visited with Jen it was 30 degrees and I kept thinking what a perfect day that couple would have.
I got home and said to Nathan we needed to go and visit, so we went along a week later with my parents and they all loved it just as much as I did.  We spoke with Jo, who heads up the wedding team there, and the only dates they had for 2018 were December dates. We are both big fans of the cold crisp days winter can bring so it worked perfectly for us.
The fact you hire the place for the weekend meant on the Saturday evening we had a big BBQ, expertly prepared and executed by our Best Man! A few glasses of prosecco and a relatively early night! We were shattered after spending all day on the Saturday setting up (Yet another plus point to the venue, only one wedding per weekend means you have the entire day before to set up!)
Bridesmaids
My bridesmaids consisted of my three best friends Jen, Katie & Fiona. Plus, my two sisters in law Hollie & Anne-marie.  The BM dresses were one of the first things I bought. I originally said they could all wear different, to make sure they all felt comfortable. However, on our first trying on session they all loved the same one! We decided Jen, Fiona & Hollie would wear the blush pink and Katie & Anne-marie matching dresses in light grey.  The dresses were from Maya at Asos. The dresses really fit a winter wedding and they all looked beautiful. Jen's daughter, Ayda, acted as our flowergirl. Her outfit was from Next & Zara.
Groomsmen
The Groomsmen consisted of Nathan's five best friends; Marcus, James, Oliver, Lee and Michael. Plus, his two brothers Ryan and Kyle, my brother Brad and of course both Dads, Mario & Danny. They all wore two-piece suits from Next in a mid-blue colour with Navy ties and pocket squares.
We had two pageboys, our nephews, four year-old Isaac and four month-old Reuben. Outfits for the boys were from Next & Matalan. We went for super cool and casual for the kids as we wanted them to be comfy and not traditional.
Beauty
I have short hair and it's easy to do and didn't need an elaborate hair style, I decided to do it myself.
For the bridesmaids we decided to book my MOH's hairdresser, who went to the same school as us, Sophie Oxford. Sophie arrived at 7am in the pitch black and immediately got to work beautifying my maids and Mum. She did a fantastic job and the girls looked amazing. She went over and above and helped my Auntie who was having trouble with her fascinator too!
We all pitched in on the make up front and did it ourselves. Nobody wanted to feel overdone and I sometimes feel like that with a MUA. My bridesmaid Fiona is a dab hand at eye makeup, so she was nominated to do all eyes!!! She did a superb job, loads of people commented on my makeup.
My nails were done by the wonderful Vikki Moore at The Beauty Bank, West Yorkshire. I go to Vikki every two weeks, she's the best! She even worked on her birthday so I could have my nails done as close the wedding as possible, she turned up armed with prosecco too!
My eyebrows and lashes were done by the amazing Helen Maher, who is based in Bingley, West Yorkshire. She does my brows and lashes all the time and it an absolute perfectionist!
My tan was done by the gorgeous Lauren at Bespoke Beauty, Harden, West Yorkshire. She is my tan queen and I go to her for all my tans and facials.
The Readings & Music
We decided on three readings during our ceremony. Our friend Sadie  read 'A Vow' by Wendy Cope beautifully, then our friend Chris nailed 'Union' by Robert Fulghum. The final reading was by my Mum who had everyone laughing with her version of 'We go together' from the film Grease!  When you hear someone speak the words to that song instead of singing it, it is hilarious! She practiced for months before and had it down to a tee!
For the ceremony and wedding breakfast we booked Sam Scherdel via Bands For Hire who was quite literally incredible. He was open to learning/singing anything we wanted, I didn't want to dictate too much so we only picked a few songs and let Sam do the rest! I walked down the aisle to Frankie goes to Hollywood – Power of Love, it's one of Nathans favourite songs and we did get married in December! During the register signing we had Coldplay – Magic, we both love that. Then walking back out we had Justin Timberlake – Can't stop the feeling.
Sam sang during the drink's reception and all the way through the wedding breakfast. I've never been to a wedding where people are up dancing before the desert, they were at ours! Sam did a few Christmas songs at the end and everyone was UP!!!
In the evening we had a band called Suicide Blonde who are a friend of a friend's band. We have been to a few parties where they've played, and they are always brilliant. At the wedding they seemed to step it up a notch! They were unreal, it was like being at a gig not a wedding! Cannot recommend them enough.
We didn't really know what to have as our first dance as we didn't have one particular song. We decided on The Killers – A Dustland Fairytale. This song has always been a part of 'us' and we've listened to it over and over. Plus, we are both big Killers fans.
The Details & Décor
Not sure where to begin with this, I feel like I collected things for years and years!
The metal work – My Dad!! What a guy, everything I asked him to do he just did! 12 tall centre pieces, a mesh card box with metal letters on the front, 12 little metal hangers for the table's names, a square metal cake stand, a frame with mesh for the table plan and 4 tall gorgeous game of thrones style candle holders (Which the guests all wanted to steal!) Everything finished and painted matt black. Perfect!
The biggest thing for us were lights and candles. As soon as we booked the venue, I booked the wonderful Keith at event light & sound, he provided us with a dance floor light curtain and an impressive swag of Edison bulbs!
We collected over a hundred candles to line the back wall of the barn and to have a few on each table. All different shapes and sizes. B&M and Homesense were great for this. We bought around 10 packs of battery-operated lights that we used all over the place! Cake stand, card box, on the bar!
We printed a photograph of every couple at our wedding and stuck it onto a board with the hashtag #COUPLEGOALS in the middle. This went down really well, if the couple were married, we made sure we used a photograph from their wedding.
For our confetti shot we decided to have artificial snow confetti from Dollz, the pictures are amazing and the confetti is completely water soluble!
I had personalised wooden mixers made from Etsy, along with personalised straw flags which my Dad and Nathan painstakingly stuck together!
Myself, my Mum and my bridesmaid Fiona made the favours. Homemade candles in three different scents for the women – Christmas Tree, Mistletoe & Wine and Gingerbread. Plus 'Lucky bags' for the men with foam aeroplanes, slinkys, yoyos and bubble gum!
We had a cigar bar for the evening, my mum and my friend had kindly brought back a few varieties from various holidays during the year. We displayed these in various boxes/trays I'd picked up from Homesense, with boxes of mini tictacs to freshen up! We also had personalised matches printed for these!
Our guest book was an old book "Between Silk and Cyanide" that we'd found in an old bookshop in Camden Market. The idea was for guests to flick through the book and find a word or phrase that related them to us/our day, circle it and write a little message down the side. It was a lovely idea but unfortunately not many people signed it! My advice would be to get a groomsman to take it round the tables!
All the print was done by my friend Randolph at PRS LLP Ltd, from the save the dates to the thank you cards, reserved seat signs, table name cards, place cards, signs for blankets and flip flops and cigars! Everything and anything we wanted Randolph and his team did.
The Flowers
My MOH and her brilliant Mum, Alison, were our amazing florists. I changed my mind a few times on what I wanted but it never phased these two.
I think my bouquet was the first thing I decided on, lots of green with a few quicksand roses and Astilbe to soften it. Then a big king protea in the middle as they are my all-time favourites (Imagine the plant in little shop of horrors!) The Bridesmaid bouquets were all about the greens! Eucalyptus, Asparagus leaf & olive plus some beautiful dark colour berries.
We tied all the bouquets with the most beautiful hand died ribbon from Lancaster & Cornish. I had both burgundy and blush while the maids had just burgundy.
I am lucky enough to have a Dad who has been a metal fabricator his entire working life and when I saw the centre piece idea on Pinterest I got him straight to work (What he didn't know at this point is that he'd end up making a lot more than just the centre pieces!!!) tall square stands with wild/foliage based flowers was the brief. I left the rest to Jen and Alison as they just have a great eye for detail/styling. The finished article was exactly what I'd imagined.
We had flowers on our table plan, again the mesh stand was made by my dad. Jen used proteas and foliage to dress this. It looked great and loads of people commented on it.
Button holes were a rose with olive and silver brunia. Down the aisle we lined with loose olive branches.
The registrar table Jen created a beautiful foliage garland, so beautiful. After our wedding Jen & Alison closed their wonderful business as Alison decided to retire, not sure where I'll get my flowers from in the future as nothing seems to compare!
The Cake
We are lucky enough to have a friend who makes the most incredible cakes! Poor Amanda listened to me change my mind 50 times before we finally settled on a three tier ALL BLACK cake!
I thought I was being kind not choosing loads of decoration, turns out plain black is unforgiving and difficult to get right! Amanda needn't have stressed, it was perfect! Perfectly smooth black fondant finished with black ribbon and a couple of fresh flowers. Simple and classic. The cake flavours were Chocolate, Lemon and Biscoff & ginger. All delicious!
The Food
For the food we knew we wanted something easy and casual and sharing! Anything but a roast dinner!!!
After visiting a wedding fair at Hornington Manor Jo recommended Hog & Apple as they cater a lot of weddings. We had a look at their website and knew that did exactly what we wanted! A few emails back and forward with the man in charge, Ged, and we decided on sharing platter for the start and mains. Starters were the Yorkshire Platter which was pork pie, terrine, tear and share bread, pate, tabbouleh and cheese.
The main was the Smokehouse BBQ with was buttermilk chicken, braised beef pots, racks of ribs, pulled pork plus fries, pit beans and breads.
The pudding was a mini chocolate torte with a big dollop of eton mess on top (Mine and Nathan's favourites mixed together!) Ged and his team also served amazing canapes during our drinks reception which were pulled pork nachos, goats cheese and tomato tarts, chicken satay with peanut sauce and welsh rarebit.
Hornington Manor provided our reception drinks which were mixed beers, prosecco or hot pimms, perfect for a winter's day!
In the evening the guys from pizza Loco served the most incredible pizzas, people could not get enough of them! The best evening food we could have asked for.
Your Photographer
Chris Barber! What can we say about him?
He had photographed a friend's wedding five years ago and we loved him then, turns out all these years later we still do!
Having him shoot your wedding is like having your best mate do it! He makes you feel at ease and he makes you laugh! The photos he takes aren't posed or forced.
Plus, he is superman and must move around the room at lightning speed as he hasn't missed a single thing!
He's captured moments and feelings, I feel like images could come alive. We will cherish them for years to come. Don't bother looking around for photographers, just book him. Plus we share a surname…..it was meant to be!!!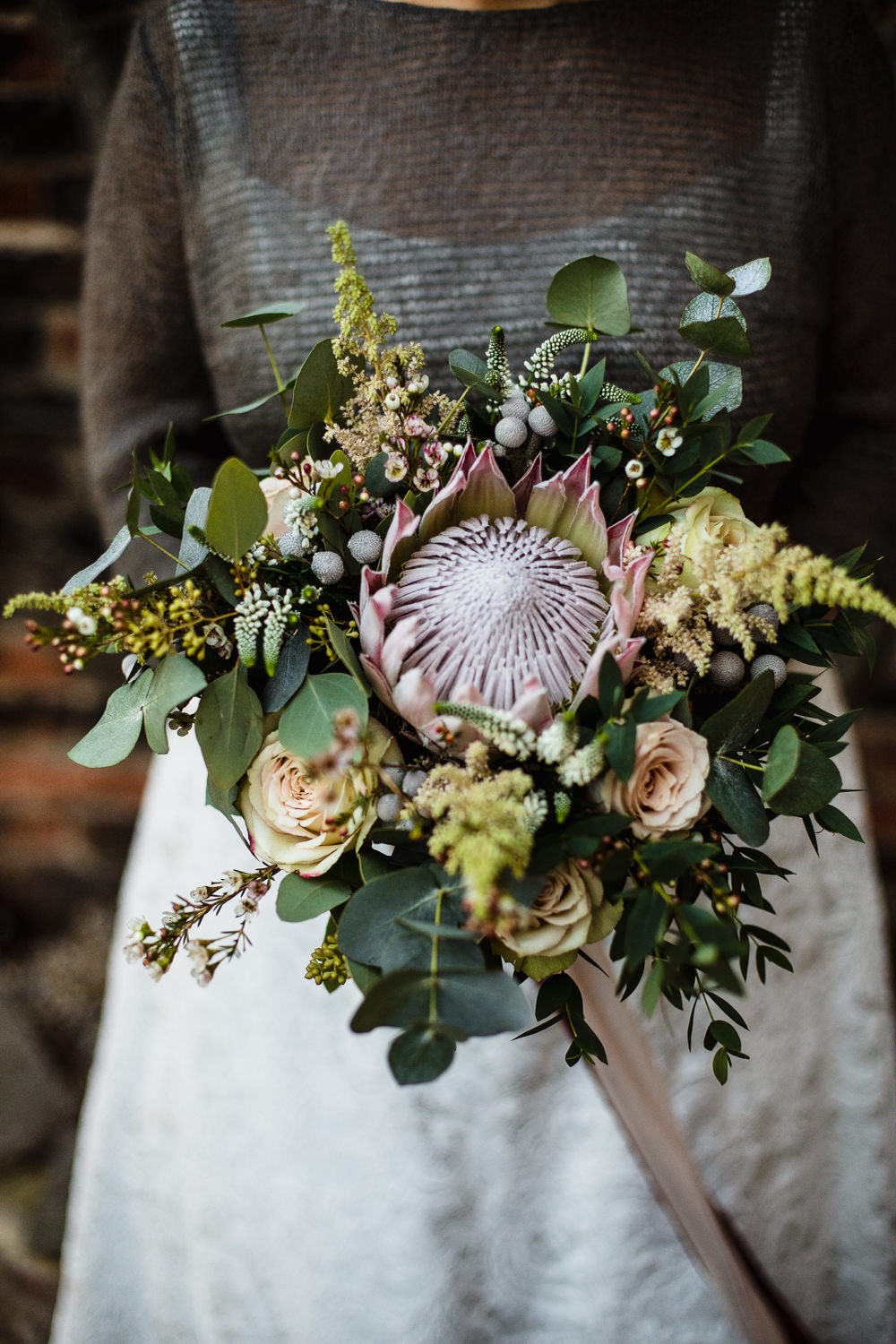 Your Filmmaker
We were lucky enough to book Lukas & Laura to go out video and I can recommend them enough. Not only were they friendly and professional but I hardly saw them! They were practically invisible! Again, like Chris, they didn't make us feel awkward or forced, just relaxed like we were among friends.  We haven't had the finished video as yet, but we can't wait to see it!
The Honeymoon
As we got married in December, we decided to postpone our honeymoon until the summer, so immediately after the wedding we went to Bath for a few days and did a lot of lazing around, eating, drinking and visiting the beautiful spa at the Royal Crescent hotel. We stayed at the most beautiful B&B Leighton Townhouse
On the 1st June 2019 we are heading off to for our Italian Adventure! Two and a half weeks of travelling from Milan to Florence to Rome to Naples to Ischia…..we cannot wait!
Memorable Moments
We loved seeing each other as I walked down the aisle, seeing his little face smiling back at me was the best!
We loved saying hi to everyone and seeing everyone so happy and excited for us.
I loved the dancing and singing and general gig type atmosphere that the night do brought.
But I think our favourite bit was sitting and signing the register, just having a moment the two of us knowing we were married!
Advice For Other Couples
All the advice I read was pretty much the same. You definitely need to spend time together, it's amazing to look around with your new Husband/Wife and see all the people you love in one room, it literally never happens so take it alllll in!
People also said 'don't sweat the small stuff' I agree in one sense, but I also know how much time and effort we put into the small stuff, therefore I wanted it to be right! So, if you want to be a control freak and make sure everything is just right then do it! I did and felt like I could relax knowing it was how we wanted it.
Charity
Sadly, Nathan lost one of his closest and oldest friends in 2017 to suicide. Oliver would have been one of our groomsmen and was hugely missed on our wedding day. To make sure he was 'with us' we bought all the men in the room a Mind charity badge to wear. We also had a collection bucket on the bar, and we were over the moon to raise £460!!! What generous guests we had!
Credit Where Credit Is Due
What a beautiful and magical day you had Kylie and Nathan! Thank you so much for sharing the love with us today. Rachel x