I love how this couple started their engagement. Louis proposed to Steph by booking a viewing of the venue that Steph had always dreamed of as their own wedding venue. How lovely is that?
They then went on and booked Irnham Hall to host their day and Steph and Louis were married on the 20th August 2016. They envisioned an elegant country garden wedding complete with afternoon tea, games on the lawn and live music. It really was idyllic set in the walled gardens, with the sun beating down, children playing and guests drinking Prosecco and Pimms. Inside the hall the pair opted for a pink and white scheme, with hanging paper lanterns, long tables dotted with blooms in jars and tea pot table names. There was a superb naked cake tower, which was gluten free too, covered in fruits and placed upon a log stand.
Now let's talk outfits seeing as they are totally lovely. The boys were lucky to be kitted out in WWW faves, Swagger and Swoon blush ties, which complimented the bridesmaids dresses perfectly. Meanwhile Steph chose a beaded Justin Alexander dress and sparkly bow heels by Kate Spade. Then there was her bouquet, which by the way was a total triumph. It was filled with Proteas, succulents, Roses, Astilbe and foliage. So very pretty.
Huge thanks goes to Helen King Photography for sharing these dreamy summery shots.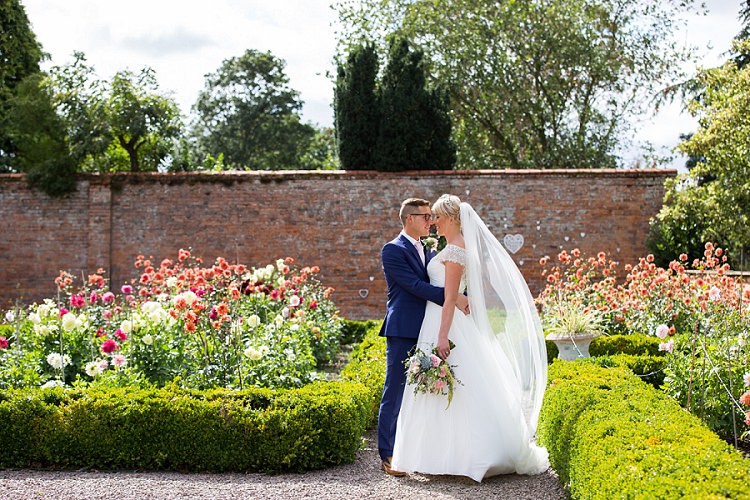 THE PROPOSAL | Louis had been away in Barcelona for a few days and the day that he got back he told me that we were going out for breakfast and actually just drove me down the road to the wedding venue. He had booked a viewing of the venue as the proposal because he knew it was my dream venue.
THE VISION | A garden country wedding with an afternoon tea in order to suit the reception venue of a beautiful walled garden. I wanted it to feel understated but elegant and I wanted everyone to have a good time so lots of live music and garden games to keep guests occupied whilst we were off having photos
THE PLANNING PROCESS | I'm a Project Manager for a living so for me it just seemed really chilled. I had a Pinterest board to log all of my ideas, drew up a to do list and got as much as I could booked as early as possible. There were a couple of 'nice to haves' that we left booking until closer to the wedding once we understood how costs were coming out against budget.
THE VENUE | St Andrew's Church in Irnham for the wedding and Irnham Hall for the reception. There is a path connecting the two so guests were able to walk from the church to the venue. Jamie and Leila were our designated contacts for the big day and they were absolutely fantastic and ensured that our big day was special for us and that the stress was taken off our hands on the day.
THE DRESS & ACCESSORIES | My dress was by Justin Alexander and was absolutely beautiful. I had a cathedral veil, which was lovely but it was such a windy day that it did get a bit frustrating. The beads on my dress also kept on catching on my veil and tugging my head back!
I spotted my headpiece at the dress shop and it went perfectly and then searched online for wrist jewellery and found an absolutely beautiful beaded cuff which was an absolute bargain from Davie and Chiyo despite the fact that it's a Canadian supplier.
My shoes were Kate Spade. Completely glittery, I loved them!
FINDING THE DRESS | I think my dress was meant to be. I'd gone to around 4 different boutiques looking for a dress and felt demoralised that I wasn't have much success. I then decided to get a bit more organised and started researching designers and found a couple of Justin Alexander and Maggie Soterro dresses that I really liked and tracked down my local stockist. When I phoned up to see if they had the particular dresses in stock they didn't have my favourite but I made an appointment anyway. The day I came into the shop they remembered that I'd asked about a certain dress and they'd happened to have received it a couple of days previously. As soon as I saw it on the mannequin I knew it was the one!
GROOM'S ATTIRE | Louis was the biggest nightmare in the planning process! He just didn't understand the urgency in getting a suit! I eventually managed to drag him to buy his suit about three months before the wedding. It was a DKNY three piece suit. He bought a lovely pair of Barker shoes, which were brown leather and blue suede and had silver 'L' and 'S' cufflinks for our initials. The ties took some work to track down in terms of the colour that I had in mind but eventually I stumbled across Swagger and Swoon who had the perfect shade of blush! They came beautifully packaged including some tasty chocolates (Louis doesn't know about that!)
THE READINGS & MUSIC | Entrance of the Bride: Canon a trois on a Ground in D (Pachelbel).
Signing of the registers: Air Suite in D (Bach).
Exit music: Hornpipe from the water music (Handel).
Hymns: Love divine all excelling, Guide me O thou great redeemer, Immortal invisible god only wise.
We were really fortunate that my uncle is a retired vicar so he, my aunt Rosemary and my cousins have beautiful voices, knew the hymns and really carried the songs beautifully. We spent a lot of time agonising over the music and hymns as we wanted to have some unusual lesser known hymns. But I was really pleased with how they all complemented each other.
Readings: I Corinthians 13, vv. 4 – end I know a lot of people have this reading but it's beautiful.
Love, by Erich Fried – I can't remember how I found this poem but it made me cry the first time I read it. It meant so much to be that my friend Emma was able to read it for us.
BEAUTIFUL BRIDESMAIDS | My bridesmaids included three friends and my sister-in-law Hunnii. Their dresses were Needle and Thread from Asos. I saw them when I initially started planning the wedding but they were out of budget. After not finding anything else suitable and starting to worry they went on sale! They were still a little over budget but it was worth it, they looked beautiful. About a month before the wedding my bridesmaid Laura confided in me that she was pregnant and needed a bigger dress. I had to stalk the Asos site every day waiting for a bigger size to come in stock but fortunately one did. We had a minor moment of stress on the morning of the wedding as two of the dresses wouldn't zip up. I came upstairs having had my make up done to find them completely stressed out and trying to squeeze the dresses over their heads. We also discovered that when the dresses had been altered two of the dresses got mixed up so the girls had to swap dresses and wear flats rather than the heels intended! Fortunately I remained calm and managed to get the dresses zipped up. I also purchased beaded belts for about £3.99 from an eBay supplier, which really finished the dresses off nicely.
THE FLOWERS | When I first started the planning process I honestly didn't think I cared about flowers… well I turned out I did!! This is probably the one element we went over budget on thanks to Pinterest I think and I actually introduced a flower to the florist that they hadn't heard of! We found such a fantastic florist – Flowers by Mandy. The team really understood my vision and were excited that I wanted something unusual and didn't want to see a hint of baby's breath!
I wanted a large bouquet and had a clear vision of how I wanted it to look along with the table decorations. My wish list was King Protea, Blushing Bride Protea, succulents, O'hara rose and many more. Mandy and her team got exactly what I wanted and introduced me to lots of other flowers to complement my wish list. The final outcome was absolutely what I had hoped it would be and more. Mandy had warned me that I may not be able to have the King Protea in my bouquet due to their size but fortunately there were a couple of smaller ones that they were able to use in the bouquet. I had jars of flowers all over the house after the wedding and they lasted over two weeks. I planted all of the succulents that were in the bouquets and jars in the garden and despite by beagle Alfie stealing a couple I have around 8 of the succulents thriving as a lasting memory of the wedding.
We shared some of the flowers in the church with the couple who got married the day before and then our florist added some additional displays.
THE CAKE | My mum has coeliac disease and myself and my cousin also have to eat gluten free so we had a gluten free and 100% organic naked cake from the Organic Wedding Cake Company. We couldn't decide on flavours so ended up having four tiers which all tasted fabulous. We hired a beautiful Elm cake stand from Celeste the cake supplier. It was absolutely delicious and didn't need a cake topper due to the sheer magnificence of the cake alone.
YOUR PHOTOGRAPHER | Helen King was absolutely amazing and managed to keep us totally at ease. I came across her website from doing some web searches for photographers and immediately fell in love with her style. We chose to have our photographs on a memory stick and I cant describe how beautifully presented it was, which made it so special for us.
THE DETAILS & DÉCOR | The reception venue is set within a walled garden so we hired in deck chairs and had various garden games out including archery and croquet. We also had booked a fabulous acoustic guitarist to play during the drinks reception of prosecco and Pimms. We didn't actually book it but there was a Pimms bike supplied by our prop supplier and that really finished off the exterior nicely!
Internally we had the venue set up with long trestle tables and had pink and white paper lamp shades of various sizes hanging down from the lighting track above. We went halves with the couple from the wedding the day before on giant light up 'Love' letters. One the tables we had rows of old Dowe Eggberts coffee jars filled with flowers and I hung handmade clay hearts from each one with twine. I also made clay hearts for the wedding favours and tied guests name tags to the hearts with twine.
We had an afternoon tea rather than a three course meal and served prosecco and tea and coffee. I named each table after a tea and the table names were made using glittery stick on letters applied to teapots that I had bought from Asda.
And had an absolutely amazing band called Black and Gold perform. We struggled to find an independent band with availability who we liked and ended up booking Black and Gold through an agent. It made it more expensive but it was worth it and the sound technician then did the disco afterwards.
THE HONEYMOON | Pending! We are both extremely busy with work and it's just fallen off our to do list! We had a weekend in a holiday cottage in Cornwall the week after the wedding but are planning on having an amazing honeymoon next year.
MEMORABLE MOMENTS | Walking into the church and turning down the aisle and seeing Louis' face light up and all of our guests. It was so emotional, I was holding back tears as I walked down the aisle.
ADVICE FOR OTHER COUPLES | Book as much as you can as far in advance. We found that many florists, photographers and bands were booked up over a year in advance.
Take yourselves away for a walk for ten minutes just to grab some time alone together and relax and soak in the atmosphere.
Don't exclude children from the invite list. They absolutely contributed to the atmosphere of the day and I think it would have been dull without any children there. I asked my friends with young babies to sit at the back of the church and slip out if the tears started and they were all absolutely fine with that. I also made up activity pots for their table settings to give them lots to keep them occupied.
CREDIT WHERE CREDIT IS DUE |
Photographer | Helen King Photography
Dress shop | Beautiful Brides
Dress Designer | Justin Alexander
Cuff | Davie and Chiyo
Groom, best man and usher ties | Swagger and Swoon *WWW wedding directory member*
Florist | Stamford Flowers
Cake | The Organic Wedding Cake Company
Bridesmaid dresses | ASOS
Prop hire | Living The Cream 
Band | Ear Candy Live
Acoustic guitar | Beautiful Background Guitar
Car | Rutland Wedding Cars
Caterer | Tom's Kitchen
Venue | Irnham Hall
Just so perfect.
Many thanks to Steph and Louis for sharing their wonderful story here with us xo Lou