I think that what I love most from this week's styled wedding shoot, has to be the time of day chosen to capture it. That golden hour is always a magical time of day, no matter the season and makes everything just glow. It's the perfect time for portraits and I have to say Dhw Photography has used the light superbly in these images today. They really are breathtaking!
Inspired by the golden hour, A Midsummer Night's Dream and Practical Magic, not to mention astronomy, this shoot really does have it all. A super pretty colour palette of purples and blues, smoke bombs, glitter and sequins plus florals for days. Come evening the candles gave off a soft romantic light and the festoon lights twinkled for an idyllic setting. I urge you to take in all of the details, the outfits and the beautiful styling here today folks. Dreamy.
Magical Midelney
Words by stylist and concept artist Bethan Ralph from Apple and Bramble Events & Flick and Flourish.
We had the pleasure of shooting this enchanted editorial at Midelney Manor. A romantic Elizabethan manor house in the heart of Somerset. My initial concept for the shoot was a beautifully magical evening, an escape into a woodland setting reminiscent of A Midsummer Night's Dream. I wanted to have some elements of astronomy and a ever popular celestial undertone. Purple and blue hues where the main colour palette along with foliage and textures to add depth. Gold was our accent colour running throughout the shoot.
I began by designing a stationery suite, This process allows me to build up a concept through images I am creating. A great way to get inspired!

We as a collaborative group have shot before and so I knew from the start that this team would be able to create the images in my mind. We picked a gorgeous evening and set up ready for that all important 'Golden Hour' and wow was it worth the wait.
Daniel captured the most stunning images of our models throughout the grounds and surrounding fields. Daniel has such a relaxed manner that allows the models to feel at complete ease with being watched and captured. Daniel used the light and hazy glow to create the most stunning landscape and portrait images.
Ella from Twigs and Twine created a sensational bouquet. It was packed with hues of purples and blues with delicate foliage and grasses. We wanted to create a bohemian style shoot, Rachel from Brothers and Sisters created a striking headpiece for the bride, using some bright blooms to finish the look. The cake by Melanie Todd fitted perfectly and looked the part on the barrel table in the evening.
I foraged some lilies, thistles and ferns to decorate our latest prop – the horse carriage! This was a featured prop in the shoot that created a whimsical touch.
The grounds of the Manor created a striking backdrop. The muted stone textures and colours were perfect against the gold and purple tablescape and set ups. I created a perspex table plan with a deep purple paint was across the back. This was set in a metal frame allowing for a slight industrial component. We also had some amazing giant sunflowers from Ellie Brunt at Ellie Bee Floristry that added a pop of contest with colour and a fun detail!

From the woodland area to the grand gardens we used the space according to the natural light and elements.
The dresses were from ASOS and suited the shoot more than we could have hoped for. With the sequins and embellishments adding to the magical feel.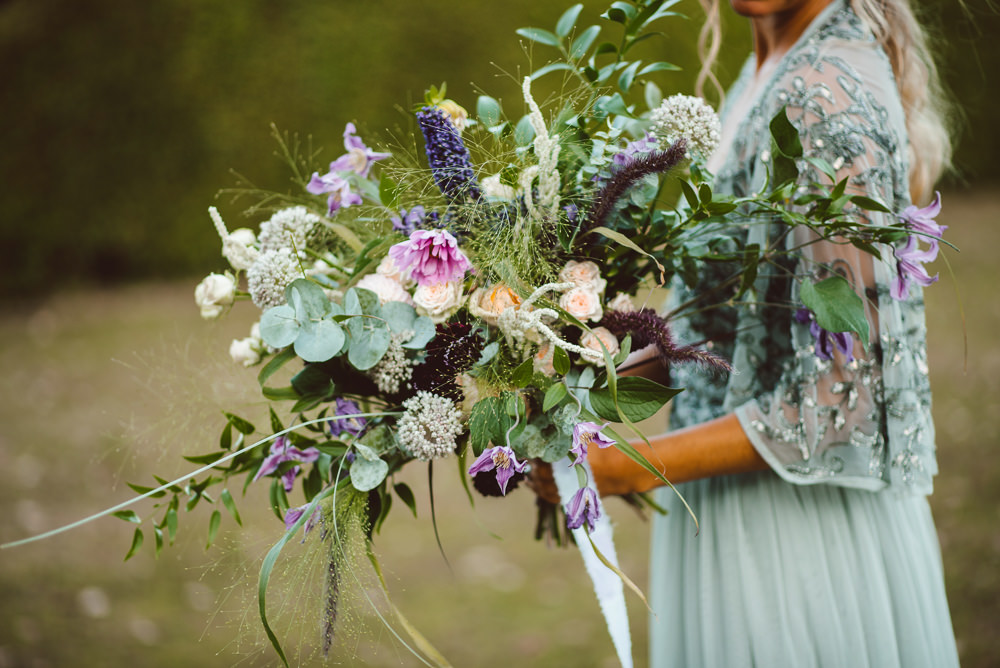 The shoot was incredibly relaxed and beauteous, allowing suppliers to create and explore. We hope everyone finds this shoot as magical as we did.
I wanted this shoot to give a little nod to one of my favourite movies of love and sisterhood 'Practical Magic' and I have to say it was Practically Magical!
Credit Where Credit Is Due
Well wasn't that all just ethereal and beautiful?
Huge thanks goes to the creative team above for sharing these delightful images with us today xo Lou