Get ready for some seriously beautiful wedding inspiration WWWers. What a treat we have for you today, courtesy of Campbell's Flowers and a team of incredibly talented and creative wedding suppliers. The idea behind the shoot was to create luxe and opulent images inspired by Dutch Masters, which are reflected so wonderfully as a result in these superb images by Kindred Wedding Photography.
The flowers were of course to die for, with a rich colour palette of coral, mustard, amethyst and ruby mixed in with fruit and ample foliage too. There were hanging installations on the staircase, asymmetrical florals in gold urns and decadent flowing bouquets adorned with ribbon. Oh my! The table scape included pretty floral paper and china, plus there was a gold three tier wedding cake too.
The bride looked stunning with natural hair and make up looks and dark dresses, perfect for an alternative to a white or ivory gown. I love it all.
Tracey Campbell from Campbell's Flowers tells us more;
"At Campbell's Flowers we really relish the opportunity to unleash our creativity on shoots with other liked-minded wedding industry folk, particularly when it means collaborating with our uber-talented fellow studio dwellers from the Light Space Collective in Sheffield. Sharing a space with the likes of the incredible Shelley Richmond of Kindred Wedding Photography and the hair and make up wizardry of Jenn Edwards and Co makes for a real hive of creativity where we're constantly bouncing ideas off each other.

So when I dreamt up the idea of basing a beautiful bridal inspiration shoot on some of my favourite artists, the Dutch Masters, everyone was wonderfully enthusiastic. Art and history have long been two big inspirations for my work. I love the depth and richness of colours you find in the oil paintings of Rembrandt, Vermeer and Co, and was keen to replicate that with a very opulent shoot. This super-luxe vibe is something we are seeing more and more in our weddings.

To create the look we chose blooms rich and vibrant colours such as coral, mustard, amethyst and ruby jewel-like tones and incorporated fruit into the designs. Often seen in still life paintings of that era, the edible element also gave a nod to the history of the beautiful shoot location, the gorgeous, Georgian Saltmarshe Hall in East Yorkshire, as exotic fruits such as pomegranate was often used by the Georgians to show off wealth. Those colours were followed through in the stationery created by Wildwood Paper, who specialise in beautiful botanical paper products, along with the crockery and place settings. Copper cutlery added an extra dash of luxe.

To create a contrast with the riot of colour and give an unexpected edge we opted for an Adrianna Papell black gown rather than traditional white, which we all fell in love with. The make up look used pared back tones with browns and hints of copper, but with strong, beautiful brows to make a statement.

For the florals we opted for roses and other large blooms like King Protea, and mixed up textures combining the likes of whispy, barely there ferns with seasonal anemone to create more drama. To make the most of a stunning staircase we crafted a unique sculptural, waterfall installation using verdant foliage, textured broom and gorgeous tulips for a pretty colour pop.  We love the statement large installation pieces make and creativity they allow; it's definitely something worth chatting to your florist about as there are just so many fantastic ways you can use them. The free-flowing feel was also carried through to an asymmetric bouquet, and we also created a very full and romantic flower crown to complete the look."
Grace Taylor from Wildwood Paper;
"The Dutch Masters have always been a big inspiration for me, I absolutely love the drama and the colours, so was thrilled when I was asked to get involved. I wanted the table numbers, place settings and menus to reflect the rich colours and opulence depicted in the original paintings, and chose big blooms amongst wispy trails to coincide with Tracey's gorgeous floral inspiration board.
To follow the luxe theme, I used copper bulldog clips to hold the double layered menus together and copper frames for the table numbers. As stationery has to be done in advance, it's often difficult to colour match from a concept to real flowers on the day as they are so unpredictable! But Campbell's did an incredible job of making sure everything came together beautifully, and I loved seeing Tracey's vision realised."
Shelley Richmond, Kindred Wedding Photography;
"Before I ever took up photography, I was a painter. I've always been drawn to the work of the Pre Raphaelites and artists like Vermeer and Caravaggio particularly because of the way that they treat light in their work. This shoot was most definitely inspired by those artists, everything from the colour choices to the location to the way that the images are edited with the same undertones I would have previously used in my paintings."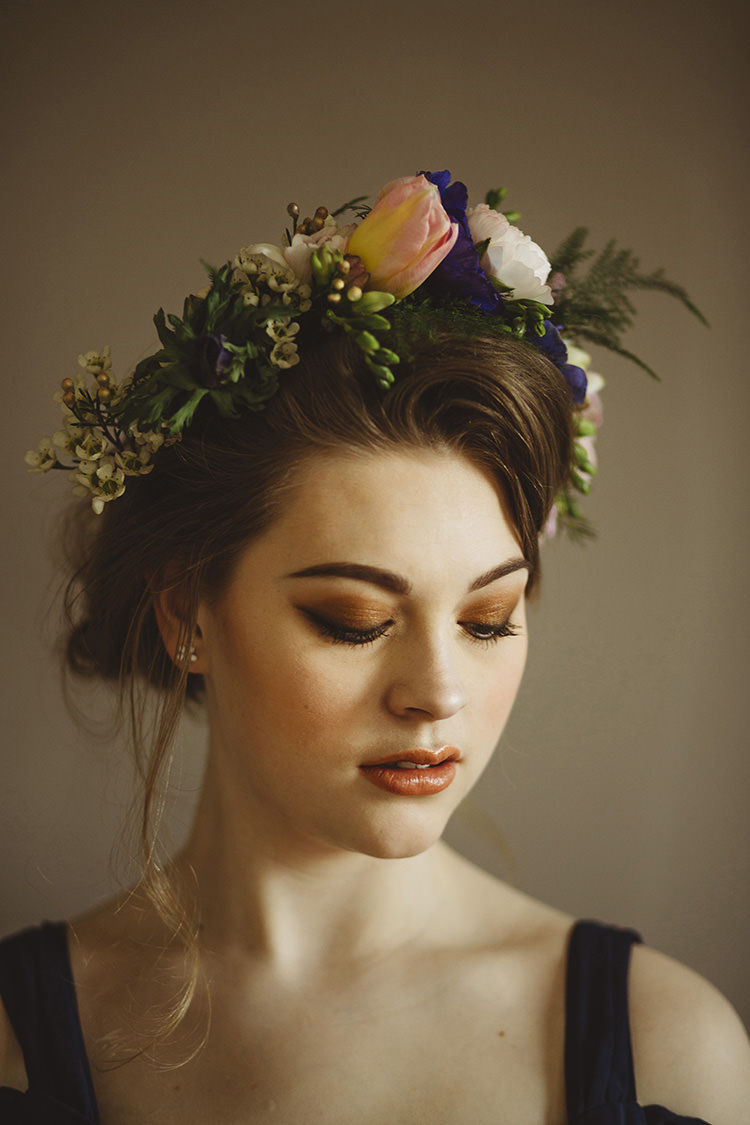 CREDIT WHERE CREDIT IS DUE |
Photography | Kindred Wedding Photography
Concept, styling and flowers |  Campbell's Flowers
Venue | Saltmarshe Hall
Hair and Make Up |  Jenn Edwards and Co
Cake |  SJ Cake Studio
Stationery | Wildwood Paper
Dress |  Adrianna Papell
Cutlery | PML Plating
Model |  Amber Ackerman
Thanks so very much to the whole team for sharing these incredibly beautiful images with us today. So very inspiring xo Lou