Finger-lickin', mouthwatering doughnut wedding cake ideas here you come!
Yes, that's right, I am here to share all the wedding doughnuts to inspire your own doughnut displays. Hooray.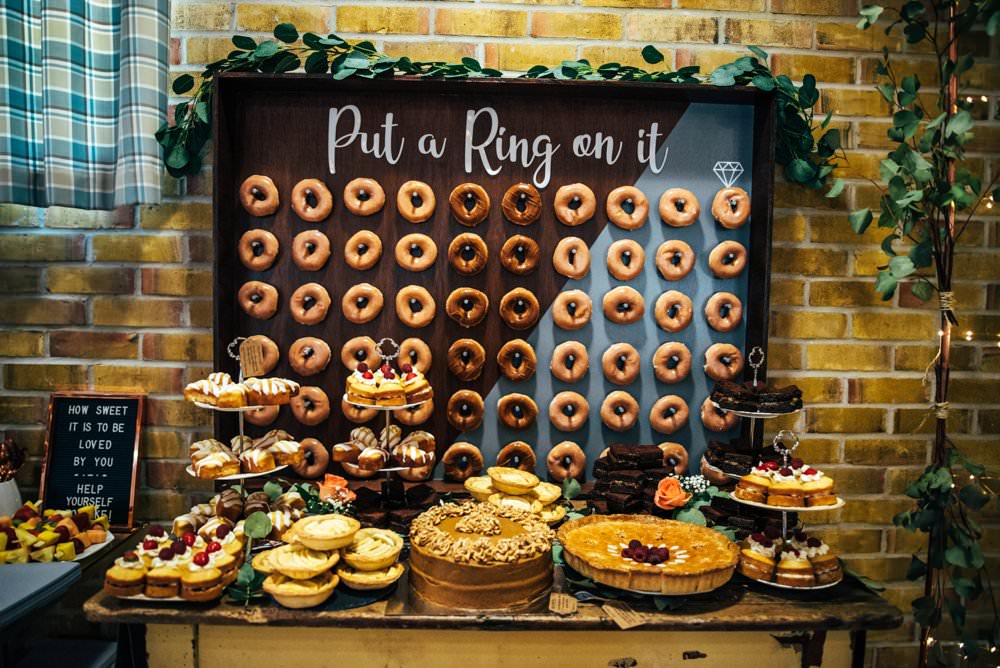 Photo: Three Flowers Photography via Outdoor DIY Wedding Doughnuts: Krispy Kreme
Scrumptious & Stylish Doughnut Wedding Cake Ideas
Before we look at some of the practicalities of your wedding doughnuts, it's time for all the pretty!
Settle in for some seriously scrumptious doughnut wedding cake displays.
1. Doughnut Tower
Chose different doughnut shapes and flavours and stack them high.
Photo: Gareth Newstead Photography via Christmas Barn Wedding Doughnuts: Krispy Kreme
2. Top Tier Sponge
If you'd still like a cutting cake, have a sponge as your top tier and doughnuts beneath.
Photo: Aden Priest Photography via Offley Place Wedding Doughnuts: Krispy Kreme
3. Pink Doughnuts
Coordinate your doughnuts with your wedding colours.
Photo: Hayley Baxter Photography via Wharfedale Grange Wedding
4. Doughnut Wall
Doughnut walls have been very popular and it's easy to see why. They look fantastic and are easy for guests to see as well as pick up to eat. Yum!
Photo: Rebecca Carpenter Photography via Hoop Decor Wedding Ideas Doughnuts: The Baking Fairy
5. Doughnut Cake Table Backdrop
Want a traditional wedding cake? Why not have doughnuts as your cake table backdrop instead?
Photo: Dani Nichol Photography via Orlando Wedding Doughnuts: My Bakers Cottage Cakes
6. Doughnuts On Poles
Turn your doughnut display on its head, by stacking them on wooden poles. So cute!
Photo: Victoria Baker Weddings via Intimate Garden Wedding Doughnuts: Juniper Cakery
7. Giant Doughnut Cake
If individual doughnuts aren't enough, have a giant cutting doughnut too!
Photo: Nicole Miro Photography LLC via Wisconsin Micro Wedding Doughnuts: Cranky Al's
8. Doughnut Tea Cake Stand
Use a sweet afternoon tea cake stand to show off your doughnuts.
Photo: Lyra and Moth via Whimsical Summer Wedding Doughnuts: Krispy Kreme
9. Doughnuts & Flowers
Why not decorate your doughnut tower with pretty flowers?
Photo: Jamie Dunn Photography via Farbridge Barn Wedding Doughnuts: Krispy Kreme
10. Fun Doughnut Wall Sign
Add a cute slogan to your wedding doughnut wall.
Photo: Ivory White Photography via Autumnal Boho Wedding Doughnuts: Krispy Kreme
11. Doughnut Grazing Table
Grazing tables don't just have to be savoury. Try having a sweet one with cupcakes, macarons, chocolates, meringue kisses and of course, doughnuts! Guests will love it.
Photo: State of Love and Trust via Neon Sign Wedding Ideas Doughnuts: Cherry Blossom Cakes
12. Vegan Wedding Doughnuts
Having dietary requirements shouldn't stop you or your wedding guests from enjoying doughnuts. Be sure to search for vegan, lactose, nut or gluten-free doughnut bakers.
Photo: Kitty Wheeler Shaw via Northease Manor Wedding Vegan Doughnuts: Glazed Coffe
13. Plate Of Doughnuts
For the simplest idea, pop doughnuts on a plate. Voila!
Photo: Irene Yap via Casual City Stylish Pub Wedding Doughnuts: Crosstown Doughnuts
14. Doughnut Dresser
An alternative display idea has to be putting doughnuts in a cute vintage dresser.
Photo: Tara Statton Photography via Bohemian Luxe Coastal Wedding Ideas Doughnuts: Edible Essence Couture Cake Co.
15. Doughnut Dessert Table
If you want to skip dessert, perhaps to save money on your wedding breakfast. Why not serve doughnuts instead?
Photo: Thyme Lane Photography via Rustic Christmas Wedding Doughnuts: Krispy Kreme
16. Doughnut Log Stand
Choose a rustic log cake stand to add your doughnuts to.
Photo: Lisa Carpenter via Natural Pretty Pale Pink Wedding
17. Doughnut Box
Place doughnuts into a gorgeous glass box for a special table style.
Photo: Cat Lane Weddings via Orangery Wedding Ideas Doughnuts: Coco Peony
18. Doughnut Cake Topper
Don't forget to add a cake topper to your donut tower.
Photo: Clara Cooper Photography via Chypraze Wedding Barn
19. Doughnut Tower & Wall
If you want more than one doughnut display option, go for it. This couple had a donut wall and a towering doughnut wedding cake stand.
Photo: Curious Rose Photography via Deer Park Hall Wedding Doughnuts: Krispy Kreme
20. Doughnut Wedding Favour
If you are trying to think of a unique wedding favour idea, doughnuts may just be the one.
Photo: Carn Patrick via Marsala Gold Wedding Doughnut: Krispy Kreme
21. Glazed Doughnuts
Glazed doughnuts add colour and more often than not, flavour too.
Photo: Claire McClean Photography via Cool Wedding Ideas Doughnuts: Cherry Blossom Cakes
22. Acrylic Round Doughnut Wall
How lovely does this round acrylic doughnut wall look? So cool.
Photo: Emily and Steve Photography via Hampshire Woodland Wedding
23. Mini Canape Doughnuts
Turn canapes on their head by serving sweet mini doughnuts with your welcome drinks.
Photo: Ilaria Petrucci via Greenery Natural Wedding
24. Icing Sugar Doughnuts
Add a dusting of icing sugar to give the doughnuts a snowy feel.
Photo: Grace Elizabeth Photography via Grey Wedding Ideas
25. Doughnut Pun Sign
Another fun tongue-in-cheek doughnut sign, love it!
Photo: Sarah-Jane Ethan Photography via Playfun Stylish Navy Winter Wedding
26. Heart Doughnut Wall
Make a heart with your doughnuts, so romantic.
Photo: Fairclough Studios via Tipi Garden Wedding Colourful Doughnuts: Krispy Kreme
27. Large Doughnut Wall
Go all-out with a large doughnut wall, what a feast.
Photo: Charlotte Hu Photography via Yew Tree Lakes Wedding Doughnuts: Krispy Kreme
28. Balloon Doughnut Wall Display
Embellish your doughnut wall with an epic wedding balloon display.
Photo: Florence Berry Photography via Colourful Balloons Wedding Ideas Doughnuts: Bake To The Future
What Is A Doughnut Wedding Cake?
A doughnut wedding cake is quite simply a cake made from doughnuts. Usually, they are stacked or displayed on a wall at a wedding.
Can I Have Doughnuts Instead Of A Traditional Wedding Cake?
You can have doughnuts instead of a traditional sponge or fruit wedding cake. Or, you could have doughnuts as a tasty treat or wedding dessert to supplement your wedding cake.
Photo: Miss Gen Photography via Fun London Wedding
How Many Donuts Do You Need For A Wedding Cake?
When it comes to how many doughnuts to use for a wedding cake there are two ways to approach portion sizes. Firstly, think about how many guests you have and if one each will suffice.
Some guests may eat more, some may be too full to eat one depending on your wedding day menu.
Alternatively, consider the aesthetics of your doughnut cake display. If you have a doughnut wall, you probably don't want empty slots on it.
But, it goes without saying you want to avoid food waste so carefully consider your options. It may be that you can box up leftover doughnuts to give out at the end of your wedding.
Photo: Sandra Reddin Photography via Kingshill Barn Wedding
How Do You Keep Wedding Doughnuts Fresh?
Ask your wedding doughnut baker for the best advice on keeping your doughnuts fresh. They may advise refrigeration depending on the topping or filling. It's a good idea to keep them in an air-tight container too. Your wedding venue may be able to assist with storing them until you need them on the day.
Photo: Joshua Rhys Photography via Old Barn Wedding
What Can I Serve With Wedding Doughnuts?
First up, think about supplying plates, napkins or paper bags to keep guests clean. You could offer forks, but most guests are likely to use their hands to eat them. For an extra treat, serve steaming hot tea or coffee to wash them down.
Cardboard boxes or doggy bags are ideal for leftovers so they don't go to waste.
Photo: Honey and the Moon Photography via Titchwell Manor Wedding Doughnuts: Krispy Kreme
There we have it, all the doughnut wedding cake ideas you'll ever need. Plus the answers to your wedding doughnut questions are solved! Woohoo.
Further Reading