It's always the best feeling ever when I get to feature a WWW reader wedding. It really means the world to me especially so when the couple tell me that WWW was helpful to them. In Cat and Lee's case they found their venue The Cowshed at Woodhall Farm in the West Midlands on our pages. Hooray!
They chose the date, the 28th September 2019 and married in the beautiful old cowshed, before partying the day and night away in style. There is just so much to mention that it's impossible to do so, but let me start by saying the level of effort and love that went into crafting their DIY decorations was immense. Every little detail was really thoughtful and meaningful to them both.
What do I love? I love the festival vibes (hello food and drink trucks), the paper flowers and origami cranes and the totally gorgeous attire. It's also fab to hear that WWW Supplier Love member Shropshire Petals provided some of the pretty dried flowers too.
Huge thanks to Emma and Rich for sharing with us these epic images of a very fun day.
The Proposal
Lee was told by my mother that he wasn't allowed to propose until I had done one of my paediatric exams. This worked out well as the exam was in early October 2017 and I love autumn. We planned a trip to Sherwood Forest to see the forest with all the beautiful autumnal colours. We walked to the Major Oak and I was looking for an acorn to send to my pen friend in Germany when Lee said 'what about this one?' I turned around and there he was on bended knee with a ring box, which he opened upside down! Of course I said yes… our walk ended there – I needed to get to somewhere with phone signal to call my mom. Turns out they were all at home in Birmingham waiting to come up to Nottingham to celebrate with us!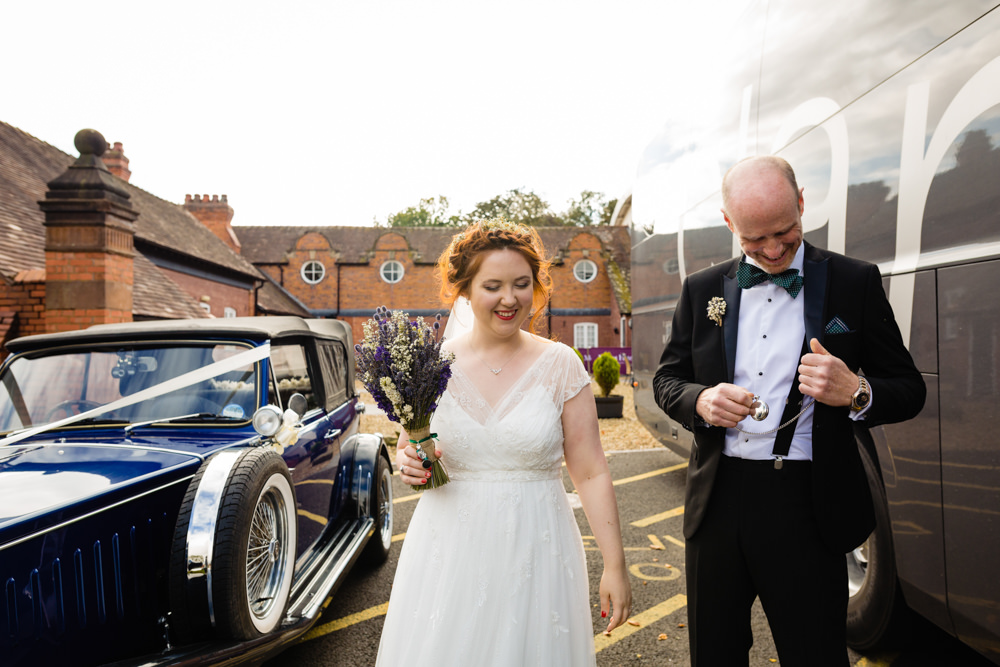 The Vision
We wanted our wedding to be relaxed and fun and to be able to choose exactly what we wanted rather than being held back by venue restrictions. We go to Shambala festival every year and wanted a celebration that was as bright and chilled out as there with lots of little areas for guests to enjoy themselves/rest. I knew that I wanted to make a lot of the decorations myself and that I wanted there to be little details for guests to notice throughout the day with a cosy feel. Above all else we wanted there to be good food and good entertainment without breaking the bank!
The Planning Process
We started by looking at magazines and blogs. We looked at more traditional venues, but they all seemed to cost a lot of money and weren't exactly what we wanted. We looked at venues from near to Nottingham where we live all the way down to Cambridge where we met. We thought that we would like to have a wedding in a tipi, but they turned out to be just as expensive!
That is when I saw a wedding in the budget section of WWW where the couple had gotten married in a barn which they had cleaned up themselves and made the venue pretty much from scratch. This really inspired me after initially feeling like we would never find a venue or be able to afford the day of our dreams. I saw lots of other alternatives on the blog like village halls and train stations and finally stumbled across a wedding at the Cowshed at Woodhall Farm. It wasn't too far from us or from where my family live so we decided to go and see. We fell in love instantly – we could legally get married here if we wanted on an island surrounded by water or in the old barn, and it was a complete blank canvas for us to go wild with! Once we set the date everything started to fall into place. We organised chair hire and spoke to Lucy who is the owner of the venue about buying hay bales and firewood. We could then concentrate on the food, drinks and the decorations.
We had Mary and her team from Vinteage for our wedding breakfast. They can provide anything vintage afternoon tea – from a simple afternoon tea, right up to decorating your whole venue for you! Mary is a true professional and provides a brilliant service, nothing was too much trouble for her. They poured our post-ceremony bucks fizz and toasting drinks for us and put all the wine we bought out on the tables for us. We had Winston the Wonky Wagon from the Wonky Table in Derby for our evening food. Holly was brilliant and the food was delicious. The street food wagon looked perfect and colourful at the venue. Communication with both ladies was effortless and nothing was too much for either of them.
We had the Hop and Bubble bar for drinks and they were great. Their horsebox and festoon lighting fitted in really well with the venue and they kept the drinks flowing all day and night!
Planning was done in short bursts between exam prep and buying (and doing up) a house – stressful to say the least!
Budget
Started with a budget of £10,000, but ended up being around £14,000 in the end.
The Venue
The Cowshed at Woodhall Farm. We loved the Cowshed from the moment we saw it. Even the walkway down through the trees with festoon lighting made the place feel magical. We felt so calm there and the owner, Lucy was so lovely and made us feel really welcome. You can do pretty much whatever you want with the venue. We originally wanted to get married on an island on the property called Grandma's Island, which has a structure where you can legally be married if you want to and huge wooden benches. However on the day it was really windy and threatening rain so we quickly changed our plan and moved the ceremony into the barn. It turned out to be perfect in the end – really lovely and cosy and the music sounded brilliant inside the barn.
Outside the building is a large lawn space that we used for hay bales and lawn games which went down a treat. It also gave us space to have outside vendors such as the horsebox bar, vintage caravan photo booth from Deuce Event Hire and evening street food to give us more of a festival vibe.
The big L shaped room where we had our sit down meal allowed us to have long tables so we could see all of our guests from where we were sat. In the evening we had a wood fire at the end of the room where there are comfy sofas. There was a queue to sit by the fire at some points during the day! It was really great to have somewhere quieter for people to sit if they didn't want to dance the whole night. The barn where we had the ceremony turned into the dance floor in the evening.
Your Outfits & Accessories
Lee and his groomsmen wore black tuxedos so that they were all matching with green bow ties and pocket squares (to match the bridesmaids) and black shiny patent shoes. Lee had a three piece tuxedo to stand out from the group. We got the outfits from Slaters, so that they could be tailored to fit perfectly. We had self-tie bow ties so that they could undo their ties during the night and look really cool, but were definitely challenging to put on in the morning.
I wore the beaded 'Hetty' gown from Wed2b. I didn't get much time to book in to a boutique and wanted a dress I didn't mind getting a bit muddy on the farm and that I would alter to wear again if I wanted to! My dress was a really comfy, flowy boho feeling gown. It was traditional in the sense of being long and white with a train, but it felt very modern with the wrap over neckline, capped sleeves and beaded belt. I felt amazing in it, and most importantly was able to move around freely to dance the night away! I had a veil that was also from Wed2b with little beads along the edge. Inside my dress my mom sewed a patch from Extra Special Touch which had mine and Lee's initials with our wedding date embroidered in blue as my something blue. I had a silver bracelet with an elephant charm on it and jewellery from Liberty in Love. I wore my nan's mother of pearl ring, which my dad had gifted to my mom as my something old and borrowed (my parents gave the ring to me at the end of the night so now it is mine – which caused a fair few tears!). I wore gold glittery Vivienne Westwood jelly shoes – best decision ever!
The Readings & Music
We had a brilliant band called The 45s who played live music all day. I walked down the aisle to 'Baby I Love You' by The Ramones and then we walked back up to 'I'm a Believer' by The Monkees. Our first dance was to the Arctic Monkeys version of 'Baby I'm Yours'. In the evening the band played a couple of live sets and also provided a playlist for in between and afterwards. When we sent our invites out we attached song request cards and people sent back their choices for the evening – mostly 'Mr Brightside' by The Killers! The band was brilliant and really good at replying to emails etc. We searched for ages for a music option for the day, but when we found The 45s it all seemed to click into place as they were able to do the whole day.
For our ceremony we had a humanist celebrant called Tanith Garcia. She was wonderful – we met up with her around 4 months before the wedding so that she could get to know us and we could get to know her. We originally were going to have a registrar come from the registry office to come and marry us at the venue, but we are so glad we had Tanith instead (we did our legal bit a few days before in the Nottingham council house with just our parents and Lee's brother). She put together a brilliant ceremony which reflected us as a couple. We could choose whatever readings/symbolic acts we wanted, she provided a few to get us started, but there really was no limit on what we could have. My mom read a passage from the Brambly Hedge book 'Summer Story', which was a favourite of mine growing up – she read the part where Poppy Eyebright and Dusty Dogwood are married. We also had the Apache wedding prayer, which my man of honour read for us and we had a handfasting prayer, which my bridesman read out whilst we were having our handfasting. We really enjoyed the handfasting and I had made the cord from plaited ribbons in greens and purple, which made it all really special and personal to us.
Groomsmen
Lee had his best friend Alex as his best man who he has known since school and then they followed each other to uni and beyond. He had his brother, Dale and friend Robbie there to help too as groomsmen. They were all great help – Alex took his job as best man very seriously and kept the day moving and they all mucked in with set up. We couldn't have moved the ceremony into the barn so fluidly without them. They all did a great job setting out hay bales too- they even made a hay bale sofa!
Bridesmaids
I had a man of honour – my best friend from the beginning of my doctor training, Lloyd. I also had a bridesman, Dan who I started paediatric training with and two bridesmaids, Anna who I know from school and Holly who has been my friend for 26 years from our very first year of school. Even though they all come from different parts of my life they all got on so well and all supported me greatly throughout the planning process. Anna's son Jacob was my little page boy and he did such a great job. He sprinkled petals with such care and looked really cute in his little outfit and fox tail! Katie was also a bridesmaid and her little girl Harlie my flower girl, but couldn't make it in the end as Harlie had chicken pox!
Lloyd and Dan had the same Slaters tuxedos as the groomsmen. The girls had green dresses from Joanie and they looked stunning in them. They had metallic shoes/sandals of their choice which they bought themselves. Anna had her second baby the month before the wedding and had adjusted her dress by adding hook and eye attachments at the shoulder, so that she could easily breastfeed and you couldn't tell at all!
Jacob wore grey chinos and a white shirt from Next with a little bow tie and braces. He had little green vans to match the rest of the bridal party. I got him a fox tail to wear on the day to make it a bit more fun for him, but he didn't keep it on for long!
The Flowers
As our budget was getting eaten up at an alarming rate and knowing that flowers could be really expensive we looked for alternatives to fresh flowers. I love fresh flowers and they look beautiful – but having a late summer/autumn wedding I thought dried flowers would look perfect too. We ordered our flowers from The Artisan Dried Flower Company and some from Shropshire Petals. This meant that we could order them to arrive well in advance, which took a bit of stress away on the run up to the wedding!
We arranged the flowers into little vases that I had collected over the past year or so from charity shops/Ikea. They looked beautiful and smelled really good too. I had a bouquet with lavender, baby's breath, larkspur and thistles and a flower crown, Lee had a matching buttonhole. The bridesmaids had lavender and baby's breath and so did all the men in their buttonholes. Our moms and my nan had individual corsages to match their outfits.
As beautiful as the dried flowers were, I wanted to make a bigger impact on the venue with bright florals and wanted a festival inspired and whimsical kind of day. We looked at all sorts of ways of making flowers like paper flowers and pompoms etc. Luckily my mom found Emily! My mom will talk to anyone and was sat with her friend Rose on the same table as Emily and her friend at the Eclectic Wedding Extravaganza and got talking about Emily's new paper flower business. They exchanged details and I am so glad because the flowers that Emily made were so perfect. We talked about the sort of visions I had for the day and Emily just got it straight away. We had a huge garland of flowers on the top table that looked amazing, she made wisteria to hang from the antlers on the walls and along some beams. She also made leaf 'bunting' and more flowers for across tables where the guestbook and the cake were and she made flowers for everywhere you could think of around the venue, no detail was missed! She also made flowers for the tables that tied everything together so well. She has a real eye for colour and she did the most amazing job.
The Details & Décor
The festival that I work at has lots of little details so that you can look around all day and still see new things and I wanted this for our wedding. We put a lot of effort into little details for the venue.
On the way into the venue there were signs that I painted on salvaged wooden boards telling people where to park. At the bottom of the slope was a huge wooden sign that my dad made and I painted saying welcome to the wedding of Cat and Lee. On entering the barn we had a basket with sweetie bags full of petal confetti made by me, my mom and my nan, packets of tissues which said 'for your happy tears' on and a sign saying 'choose a seat either side, you're loved by both the groom and bride' which I wrote on a mirror I found in a charity shop. Outside on the lawn we had hay bales and tables made out of stacked wooden pallets. We covered the hay bales with old coffee sacks. We had some lawn games outside – giant jenga and flamingo hoopla! To add to our festival feel I made some huge ribbon chandeliers attached to flag poles that blew around in the wind and were so colourful. We dotted a few gin bottles around with lights in them and also outside we had a sign that we had made at the festival I work at that said 'Crazy in love'. We had fire pits outside in the evening. Also on the lawn was the beer pong table I made with team bride and team groom written on it which I made with a pasting table, chalk board spray paint and chalk pens. Before we had to move inside we had planned to have wooden stakes with ribbon attached to them as aisle makers – but still managed to have some photos on Grandma's Island after the inside ceremony so they weren't completely wasted! After the ceremony we had bucks fizz and crisps and other nibbles which were in crates my mom bought from Ikea and drew love birds with 'Happily ever after' and the Disney robin hood on them with 'oo-de-lally oo-de-lally golly what a day' with oak leaves as a nod to Sherwood Forest where we got engaged.
We had the flowers on the tables sat on doilies with the table number and inside little quotes about love on sticks which I found on NotOnTheHighstreet. The dried flowers were in little vases/glass bottles and the paper flowers were in gin bottles. We made menus for the afternoon tea in note cards with pictures from Brambly Hedge on them. My mom made napkins from floral fabric we got from the Birmingham rag market, which we tied with string with a clay star attached to each one with the guests name stamped onto it. We also had the coasters with faces on them, which went down well. We gave pin badges and trolley tokens from Birmingham Dogs Home as favours and these seemed to go down well too. Our two young teenage guests had mason jar cups with their names on, a plastic drinks bottle with their name on filled with sweets and a teddy bear from Birmingham Dogs Home at their table. Our table plan was drawn by me on a chalk board with the mice from Brambly Hedge on there.
The paper flowers were a huge part of the decoration and covered the antlers, beams, wicca wreaths and other furnishings around the venue. I made 1000 paper cranes, which we left a bit late to string up so some of them were hanging behind the top table and some were scattered on the floor behind us and on window ledges by my bridesmaids! All of the beams had multi coloured floral bunting hanging from them. We had a little felt mouse bought for us by Emily who made the paper flowers which went on a window ledge and on other window ledges there were little lanterns I had found in charity shops, gin bottles with fairy lights and other little animals like bride and groom Llamas, bride and groom flamingos and bride and groom sausage dogs. On another window ledge there was a bride and groom knitted by my great aunt. We had a sweet stand made from apple crates which my dad screwed together for stability and these were decorated with trailing plants from Ikea with the sweets in jars and also galvanised pots. I found an old white suitcase with a red lining on Facebook marketplace and attached a white pompom trim to the inside for our cards to go in. We had a jenga guestbook and wooden hearts for people to write on – as well as the guestbook provided by the photo booth. My dad made us a huge wooden frame with chicken wire in so that we could attach photos of us as children and also of us together with little wooden pegs. Around the frame I wrote a bit of the extract from Brambly Hedge which was 'then in the name of the flowers and the fields and the stars in the sky, and the streams that flow down to the sea, and the mystery that breathes wonder into all these things…' – I really enjoyed making this frame.
I bought a couple of old drinks trolleys online and in a local second hand shop. We used one for displaying photos of our loved ones who couldn't be with us. We put vodka and whiskey on that table with shot glasses with a poem on a peg board and instructions to 'take a shot for those here in spirit'. We put this one near to the wood fire where people could sit in the evening and relax. The second one was in the dance barn with a Harry Potter potions crate with jars full of apple and cherry sours for people to take shots of – these went down really well!
The dance barn I wanted to be a bit of a contrast for the night time. I wanted it to be a bit more twinkly with a celestial vibe. We hung different size star shaped lanterns from the beams in all different metallic shades. They looked so beautiful in the day when we had to move the ceremony inside and in the night. We like the look of neon signs so my dad made us a frame with chicken wire in and used a neon light strip to make the words 'you me oui' in the frame and it looked brilliant. I used a chalkboard to make a sign that said 'I bet that you look good on the dancefloor' on it in neon chalk pens. We had a table with eco-friendly glitter on so that people could glitter their faces up, which is something I love to do at festivals. My dad made us some huge love letters that were originally meant to be outside. We used an idea I saw on a Facebook group of making huge letters in a circus type font – they looked fantastic and people were really impressed with them – they tied the festival fun theme together well.
We put a lot of effort into the decorations and enjoyed making it all. Having a very clever carpenter for a dad helped!
The Cake
We had our cake made by Sophie from Red Robin Cakery. Her cake is so good we cannot recommend Sophie enough and we also can't stop finding excuses to order more cake from her since our wedding! She delivered our cake in perfect condition and decorated it for us at the venue so beautifully. We had a Victoria sponge bottom layer, lemon elderflower next layer, chocolate orange and then Cherry Bakewell on the top. We had the cake semi naked and decorated with lavender and oats from Shropshire Petals and little felt mice we got from NotOnTheHighstreet. We also had cupcakes in the lemon elderflower flavour to cater for our vegan and coeliac guests.
We had brownies from the Beeston Brownie Company – we live in Beeston in Nottingham and wanted to support the business, but also their brownies are the best we have ever had. We also had these in vegan and gluten free versions too!
I made a traditional fruit cake and iced it at home. I put little figurines of Poppy Eyebright and Dusty Dogwood from Brambly Hedge on top.
We had a lot of cake, but we love cake!
We also had a cheese stack from The West Country Cheese Company. Their cheese was excellent and we had loads left over afterwards for making macaroni cheese with! We had chutneys from local suppliers in Nottingham, fresh fruit and pickles too.
Your Photographer
We had the best photographers – Emma and Rich. I had seen their work well before we got engaged on Facebook. I knew that we needed to look at booking them, but really wanted to meet them first. After we got engaged I found they would be at the Eclectic Wedding Fair in Birmingham, but unfortunately I was due to be working night shifts that weekend. I sent my mom and her friend to go there and meet them for me! We booked them pretty soon after that and I am so glad we did.
Emma and Rich made everyone feel so comfortable on the day and mixed so well with our friends and family. They were everywhere and so professional. We have so many brilliant photos with tonnes of energy in each one. They captured the day perfectly and got all the bits we would have missed had they not been there to snap them! We really treasure the photos from them and because of the style of their photos it feels like we are re-living the day every time we look at them – they're brilliant!
We also had a video made by them which is equally brilliant – so much fun. I cannot count how many times I have watched it now!
Beauty
I had my hair done by Gabi at For The Love of Locks. I found her on Bridebooks and she was brilliant. She came to my parents' house for my trial and didn't stop trying hairstyles until I had found the one that I wanted! Nothing was too much for her and I couldn't recommend her enough.
When I booked Gabi, I also found my makeup artist Emma of Emma-Jane Makeup Artistry. They are best friends and work so brilliantly together. Emma put me completely at ease and was so warm and chatty and my makeup lasted all day.
On the morning of the wedding these two ladies turned up with my bridesmaid Anna before anyone else and completely put my nerves to rest. It was like having two friends arrive to come and get me ready and I am so grateful to them for being such a wonderful team.
The Honeymoon
We went to York for three nights the week after the wedding as a mini moon. It was perfect walking around drinking lots of tea and eating lots of cake!
Memorable Moments
My dad's speech which made me cry, and Lloyd's speech which made us all laugh. The whole day was brilliant having all the people we love around us having an absolute ball. The night ended with a dance off between our friend Rich and the man of honour Lloyd to Bohemian Rhapsody – the perfect way to end the day!
Advice For Other Couples
Things will most likely go wrong, but it's OK. Your guests are there to see you and share your celebration, so don't get upset about small things it'll be a wonderful day whatever you do!
Credit Where Credit Is Due
Wow! What did I tell you? So amazing. A truly creative DIY wedding.
Cat and Lee thank you ever so much for sharing with us your brilliant wedding story xo Lou