Well what a treat I have in store for you today! I am over the moon to welcome WWW readers Nadia and Richard today who are sharing their Compton Verney wedding held on the 15th September 2019 in Warwickshire. Nadia and Richard were married in a beautiful church ceremony before heading to the art gallery for their minimalist reception.
Their wedding day style was effortlessly beautiful; a colour palette of whites, greens and blush tones, striking perspex signs with splashes of paint, divine cakes, opulent flowers, delicate calligraphy and beautiful attire. I particularly love the peacock chairs and neon sign backdrop which was perfect for photos.
Nadia chose to wear a breathtaking lace gown with epic train while Richard and the boys all wore dapper tuxedos. Oh the style! Many thanks goes to Danielle Smith Photography for sharing these remarkably gorgeous images with us.
Sponsored Ads
The Proposal
Richard proposed to me on Friday 13th (probably to throw me off the scent) in Croatia in July. Croatia is a beautiful destination already, however; we planned a little weekend trip up to Plitvice lakes which is a National Park. Its around a 6 hour drive north of Dubrovnik and has the most incredible views and waterfalls. You just have to take a look at google images to see how serene it really is. We were around 30 minutes into our walk when I asked Rich to take a photo of me, I wanted the shot to be taken from behind of me looking out to the waterfalls. When I turned back to face him he was down on 1 knee. I was so surprised, I didn't suspect a thing. The ring was beautiful, a single oval solitaire set in a gold band, so simple and elegant. We of course went on to have a wonderful evening together to celebrate.
The Vision
I had a Wedding Pinterest board loooong before Rich proposed (who doesn't right?)
So I had a lot of inspo to get me going. We knew we wanted a church wedding. Not for religious reasons, but because we find them stunning. Rich's whole family is in the construction industry and his dad is an architect so he's always appreciated incredible buildings. We both love the tradition of a church, it made it feel more real to us. Our church was beautiful, they have a grand organ and their own choir who sang like angels. We were lucky to find a beautiful church and our perfect reception venue so close to one another. We hired for a cool 2 seater Morgan Convertible for the weekend. Rich drove us to Compton Verney after the ceremony which was nice as we got to spend a bit of time just the 2 of us before the celebrations began.
The Planning Process
Excel spreadsheet was my best friend for planning. I monitored all quotes, deposits and outgoings on there which really helped me keep track.
Your Outfits & Accessories
I had a vision of what I wanted my dress to be like but they all seemed to be based in Australia. I did contemplate making my own but thought it would be too much pressure so I started visiting shops. It was my 3rd shop 'Tilly Trotters' Leamington before I found the one. I went for a fitted Martina Liana Gown with an epic train. It felt amazing on and knew the moment I tried it that was the gown for me.
Richard's choice was a lot easier, he already knew he wanted a tux, so it was just a case of trying it on to confirm he was happy.
Beauty
Bride and Bridesmaid hair was done by Nicola Bunn Hair and we all did our own makeup. I treated myself to new makeup and watched a LOT of Youtube tutorials.
The Venue
St Marys Church, Warwick. Followed by the reception at Compton Verney which is a beautiful Art Gallery in Warwickshire.
The Readings & Music
Walking down the Aisle – Kissing You (Des'Ree)
Hymns (Jerusalem & Amazing Grace)
Signing Registers (The Choir sang Ave Maria)
Exit (Mandelsons Wedding March)
Reception – Benediction (Hot Natured)
First Dance – You & I (One Direction)
We had 2 readings, but I can't remember what they were called now.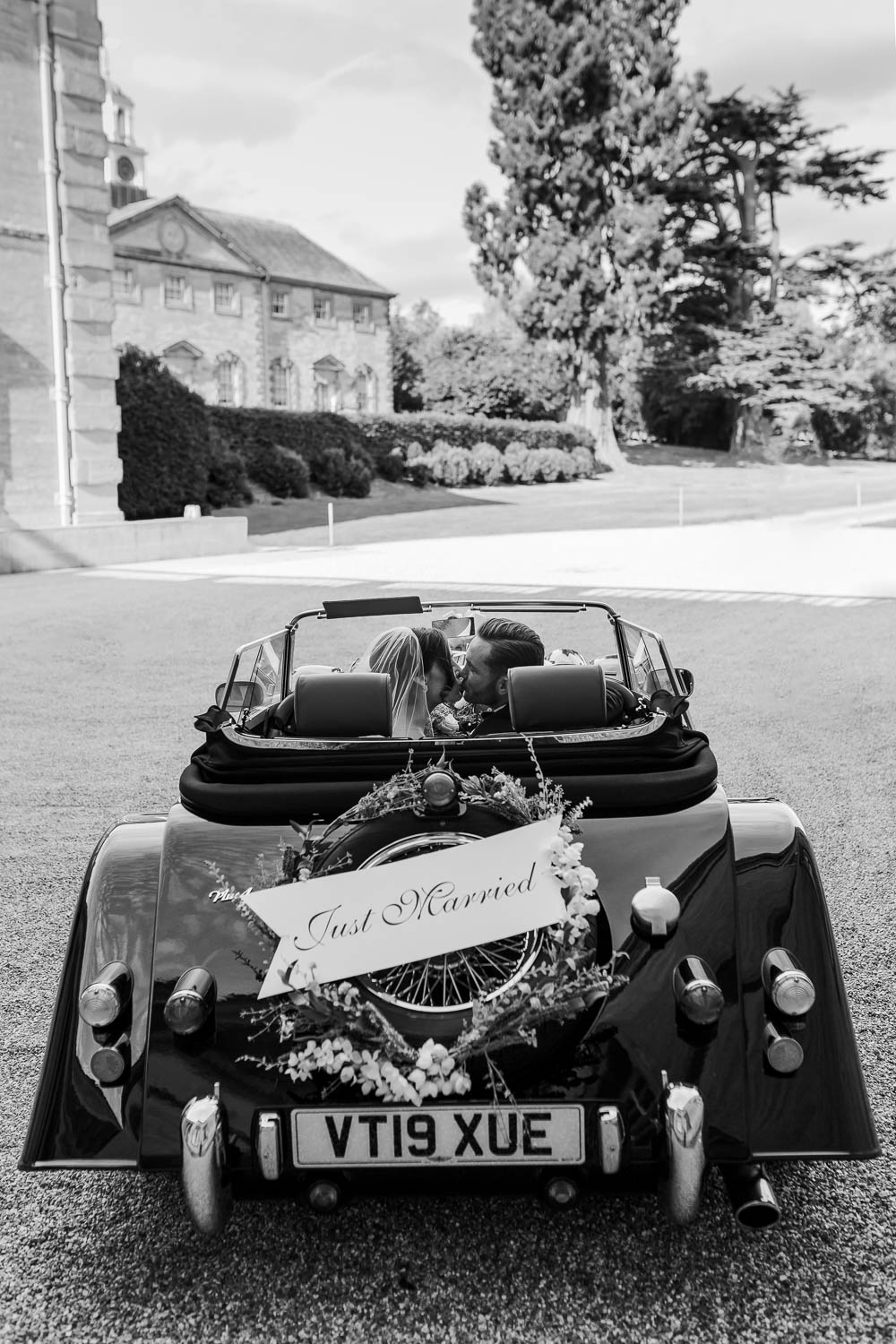 The Cake
Our cake was a single tier from Claire at Madisons Cake Couture Coventry. Our cake cost just £45 and I wouldn't have had it any other way. It was just what we wanted.
The Details & Décor
I'm a minimalist. Our venue was a crisp white canvas so I kept the colour palette neutral with whites, green foliage, natural bunny tails and a hint of blush.
The boys were in black tuxedos which lent itself to the venue very well and the girls wore natural champagne toned dresses.
I did my own stationery, the table names were hand written calligraphy on a clear acrylic stand with paint dorbed behind which worked well in an art gallery setting. We named the tables after race horses as that's a passion of Rich's.
The place names were again calligraphy style writing on handmade rag paper held by little gold animals. I just bought a ton of plastic farm animals and sprayed them gold, they turned out perfectly. Finally, I arranged for a little 'photo opportunity' area which consisted of a metal arch with a floral arrangement, x2 peacock chairs and neon writing which read 'You & I' people didn't realise it at the time but that was the name of our first dance. We brought the grid in from outside to put behind the top table during the wedding breakfast and again on the dance floor which is when the penny dropped. The venue were brilliant at moving décor around with us through out the day so it got utilised.
The Flowers
Our flowers were from Joules at 'Willow & Thyme' her team are so creative and amazing. I love art and sculptures, so Joules did a fantastic job on creating asymmetric DE structured bouquets and arrangements.
Groomsmen
Richard had 2 best men and 3 ushers, they all wore Tuxedos for Peter Posh Warwick.
Bridesmaids
I had 4 bridesmaids, their dresses were from ASOS and were in the sale £65 down to £22 which was an absolute steal. I'm lucky enough to have a sewing machine, most of the dresses only had larger sizes left so I had some taking in to do but it was worth it for the price.
The Honeymoon
We felt so incredibly lucky to have the honeymoon we had, it really was a once in a lifetime trip for us and I'm so glad we did it. Weddings are so expensive, so to go somewhere like the Maldives was an absolute dream come true. We enjoyed 3 days in Dubai before spending a week at Constance Moofushi which I couldn't recommend enough. Their service is impeccable, the island is paradise on earth and they have one of the best diving spots in the whole of the South Ari Atoll.
Memorable Moments
It has to be walking down the aisle and seeing Rich for the first time. His emotions were so raw, I don't think there was a dry eye in the church. I walked down to 'Kissing You' by Des'ree which is our absolute favourite. We also had a sax player (Andy Sax) in the evening who really amplified the atmosphere, he was certainly a highlight for me.
Your Photographer
Where do I start? Despite the wedding being 6 months ago, I STILL keep connected with Danielle. She has such a kind aura about her and is incredible at what she does.
Looking for our photographer was probably the longest part of our wedding planning, I scoured Instagram and google for weeks, I then started noting down the names of photographers I liked the look of (I think I had around 10 shortlisted) Rich and I then sat down to go through each of their websites to keep whittling the list down and we kept coming back to Danielle. Her images are so timeless and elegant, and you can really see the emotion through the photos. I love fine art photography and Danielle really excels in this. A lot of photographers these days use heavy presets, some can look really impactful but I couldn't help think that some of them are a trend. Danielle's style stands the test of time and we are so glad we chose her. She was an absolute honour to have around. She also dealt with our smoke bomb request very well, the photo turned out epic.
Advice For Other Couples
Don't get drunk, you'll want to remember your day, and no one likes to see a drunk bride. Take a step back and take it all in.
Credit Where Credit Is Due
Wow, so so beautiful! If you loved this wedding why not take a peek at more classic weddings in our archives?
Nadia and Richard thank you ever so much for sharing your divine wedding story with us xo Lou