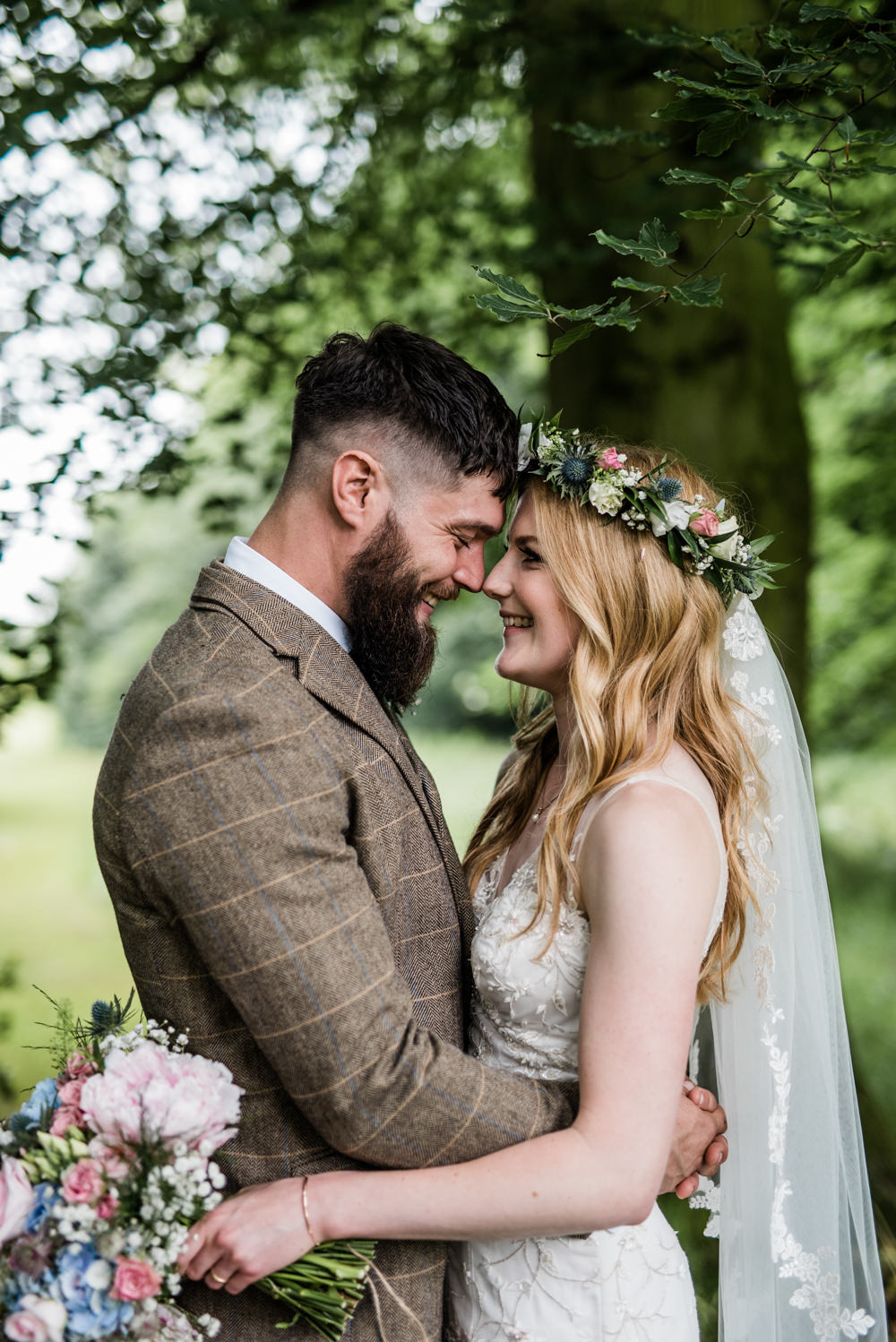 Freya and Dave's wedding was just joyous. It's been such a delight to read all about their wedding day and their planning process, not to mention just how much I enjoyed these divine images by the brilliant Kazooieloki Photography (thanks for sharing guys!). This gorgeous pair were married at Cleatham Hall in Lincolnshire on the 2nd June 2018 in a beautiful woodland ceremony surrounded by their loved ones beneath a canopy of trees. It looked like the perfect spot for their meaningful vows, which also included a really personal performance by their friend, how magical!
I really love that their day was a labour of love, they pretty much DIY'd as much as they could. From the delicious yet pretty looking buttercream cake creation to the bridesmaids floral crowns and bouquets, the invites, favours, and the decorations; which were all handcrafted by bride Freya. Immense! The results too really were stunning.
One of my fave elements from their day has to be their outfits. I mean what's not to love about a cool groom in a brown tweed suit and a bride in a floral embellished gown teamed with a long lace edged veil and flower crown? I think they looked so stunning, not to mention head over heels in love in these captures. So dreamy.
The Proposal
I had no idea Dave was going to propose even though he had apparently been dropping hints for a while. He did it on Christmas Eve 2016, he took me and our dog for a beach walk at Scarborough. He sat me down on a bench away in a war memorial garden and just asked me. It was perfect, nothing over the top or staged and I of course said yes!
The Vision
We both knew we wanted to get married outside but there was never a set vision or theme, we both knew what we liked and what we didn't like so we just started with the venue and went from there. It helped not having a set theme as it didn't matter then if something didn't "fit". Although saying that, a woodland theme kind of emerged when everything came together on the day, but not intentionally!
The Details & Décor
I really wanted a memory tree to remember those who would have been there if they were still alive. This took centre stage in the hallway of the Cleatham Hall. My sister made us a beautiful guest book. We used pine cones as place settings and made the table decorations from wooden log slices, moss, re-cycled glass bottles and jars, fairy lights and flowers from Morrisons! It was very effective! Our favours were a mixture of our favourite sweets and some Lily and Gladioli bulbs for guests to plant at home.
The Planning Process
The venue and the date was the first thing we organised which left us with about a year and a half to plan everything else. I'm pretty organised and found excel spread sheets for guests and food choices helpful and then good old post it notes and lists. I have a little paper planner which helped me see how many weeks I had left and when I could fit what activity (i.e. favour making) in which weekend. Because I had organised the wedding Dave suggested that he organised the honeymoon which I was more than happy for!
The Flowers
I made the bridesmaids floral crowns and their bouquets from artificial flowers found at a wholesale shop in Wakefield called Country Baskets. Again, there was no theme, I just chose the ones I liked the look of best. I attempted making a floral crown for myself but nothing really beats real flowers and The Florists at Marshalls Yard in Gainsborough did such a lovely job of creating a beautiful bouquet, floral crown and button holes for the men.
Budget
There was an amount we weren't going over and we achieved that just by being sensible, its so easy to spend a lot of money on one day but we saved up and paid for what we needed to. We helped save a lot of money by doing as much of it ourselves as possible. I made the cake, the bridesmaids floral crowns and bouquets, the invites, the favours, the decorations and the table centre piece. We also provided our own piano for the aisle music and table tennis/badminton net for outdoor activities for the guests. We saved our money for what we thought were important factors such as the venue, the bride's bouquet and floral crown, the photographers and the food.
The Dress & Accessories
I knew I didn't want a stiff, formal dress, something simple and easy to wear was what I was looking for. The one I chose in the end was a beautiful long champagne coloured on with little pink flowers detailing the body. I opted to buy the dress as it was off the hanger and had it sized down to fit instead of buying a brand new one in my size as this saved me a lot of money. I used my mother's necklace for my "something borrowed" and had a floral crown with a simple veil underneath. Finding my shoes was simple as I knew you couldn't see them underneath my dress so I just chose some simple but comfortable small heels (emphasis on the comfort!) But I also bought some flat sandals for myself and the bridesmaids for dancing in the evening which really came in handy.
Finding The Dress
I found my dress from a shop called Celebrations of Bawtry. Susan the owner was so lovely and personable which made all the difference when looking for something so important. I had been to one shop before but the owner was a bit cold and off-putting, whereas Susan offered us a cup of tea straight away! I went back a few times after that for fittings etc and took hair pieces and jewellery I wanted to wear to see how it all looked together.
Groom's Attire
Dave chose his and the Groomsmen's suits from a shop in Scunthorpe called Fallen Hero. He didn't want anything too formal so absolutely no tail coats or tophats! He chose a dark green/brown tweed effect three-piece suit and used some personalised cufflinks and pocket watch that I had bought him over the years as his accessories. He only looked in one shop and chose the suits almost straight away, no messing around with Dave!
The Venue
Dave found Cleatham Hall after being a guest there for a previous wedding. It was a beautiful house with amazing outside spaces where we actually got married underneath a canopy of trees on the front lawn. We had the whole run of the house for the day and the following morning which was amazing. There were lots of nice gardens for the children to play in and with it being in the middle of nowhere, we were completely undisturbed.
The Readings & Music
We were really fortunate enough to have our friend Ben Stanbridge not only play but compose a piece of music especially for us to walk down the aisle to. He is very talented and knows the both of us really well so he wrote a piece of music that was just very us. It was honestly one of the highlights of the whole day for us listening to him play our song as we walked down the aisle.
The Cake
I love baking and thought I'd give making my own wedding cake a go. I wasn't bothered if it didn't look perfect because at the end of the day its only going to get eaten! I baked a fruit cake for the bottom layer, the third layer was lemon angel cake, the second layer was devil's chocolate cake and the top cake was a carrot cake as we had come vegan guests. Each cake was iced with vanilla frosting and I used polystyrene cake spacers filled with flowers in-between the cakes. My cousin Emma helped me construct and ice the cake mountain and she also made a little fondant dog to sit alongside the cake (our dog Stanley was the ring-bearer and my parents dog Milly was an un-official bridesmaid).
Beautiful Bridesmaids
I had five bridesmaids, the three oldest bridesmaid's all wore the same off the shoulder Bardot style floaty blush pink dress from Very.co.uk and the two younger bridesmaids wore a younger style dress in the same colour found at JJ's House online. This was a really useful shop as it allowed you to order a colour sample before purchasing the actual dresses.
Your Photographer
Kazooieloki were brilliant throughout the whole day. They are a husband and wife team which meant we had two perspectives for every shot. They were so lovely and put both of us to ease straight away. They definitely helped calm my nerves as I was getting ready and took beautiful natural shots (no cheesy forced smiles anywhere). Another great thing is that they only kept us for about half an hour at a time with the photos which meant we didn't have really big chunks of time away from family and friends.
The Honeymoon
As I had sorted out the wedding, Dave stayed true on his promise of sorting out the honeymoon. He found an old VW T5 works van that had laid dormant for almost 2 years and didn't run. He fixed it mechanically and then set about turning it into campervan. He insulated it, made a bed, storage boxes, ran electrics through it to include a television and included a gas cooker. We went to Northumberland, then across to the Lake District and then down to Cornwall for just over 2 weeks in total and it was fab.
Memorable Moments
So many moments to choose from: The newest member of our family, 6-month-old Reggie letting everyone know he "objected" to us getting married at the altar, having our friends and family from all over the world join us on our special day and the final song of the evening. It was the only song Dave requested for the DJ from one of his favourite films Napoleon Dynamite; Alphaville "Forever Young", everyone was singing along and swaying their arms in the air as we danced together, it was cheesy but it was perfect.
Advice For Other Couples
Give yourself time and plan for when you need things finished by. Use help from family and friends as they will be willing to lend a hand. A wedding is amazing but can be stressful so don't let it overshadow the beginning of your marriage.
Credit Where Credit Is Due
Freya and Dave, I am over the moon to be sharing your wonderful wedding here today, thank you so so much xo Lou