Does it get any more romantic and idyllic than a Christmas wedding in the Cotswolds lovelies? I think not. You only have to settle down to watch a Christmas film and you'll find more love stories than you can shake a stick at.
WWW readers Bryony and Dicky chose a mid December date for their festive nuptials and three venues to boot. A ceremony at Malmesbury Town Hall, followed by a drinks reception at The Old Bell and an evening reception at the Matara Centre. They hired a double decker bus to transport guests and also sung Christmas carols, starting a perfect new family tradition. They had a natural colour scheme of golds, whites and reds. Think Anenomes in the bouquets, bridesmaids in sequins and groomsmen in burgundy suits. I have to say that the gents really looked the part, I love their stylish attire.
Bryony chose a simple, elegant and flowing gown by Charlie Brear called Torum. A feather cape and veil really completed her look, didn't she look just beautiful!? I think you will really enjoy the sweet details too, including fairy lights galore, blankets for warmth and pine cone place name holders.
We cannot thank Jonny MP enough for sending us these magical and heart-warming shots.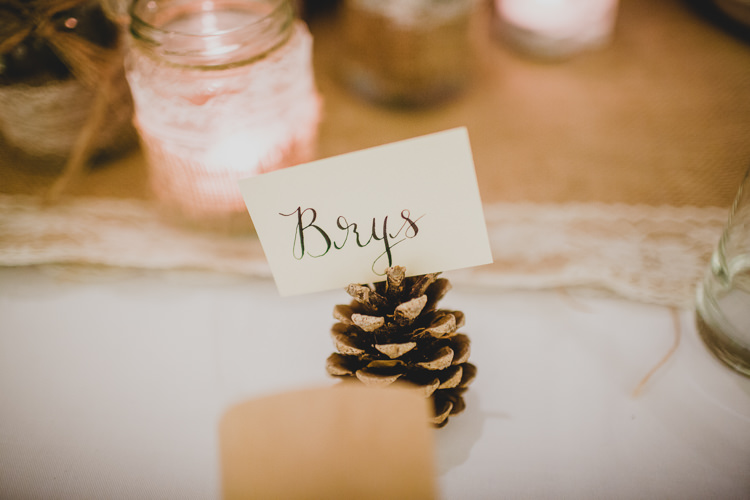 THE PROPOSAL | Victoria Park, London.
THE VISION | Home-grown Christmas.
THE PLANNING PROCESS | Engagement to wedding ceremony took place in less than 6 months! My brother was already planning to visit the UK, from Australia with his family, for Christmas and it was essential for us that they could be there (plus, I knew my eight year old niece would adore the opportunity to be a bridesmaid) so we sped the planning process up and got to work organising a wedding pretty quickly!
THE VENUE | We had three venues (sounds very greedy)! We wanted to get married in the same home town, that we both grew up in, and our families still live in; Malmesbury in Wiltshire. Being an old market town, in the South Cotswolds, Malmesbury doesn't have many venues that could accommodate the number of guests we wanted to invite, so we spread different stages of the wedding out between a few! The travelling between venues really helped to keep the energy of the day going, and provided some personal highlights, including a full bus sing-a-long! Ceremony, Malmesbury Town Hall, Drinks reception, The Old Bell, Malmesbury, Evening reception, Matara Centre, Kingscote.
THE DRESS & ACCESSORIES | Charlie Brear Torum Dress with Catroux Lace jacket and Vivien J Bridal Accessories halo.
FINDING THE DRESS | I fell in love with Charlie Brear dresses straight away. I loved the clean lines, thoughtful cuts and beautiful fabrics. I wanted a white dress but in an informal style, that felt like me and a shape I might choose to wear on any other day.
GROOM'S ATTIRE | Jacket, Ben Sherman, Waistcoat, Austin Reed, Shirt, Ted Baker, Trousers, United Colours of Benneton, Shoes, Russell & Bromley, Bow tie, Mrs Bow Tie.
THE READINGS & MUSIC | We spent a long time picking songs that would provide us some great memories. Bridal Entrance, Stand by me (Ben E King), sung by our good friend Corky, ceremony song, I get by with a little help from my friends (The Beatles), sung by Corky and the wedding ceremony. Bridal Exit, Heroes (David Bowie). First dance, Days like these (Van Morrison).
BEAUTIFUL BRIDESMAIDS | All friends from primary/secondary school! Amy, Naomi, Ingrid, Lucy, Rachel and Hannah.
THE FLOWERS | Anenomes, Ranunculus, Rosemary, Hypericum, Wax flower.
THE CAKE | Flapjack cake (Grooms favourite!).
YOUR PHOTOGRAPHER | The wonderful Jonny MP!
THE DETAILS & DÉCOR | Festive, classic and country chic! Lots of twinkly lights, gold glitter, white flowers, pinecones, candles and tweed!
THE HONEYMOON | 2 weeks backpacking around Argentina, including wine tasting in Medoza (Malbec is our favourite!) and hiking on glaciers in Patagonia.
MEMORABLE MOMENTS | I really wanted to walk to our wedding ceremony, to retain the local/hometown feel, and half an hour before the ceremony it looked like it might not be possible when the heavens opened! However, the rain was short lived and the bridesmaids, my dad and I managed to battle our way through some strong wind to get to the ceremony, on foot. Despite the wind, walking through our home town, and past some friendly faces, whilst stopping traffic was a real highlight!
Singing Christmas carols together with all our friends and family provided many laughs and much merriment, and will be a tradition we re-enact for many Christmas' to come.
Music is so important to us and we spent many hours selecting the perfect songs for the day. When we heard the sad news that David Bowie had died a few weeks later, it made the moment even more poignant.
ADVICE FOR OTHER COUPLES | A good friend gave us the good advice of agreeing your 'non-negotiables,' the things you won't compromise on, early on in the planning process. Whenever you have a wobble about a major decision or a moment of indecisiveness come back to this list and it will remind you of what's really important.
CREDIT WHERE CREDIT IS DUE |
Photographer | Jonny MP
Dress | Perfect Day Bridal
Flowers | The wonderful Marion Hass (family friend)
Band |  Classic Soul Dogs
Ohh so perfect!
Huge thanks goes to Bryony and Dicky for sharing their swoon worthy celebrations here today xo Lou