Whimsical Wonderland Weddings is all fresh and vibrant with this pretty blog post for you this morning, in the form of WWW readers David and Lucy's November wedding. Their vision was to create a day which was inclusive of their loved ones so that they all had a great time.
Their charming day had a gorgeous navy and orange colour scheme with the most beautiful blooms and stylish maids. A naked cake, confetti bar, hessian and home made touches all made this wedding super unique.
Not to mention Lucy's La Sposa lace gown and swoon worthy Christian Louboutin heels.
Thanks so very much to Kayleigh Pope for sharing these wonderful images.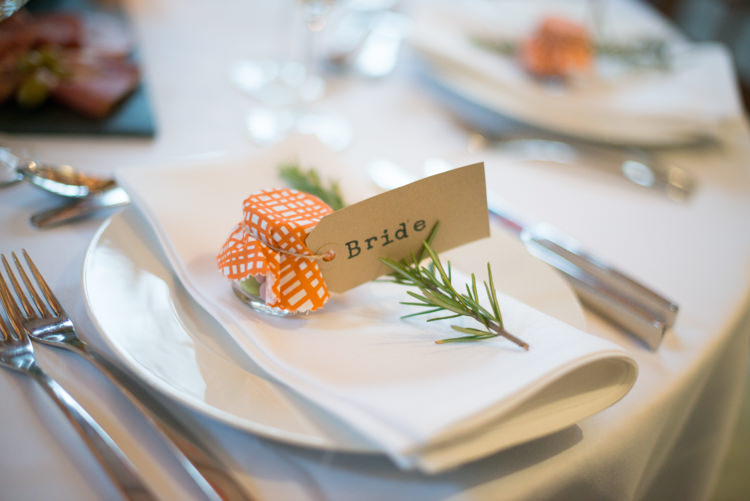 THE PROPOSAL | David took me on a surprise trip to New York where he proposed on our final evening there.
THE VISION | No specific vision as such, just that it was important for us to have an inclusive a day as possible, one which all our family and friends would enjoy and remember.
THE PLANNING PROCESS | We booked the venue quite far in advance so had a fair while to plan and explore ideas. As a Project Manager by day, I actually quite enjoyed the planning process; it's fair to say that making lists and reviewing spreadsheets is in my nature! I also found sites such a Pinterest really helpful for obtaining lots of ideas and imagery on similar themes. Pinterest also really helped when sharing our vision and ideas with prospective suppliers.
BUDGET | We weren't the best at keeping a handle the budget unfortunately, however we wanted to invest in the things that were important to us and saved money elsewhere on things such as decorations.
THE VENUE | We had visited a few of the more traditional venues, and had come away with the overriding sense that they felt a little impersonal, for us and our taste. We then started looking into barn style venues which is when we came across Dodmoor House. As clichéd as it sounds, as soon as we drove up we knew it was the venue for us, and so booked it then and there! What is so great about Dodmoor is they are just so flexible about everything, which really allows you as a couple to put your own personal touch on the day. They also work so hard to make your day run smoothly, taking the time to contact each and every vendor; you are made to feel as if nothing is too much trouble for them, which is what you need when planning such a huge event.
THE DRESS & ACCESSORIES | The dress was by La Sposa, the headpiece was a custom order from Etsy, the shoes were Christian Louboutin, and was a gift from my incredibly generous Mum.
I took the headpiece out in the evening and took my hair down. I replaced it with some "bling" chandelier earrings and matching bracelet from Sweet Heart vintage. It was important to me to feel comfortable in the evening so I could dance the night away.
I really wasn't sold on the idea of a veil, and after trying a few on, it confirmed that I really don't suit them!
FINDING THE DRESS | I tried to be as open minded as possible when looking for dresses. Ultimately, I was glad I tried on lots of different styles as it confirmed what I felt suited me and what I felt most comfortable in.  I must admit though, I did find some aspects of the process strange, particularly the fact that you never really try on a dress in your size, you have to use your imagination somewhat! I felt quite a bit of pressure to find "the one" if I'm honest, which made it a challenge to make a decision.
My dress was the first in tried on in Lola bridal and loved it immediately. I then tried on a few others which I had also picked out but none stood up against the first one and how it made me feel.
I honestly cannot recommend Lola bridal enough, the Mum and daughter team, Deborah and Lauren really put you at ease and their boutique is exquisite! Lauren suggested I try on a belt with the dress which I loved instantly. My lovely seamstress Irina stitched the belt onto my dress for me.
GROOM'S ATTIRE | David wasn't particularly sold on the idea of a morning suit, he is so relaxed day to day therefore we felt a three piece suit would be a much better option. We chose the suit online from the Marks and Spencer Saville Row collection.  The tie was an Etsy purchase and my Mum hand died all the pocket squares from white to orange!
THE READINGS & MUSIC | This was a challenge and probably one of the hardest decisions to make of the entire planning process! I think it may be to do with the fact that I am the daughter of two English teachers, so having two experts in literature for parents can make choosing a suitable wedding reading quite tricky.
In the end, we opted for the poem Hinterhof, by James Fenton, which was read by my Mum, and an extract from the novel Captain Corelli's Mandolin by Louis de Bernières, which was read beautifully by my friend Chris.
We were really keen for the ceremony to feel relaxed and not overly formal, and so opted for music which hopefully reflect that; we played The Beatles "All you need is love" and walked back down the aisle to Rudimental "Feel the love."
Our first dance was to "Thinking of You" by Paul Weller. David and I were really not that keen on the prospect of a first dance, and were grateful when all over friends and family joined us on the dance floor 30 second in!
BEAUTIFUL BRIDESMAIDS | I had three; Emily, Amy and Jenny, my oldest school friends. They all have their own really unique sense of style, therefore I was keen for them to wear something I knew they liked and felt comfortable in, and so they each chose their own gown from Ghost. The same went for hair and make- up, with each of them choosing their own hair style and make up. I am so grateful for all the help and support they gave me on the run up to, and on the big day itself.
I was also keen for women to have a voice on the day, so I asked Jenny to make a toast. She wrote and performed a brilliant poem about our time growing up together which had the whole room in stitches!
THE FLOWERS | Sofia at the Green Room was recommended to us by Dodmoor House. It's safe to say I know very little about flowers apart from my likes and dislikes. Sofia came up with some great ideas which really brought my vision to life. We were keen for the flowers to feel relaxed and not too "done" something which Sofia does brilliantly. She also has really great attention to detail too, and we loved the fact that some sprigs of rosemary were included in David's button hole.
THE CAKE | After receiving some extortionate quotes for cakes, Natalie was recommended to me via a contact that lived in a nearby village. She created us a three tier jam sponge cake, which Sofia (our florist) decorated for us with roses. We served it in the evening, and our guests seem to really enjoy it. David's Mum, Julie, had saved some which she used in a trifle on Christmas Day, a lovely way to relive some of the wedding day memories.
YOUR PHOTOGRAPHER | After we first got engaged, David mentioned that he and Kayleigh used to work together a few years ago. After looking on Kayleigh's site and Instagram, I knew immediately that Kayleigh would capture our day in exactly the way we wanted. Formal shots just aren't really our thing, and Kayleigh captured all those moments perfectly. We have a few printed on display now at home, it really does make us happy every time we look at them.
THE DETAILS & DÉCOR | I really enjoyed sourcing the decorative elements for the day.  Although some of my projects were a little overly ambitious. For example, I decided it would be a nice idea to make the confetti to line the aisle. I purchased a heart shaped stapler and a complete works of Shakespeare with the idea that I would use the most famous love scenes to hole-punch. A few weeks in, I got a little bored and so just selected any random page. I just hope that none of our guests looked in detail at the confetti to find parts of a particularly gruesome scene!
With the help of my Mum, I made all of the favours which I combined with a place setting (luggage labels onto which I hand stamped out everyone's name) Keith, our caterer, then added a sprig of fresh rosemary to everyone's place setting.
Instead of a traditional guest book, we hired a vintage typewriter for guests to leave us a message.
For confetti, we styled our own "confetti bar" with the help of Shona at Dodmoor. I had originally seen the idea on Pinterest, with flowers. After looking up the meanings of different herbs, I decided this would be a nice idea so that guests could choose a blessing for us based on the different meanings.
David's Dad hand carved us a stand to which he added direction signs.
The table plan was an eBay bargain of £5! I then had the table plan printed onto card which I stuck onto the mirror.
THE HONEYMOON | Dubai for a few nights then Mauritius, it was thoroughly enjoyed and a much needed break!
MEMORABLE MOMENTS | There really are so many; getting ready with all my bridesmaids and Mum in the morning, my Dad's kind words during his speech, dancing with my new husband, however most of all, seeing all the people we care about in the world enjoying themselves and having a good time.
ADVICE FOR OTHER COUPLES | I'm sure it has been said plenty of times before, but try to stick to what is important to you both. It's great to have nice details but in reality all that matters is you are marrying the person you love. In hindsight, I probably spent far too much time worrying about whether our guests would like everything and enjoy themselves but ultimately they are all there to support you as a couple.
CREDIT WHERE CREDIT IS DUE |
Photography | Kayleigh Pope
Dress | Lola Bridal
Caterers | Beetroot Catering
Venue | Dodmoor House
DJ & Styling | Potter Group
Flowers | Green Room Flowers
Hair | Alexander Wedding Belles
Beauty | Blushing Orchid
Stationery | Olive Weddings
Gorgeous!
Thank you David and Lucy for sharing your brilliant wedding story with us xo Lou