Spring really is in the air and I am loving all the season is bringing us right now. This beautiful wedding ideas shoot really gave me a vision of a Spring wedding with a cool blue colour scheme. A tone which is fresh, modern and bright, especially when teamed with silver as demonstrated here today.
The setting at a private house adds an atmosphere of tradition and grandeur, but the on-trend bridal looks and billowing blooms adds a contemporary vibe. The fireplace and the staircase were both adorned with florals and greenery for a real statement, there was a divine ombre effect cake and some super beautiful stationery and signage used throughout too. I think the exquisite styling is really going to blow you away and provide you with serious wedding inspiration. The editorial was captured perfectly by Emma McNair Photography and curators Wild Calligraphy GB and Sass Weddings really did do a superb job of coordinating it all.
Romantic Blue Wedding Ideas
This gorgeous shoot that together Faye of Wild Calligraphy and Emily of Sass Weddings curated, had an ethereal romantic theme to it. Set on the outskirts of Nottingham in a private home overlooking the surrounding countryside.
Our florist Fiona, of Daisy Works was at the venue bright and early to start the installation in the property which really works well and adds to this ethereal style. Helen of Helen Sutcliffe Hair was approaching our bride Mel's hair in a fairytale style with simple loose curls which in our opinion looked amazing. Josephine Way's make-up was simple, elegant and added a little extra, a bold lip colour, really added an edge, as well as a shiny sphere delicately placed next to the eye, really giving this shoot a little bit of quirkiness. If you want a shiny sphere on your face on your wedding day, you do just that!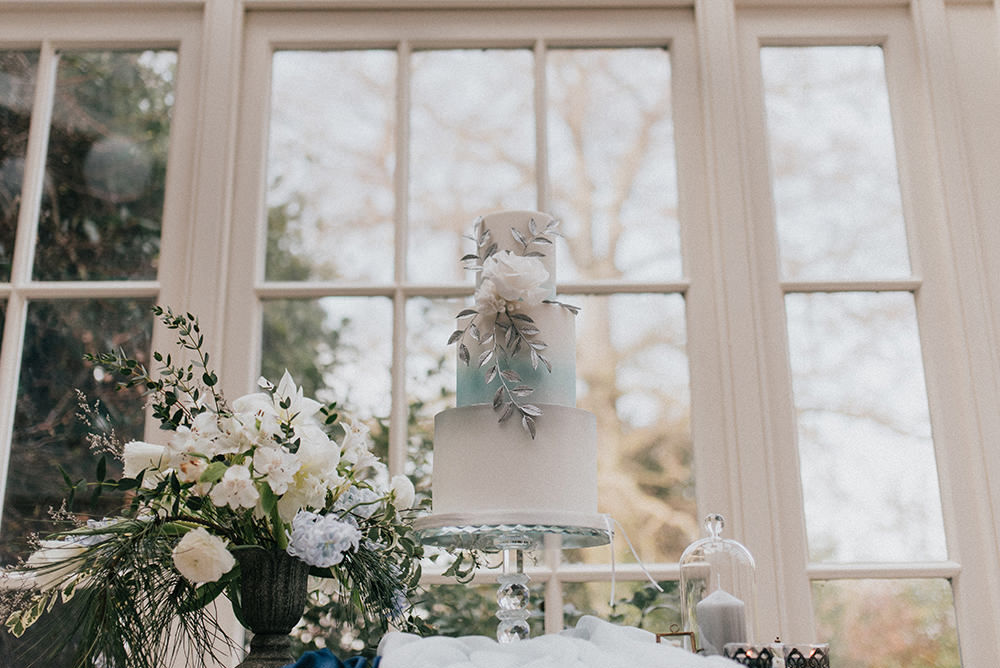 The creative directors knew that the styling would be quite strong with lots of navy and greys running throughout so opted for a simple cake from Lorien of Storeybook Cakes, and in my opinion she makes the most amazing cakes, her cake and macaroons are just amazing, little bites of sweet heaven!
Gina from Georgina Louise Bridal is exceptionally talented, creating modern bridal wear. The shoot showcases a number of two pieces, which are becoming more and more popular in the wedding industry along with a beautiful lace jacket. So delicate which worked perfectly with the shoot.
Little Red Designs and Wild Calligraphy's work is showcased here each with their own unique approach to their craft. Beautifully bringing the romantic feel to the shoot along with Sass Wedding's styling. A beautiful shoot, brought together with thanks to all of the above.
Credit Where Credit Is Due
Oh so beautiful, huge thanks to the whole team above for sharing with us these sublime and inspirational images.
If you loved the blue colour scheme just as much as me, you can find even more blue wedding ideas here too xo Lou