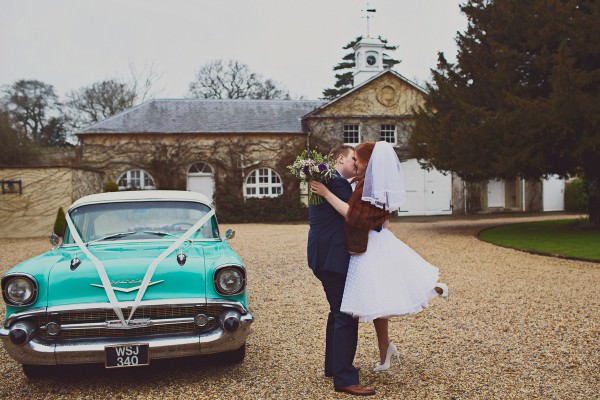 WWW readers Daniel and Maria tied the knot back in February at Northbrook Park, Surrey.
Maria told me; "Every WWW post I read was an inspiration, whether décor, flowers or dresses, and in actual fact is the only wedding blog that I still enjoy reading now I'm actually married!" Ahh amazing! You are going to see exactly why i love featuring your weddings WWWers.
Maria and Daniel wanted a fun day full of smiles with a 1950s feel running throughout. With an amazing 1950s turquoise wedding car, retro inspired stationery and vintage style bridesmaid dresses from Vivien of Holloway. Maria looked simply amazing in her 1950s inspired polka dot Candy Anthony dress, with her vintage rolls up do. While Daniel chose a blue suit from Marks and Spencer's which he wore with tan shoes and a polka dot tie.
But that's not all there were gorgeous natural flowers by Jay Archer Floral Design and great tunes in the evening by the Wedding Smashers. Wow wee!
Thanks so much to the wonderful Hannah Millard for sharing her images with us today.
The Proposal… Despite having had conversations about marriage, and being swept along in the excitement of several engagements at work, on the morning of Wednesday 28th December 2011 I didn't suspect a thing as we set off for a day out in London. We hadn't spent Christmas together, and it had recently been Daniel's birthday, so the focus was on that. Or so I thought! I distinctly remember the drive to London as we only live in Middlesex, so I was complaining about the cost of London parking and asking why we hadn't got the train, while Dan kept very quiet. I also decided to call my Dad to which Daniel reacted very strangely – at the time I didn't realise that he had called him earlier that morning to ask his permission – he wanted to do it all properly!
We had a very nice lunch at Maze Grill, and then set off to walk through Green Park and St James Park. We met when we both worked for the same company, based next to St James Park, so it holds a lot of memories for us and we were enjoying being tourists and taking photos. It was while I was trying to get a decent shot of Buckingham Palace that I felt a nudging in my back and I realised that Dan was probably getting bored and cold. I turned round about 10 seconds later and instead of looking up to a grumpy Daniel, realised that I was looking down to a slightly nervous looking Daniel on one knee, in the mud, holding an a beautiful diamond ring. From there it all gets a bit blurry! We were in the middle of a London park but I couldn't tell you how many people were around us, if anyone saw or even how long we were standing there – the whole world disappeared. After a tearful "yes" there were still a few more surprises, as we went for drinks in the bar we'd gone to on our first date and then onto the May Fair Hotel, where Daniel had booked a room for the night and even packed me a bag, all without me knowing! He jokes that he used up 5 years worth of romance in 1 day, but it was all worth it.
The Vision for the Day… More than anything we wanted it to be fun, with smiles and laughter from the start, good food, enough drinks, lots of dancing and some brilliant memories for everyone! And on that I think we succeeded.
The Planning Process… In total we had 13 months from proposal to wedding and I loved the ideas stage, looking through magazines, scouring Pinterest (so easy to become obsessed!) and religiously reading wedding blogs but overall I didn't enjoy the finer details of the whole planning process – I've never been the most decisive person so I had loads of ideas but found it really difficult to make decisions and commit to spending such large amounts of money! Apart from booking the church and the venue 12 months before, nothing started coming together until I chose my dress with 7 months to go. It's a good thing I never plan on getting married again because I don't think I could go through it a second time!
Budget… Our wedding was definitely not a budget wedding! When you're first engaged you are so excited and full of ideas, and I think there is a lot of pressure to book things up quickly in order to get the date you want, which can lead to some expensive and often unnecessary decisions!  I'm not going to lie, we have a big loan to pay back, but I can't really think of one decision or part of our wedding that I regret or would cut out. However after a year of planning and reading blogs, especially WWW, I realised that with a bit more research, creativity and patience I could have pulled off my wedding for a third of the cost. So my advice to all brides to be, especially those worried about budget, is just to spend lots of time researching, enlisting friends and family, and not feeling pressured into making a decision too quickly!
The Venue… We fell in love with Northbrook Park as soon as we saw it, it was grand and informal all at the same time and just what we wanted for our day.
The Dress + Accessories… Ah my amazing polka dot Candy Anthony dress… I haven't had the heart to store it away properly yet, it is still hanging securely in my spare room just in case I want to try it on again! I struggled with accessories as I didn't want to spend too much money on jewellery that I wouldn't wear again. Plus the dress was a statement enough so I didn't really need much! In the end I wore some pearl look earrings from Accessorize that I already had, and a silver bracelet from Fat Face that was a very last minute purchase/gift from my mum the night before the wedding! The veil was also a very last minute purchase but one I'm very glad I made, I didn't want to take it off and is much easier to wear around the house than the dress.
I'd spent a lot of time thinking about shoes, as I wanted a colour rather than white, but it was my quickest purchase in the end! I made a very impromptu trip to Kurt Geiger with one of my bridesmaids to look at some shoes I'd seen online, and spotted some sparkly white shoes on the shelf. To be honest I didn't like them when I saw them and only tried them on because they were the more "traditional" white option but it was a total Cinderella moment, they were perfect! I bought them then and there and never regretted it for a second.
Finding the Dress… I discovered Candy Anthony before I was engaged, when I was looking for a 50s style dress for an event. Even then, with no marriage on the horizon, I decided that that was where I would buy my wedding dress from! When I did get engaged I booked an appointment at CA pretty quickly, but also went to a couple different shops and tried on different styles of dresses. I then didn't do anything for a few months, but I just couldn't get CA out of my head so after 3 visits finally took the plunge and put a deposit down! There weren't any tears, no "this is the one" moments, but the moment I put my dress on I couldn't stop smiling, twirling, looking in the mirror and trying to avoid taking it off! Even though I didn't go to many shops I still learnt the important of trying on lots of dresses, as what you think you want at the start may not be the perfect dress! On my first visit to Candy Anthony I was quite sure that I didn't want pure white, strapless or polka dots. But nearly 5 months and 3 visits later that it exactly what I ordered and now I can't imagine wearing anything else.
Groom's Attire… Daniel left it until the last minute, as I'm told most grooms do! He chose a lovely blue suit from M&S and although I'd seen it, and he'd tried parts of it on, I didn't see his complete outfit until the day and he looked amazing. He accessorised with some brown shoes from Aldo, a navy polka dot tie (without ever knowing about my dress!) and bespoke map cufflinks from Ellie Ellie, a present from me that his best man gave him on the morning of the wedding.
The Readings + Music… As all the ideas developed we moved away from the more traditional music and decided to go for something in keeping with the fun, informal (and increasingly 50s) atmosphere we wanted. I decided to walk down the aisle to "Going to the Chapel" by the Dixie Cups and we left to "Love and Marriage" by Frank Sinatra, which made people laugh! We chose a hymn each and then asked Daniel's cousin, a phenomenal opera singer, to sing Ave Maria as our third hymn. It was such a beautiful moment! I chose a beautiful bible passage for my friend Lowri to read (Hebrews 13:1-6), about honouring marriage but also about charity and faith in action (working for a charity was something really important to me when we chose it) and my brother read a fantastic poem called "I'll be there" by Louise Cudden. It summed Daniel and I up perfectly, almost like it was written for us!
We had put together a slideshow of photos of us growing up and then together, to the Happy Days theme tune, to play while we were signing the register, but couldn't get it working on the day! It would have fit in with the rest of the music and fun ceremony we wanted but is one of those small things that seem so important beforehand, but not at all in the grand scheme of things on the day!
Beautiful Bridesmaids… I literally couldn't have done it without my 2 amazing bridesmaids! Jen and I took the same course at university but only during our third year, which we spent studying in California, bonding over cheese and $2 wine, sharing homesickness and spending a memorable evening watching the last ever episode of Friends. I met Helen at work, and spent many a night drinking cider in the pubs of Soho or curled up on her comfy sofa in Tulse Hill drinking red wine and eating lemon tart.
They were both there for me every step of the way, from tolerating and replying to daily emails and panics, willingly going to Candy Anthony for the 5th time and planning an amazing hen do. Words will never be able to express how much they mean to me and how much they kept me sane through all the planning!
They wore beautiful navy pencil dresses from Vivien of Holloway but in slightly different styles which suited them both perfectly. We all had our hair done and makeup done by Lucy at Hair That Turns Heads and Sam Pearce Makeup, and Helen accessorised with a taxidermied mouse fascinator courtesy of our friend Shannon from ForgottenFeline Taxidermy and Couture.
The Flowers… Flowers were one of the last things I arranged, as I'd been struggling with what I wanted vs. what we could afford. I wanted something natural, fragrant and in season, more jam jars and wild flowers than big arrangements, and found Jay Archer Floral Design just by googling and reading a couple of websites. It was the first and only florist enquiry I made! Jay was just brilliant, making so many suggestions and taking on board everything I mentioned, and working perfectly to my budget. Visiting Covent Garden Flower Market was a great experience as it gave us a chance to meet Jay and see the flowers in person, and although I pointed out what I liked and didn't like, once I met Jay I trusted her completely and wasn't overly specific about anything! And I was completely right to trust her as the flowers were the least stressful part of the whole wedding planning process and stunning on the day, so many people commented on how beautiful they were.
The Cake… Daniel's sister Gemma is a fantastic, award-winning (gold medallist at the Culinary OIympics!) all-round brilliant chef so I of course asked if she would make the cake for us, which thankfully she was happy to do! We didn't want a traditional tiered cake so instead went for lots of brownies, with a cream filled, strawberry topped, chocolate cake to cut. It was all absolutely delicious! And looked amazing.
Your Photographer… What can I say about Hannah? She is simply brilliant! All of the weddings she photographs look so beautiful and so much fun, choosing her to photograph our wedding was one of the easiest decisions I made. She put us completely at ease and we hardly knew she was there. The only problem now is that we want to print some photos on canvas, but Hannah has given us too many amazing photos to choose from!
The Details + Decor… Stationery: Once I had my dress, the rest of the details were influenced by the 50s/vintage look, even though Daniel didn't know what I'd chosen! We weren't going to have save the dates as they are often just an added expense, but I was really lucky to have a great contact through work who offered to professionally print them for free. My cousin is a graphic designer so we took full advantage of the chance to do something fun and unusual! After much research and lots of email conversations with a very patient Carly we had some brilliant vintage telegram save the dates. For the invitations Carly once again put up with my constant ideas and changes, designing some amazing and unique plane ticket invites, which apparently fooled a few people when they first opened them! Vintage/travel theme now established, I put together my own "wedding passport" orders of service, the table plan was an old world map and in a twist on the "places we've been" table names, we named each one after a restaurant in those places that we'd been, since we definitely like our food! We had postcards instead of a guestbook, which guests could write and post to us in our very own wedding postbox, and our thank you cards were vintage map and city postcards.
Décor: In terms of décor the venue didn't need much dressing as both rooms we used are beautiful and unique on their own, so it was just the flowers and some very last minute DIY table centre squares to add a pop of colour to the white tables.
Car: My Nan passed away in 2008 and planning the wedding made me realise how much I missed her, and I really wanted her to be a part of the day in some way! When I was growing up, my grandparents had a few model cars a glass cabinet that I used to love getting out and playing with. My favourite (and also my Nan's) was a 1957 turquoise Chevrolet and I spent months and months looking to hire one online for the wedding, with no luck. Late one night, having almost given up hope, I was googling images of my dress and reading a couple of old blog posts, and came across a vintage car company that I hadn't heard of, so clicked on the link to look at later. And I'm so glad I did, because one quick search later and I was silently bouncing on the bed deciding whether to wake Daniel up to tell him, looking at my dream wedding car, available and within driving distance of my venue! The car was my way of honouring my memories of my Nan. She would have absolutely loved my dress as well.
Popcorn and cookies: As well as all the yummy food, we really wanted something of "us" to give guests as extra evening food/take away favours, so we chose our favourite snacks – cookies and popcorn! I discovered an amazing popcorn shop in Notting Hill called POP and ordered two flavours (I highly recommend the sea salt and English toffee!), which we served from turquoise metal bins, while Daniel went to the hidden gem of cookie suppliers – Costco. No joke, they really do have the most amazing cookies!
Music: Daniel spent A LOT of time creating a music playlist of all our favourite songs for the drinks reception and meal, and in the evening we had Wedding Smashers come along to get everyone dancing! Judging by the many photos of guests laughing, drinking and dancing, they were a great hit. And also very accommodating to a few last minute song requests!
We had our first dance to the Ordinary Boys "I Luv You" as we wanted something a bit unusual, and kept all the cheesy songs for later in the evening! Our official last dance was "We go together" from Grease, partly because it fit the 50s theme that the day started with but also because, a fact that many people don't know, Grease is in fact Daniel's favourite film, so it was the perfect choice. However we didn't leave the dance floor gracefully but stayed until the bitter end, for a few more songs and end of night goodbyes!
Caterer: I really want to highlight our caterer Caper & Berry as they were simply brilliant, especially Libby, our event manager. She gave me loads of ideas, was amazingly accommodating with any budget and dietary requirements, and simply went above and beyond on the day to make sure that everything ran smoothly and went to plan! She was there with champagne to greet and congratulate us when we arrived at the venue, and I just cannot recommend Libby and Caper & Berry enough for any wedding or event.
The Honeymoon… Thanks to generous gifts from friends and family, we were able to go on the trip of a lifetime, and after spending the Sunday after our wedding recovering in a lovely hotel and having an emotional look at all our cards, we flew to San Francisco first thing Monday morning. We spent a few days exploring and taking in all the sites – Alcatraz, the Golden Gate Bridge, travelling on cable cars… we were even interviewed by a local news team filming a feature on Valentine's Day while we were enjoying ice cream sundaes at Ghiradelli's, and ended up on TV! From SF we hired a car and drove down the coast to LA, stopping in Monterey and San Luis Obispo for a few nights on the way. Such a stunningly beautiful coastline! We were only in LA for an afternoon before catching a flight to Mexico the next morning but we made the most of it and packed lots in. We spent the second part of our trip in Cabo, Mexico. After all that exploring and driving we took full advantage of the wonderful weather, amazing views from our balcony and of course the swim up bar with its constant supply of frozen margaritas. I didn't want to leave! A whirlwind, amazing 2 weeks, and while nothing could top the wedding day, the honeymoon came pretty darn close.
Memorable Moments… It was just all in all a perfect day, I don't know if I could pick the most memorable bits! But walking into the church was really special, taking a deep breath and holding on tightly to my dad's arm. All the oohs and aahs and gasps, it was a proper princess moment that I will never forget! Then walking past all our friends and family, reaching a smiling Daniel at the front, him telling me that I looked amazing, and realising that all the stress and sleepless nights had been worth it.
Our first dance was fun, by that point my feet were absolutely killing me and I just couldn't wait to take my shoes off! We only had eyes for eachother, and everyone came to join us towards the end of the song and as I remember, all stayed on the dance floor for the next song. It was an amazing feeling, singing and dancing with my husband surrounded by our loved ones. However when we looked back at some video footage a month later, we realised that in actual fact only a few people were dancing with us… It just goes to show how wrapped up in each other we were! The reality hasn't tarnished an amazing "memory" though.
I've already mentioned this a couple of times, but during the meal it was really emotional just looking around the room at everyone eating, drinking and having fun and realising that they were all there for us. All our guests made it a brilliant day!
Lastly I don't think Dan would forgive me if I didn't mention several final week meltdowns, and they certainly were memorable. I can laugh now but at the time the colour of my groom's socks, a faulty printer, fiddly table centres and what could have been a hair dye disaster, really did seem like the end of the world!
Advice for Other Couples… Spreadsheets, spreadsheets and more spreadsheets. Budgeting is always going to be the worst part, but the most crucial. Leave the house to plan – this is something that we didn't do and really should have. Take all your notes, magazines and spreadsheets and find a cosy table in your local pub away from any distractions. Remember to eat on the day – we missed out on canapés and evening food that we'd spent so long deciding on! Give into Pinterest! Brilliantly fun obsession. However stressful the planning process, and even though you won't think this or even remember the advice at the time, when you are standing next to your fiancé, minutes away from being husband and wife, it will all feel worth it! It's not really advice as it didn't stop any final week meltdowns for me at all, but just a reassurance that the second you see your husband to be, the colour of his socks won't matter in the slightest.
Credit Where Credit is Due…
Photography – Hannah Millard  http://www.hannahmillardphotography.com/
Venue – Northbrook Park http://www.northbrookpark.co.uk/
Flowers – Jay Archer Floral Design http://www.jayarcherfloraldesign.com/
Dress & Veil – Candy Anthony  http://candyanthony.com/
Shoes – Kurt Geiger  http://www.kurtgeiger.com/
Bridesmaids dresses – Vivien of Holloway  http://www.vivienofholloway.com/
Hair – Lucy Hayward, Hair That Turns Heads http://www.hairthatturnsheads.co.uk/
Makeup – Sam Pearce Makeup  http://www.sampearce.info/
Car – Premier Carriage Company  http://www.premiercarriage.co.uk/
Postbox – Your Wedding Post Box  http://yourweddingpostbox.co.uk/
Caterer – Caper & Berry http://www.caperandberry.co.uk/
Popcorn – POP http://www.popthewebsite.com
Bridesmaid accessory/Taxidermy – ForgottenFeline Taxidermy and Couture  http://www.etsy.com/shop/forgottenfeline
DJ – Wedding Smashers http://www.weddingsmashers.com/
Utterly amazing. Thanks so much to Daniel and Maria for sharing their beautiful wedding with us today XOXO Lou