<![CDATA[
Rose gold is set to stay bang on trend this year. What's not to love about the iridescent pale pink metallic tone? It's feminine, beautiful and so very unusual. I think the hue lends itself perfectly to a wedding, especially in the autumn for a really luxe and pretty affair.
Greg and Abigail were married on the 12th November 2016 at Hyde Barn in Gloucestershire, the space provided the perfect backdrop to make their mark. There were romantic drapes and fairy lights, foliage, leaves and coral floral arrangements and rose gold candle holders to name a few. The bouquet in particular really caught my eye, with its fluffy roses in the most delicious colour palette. It looked beautiful against Abigail's sparkling gown by Lyn Ashworth, teamed with a dreamy veil.
Live music was a priority for the couple and they hired a string trio for the ceremony followed by a band for the afternoon and evening. Food was also important to them and I am sure that the scrumptious chocolate cake complete with glittery topper went down a storm.
Oobaloos Photography, thank you very much for sending over these delightful photographs.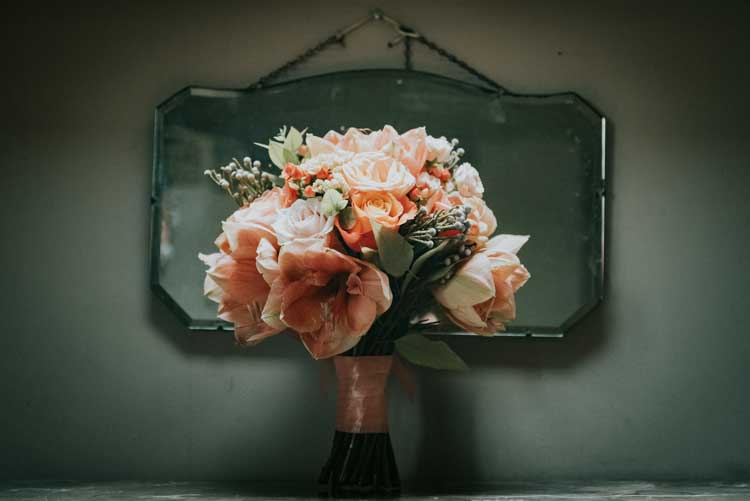 THE PROPOSAL | Greg and I had arranged a day trip to Bath Spa; in the morning, as we left the house Greg insisted that he would drive us, as he had found a beautiful viewing point close to home whilst out cycling, he told me he wanted to stop there on the way to the train station. I was happy to take the scenic route and after parking up we walked to the viewing point. It was a clear summers morning and the views were incredible. Greg then got down on one knee and proposed! It was totally unexpected and it is so lovely that we can re-visit the spot where we got engaged by just walking a mile or so down the road from our house. We then spent the day celebrating in Bath with a spa day, good food and champagne!

After booking Sheryl at Oobaloos as our wedding photographer we arranged for our engagement shoot to take place at this location in January. The weather couldn't have been more different to the July morning we got engaged, and much more like the weather we could be expecting on our wedding day in November. Despite the rain and drizzle we had a lot of fun working with Sheryl during this shoot, and it helped us both to get used to being in front of the camera. Sheryl created romantic and atmospheric shots that truly embraced the elements, and we were equally excited at the prospect of either sunshine or rain on our wedding day, as we knew Sheryl would create beautiful images whatever Mother Nature threw our way!

THE VISION | We really wanted our wedding to be full of colour and warmth, given that the light outside may be very limited, and grey at this time of year; I love the pinky tones you see in some autumn leaves so we went with a 'Rose Gold' theme to bring together the warmth and glow we were hoping to achieve with the colours we love.

We wanted a relaxed feel to the day – we had both the ceremony and reception at Hyde Barn, and guests could stay at the house adjacent to the barn, which meant that everyone could relax and feel settled as soon as they arrived.

Good food and entertainment were also important to us; having sampled the food at Hyde Barn's taster evening we were in no doubt our guests would enjoy the menu on offer. We also love live music and hired Vyne string trio; their performance really helped to create a beautiful atmosphere during our ceremony. We also hired Beat Junkie to entertain for the evening with a live lounge set early evening, along with 2 hours of the band playing a more upbeat set and then a pre-mixed DJ set after this.

THE PLANNING PROCESS | From the outset we settled on 3 priorities for the day; creating a relaxed, joyful and romantic atmosphere, ensuring we had great food and entertainment, and having a photographer who was as passionate as we were about capturing all the magical moments from our day.

The planning process started with booking the venue – we wanted somewhere clean and modern that was a bit of a blank canvas so we could add in our styling. We liked the fact that at Hyde Barn you also get some rustic elements such as the beams, which look so pretty with the fairy lights hanging from them. There's a lot of natural light in the barn too which we really liked, and some nice outdoor space which we were able to use on the day for our group photographs, as the rain had stopped for a while.

We then set out to find our photographer; we really wanted to work with someone who could capture the energy of the day rather than just recording it. We were keen to ensure that images of both us as a couple, and of our guests were natural rather than very formal and posed. When we saw Sheryl's work online we instantly knew she was the photographer for us, full of energy and enthusiasm and with a fantastic portfolio – we booked her within 24 hours of meeting her!

We then met Clare from Lilyfee Floral Designs; she knew the venue very well and offered styling services as well as creating all the traditional floral elements – Clare worked closely with us over the months leading up to the wedding to develop and refine our ideas. We had total confidence in handing over the styling to Clare on the day of the wedding. The venue looked truly magical after all the care and attention Clare and her team had put in to the styling.

Pinterest provided endless inspiration for guest books, table plans and favours. We went for the Jenga guest book, with our guests writing message on a Jenga block. It was fab to go through and read all the messages the day after the wedding!

For our table plan we used a gold framed mirror and wrote everyone's names in gold pen on the glass – the tables names were titles of songs we love including 'At Last' (Etta James), 'Only You' (Yazoo) 'Rather Be' (Clean Bandit). Each table sign had a couple of lines of the lyrics from the respective songs printed on them and they were framed in rose gold picture frames.

We ordered laser cut wooden place names for our guests from VM Bespoke, also painted in rose gold; these doubled as favours.

INVITES | These were designed by Katie at the Ink Closet – we like geometric designs and Katie included this in our invite design. We loved them! All the individual inserts of the invitation were tied together with rose gold cord.

THE VENUE | Hyde Barn – Stow on the Wold, Gloucestershire.

THE DRESS & ACCESSORIES | Lyn Ashworth's Hermione with modifications by local seamstress.

Shoes – Rainbow Club.

Hair Pins – Davie & Chiyo (Etsy).

Veil – made by my seamstress.

FINDING THE DRESS | I didn't have a particular style in mind when starting out dress shopping; I found my dress in the first shop I visited and I think it was only the 3rd dress I tried on! Heavy lace dresses didn't suit me but I felt with this dress I had the best of both worlds, a touch of lace without if being over-powering. Modifications included adding a lighter lace and some added sparkle to the bodice.

GROOM'S ATTIRE | Greg wanted a slim fitting suit in grey / blue and settled on wool blend suit from Next; Next had a good range of suits and with seven men to buy suits for it worked out to be a cost–effective option. Greg selected an orange tie and pocket square for himself and a dark plum tie for the other men in the wedding party. Shoes were purchased from Slaters. Greg's rose gold wedding ring was custom made by The Great Frog (London).

THE READINGS & MUSIC | The Promise, by Heather Berry (Mother-of-the-Bride).

Sooner or Later, Anon (Mother-of-the-Groom).

Music during the ceremony by Vyne String Trio.

Entrance: Pachelbel – Canon in D.

Signing of the Register: Delibes, Flower Duet from Lakme.

Exit of the couple: Verve – Bittersweet Symphony.

Vyne also played during drinks reception.

Beat Junkie – live lounge, then 2 hours of a live set, mixture of old and new hits.

First dance – 'Only You' (Yazoo) and then 'Real Love' by Clean Bandit and Jess Glynn was played straight afterwards to get everyone on the dance floor!

BEAUTIFUL BRIDESMAIDS | Bryony, Jess and Nikki.

Dresses: JJ's House – Chiffon dress in Watermelon.

Shoes: Next.

Flowers: by Lilyfee Floral Designs.

Flower girls: Isla & Bella.

Dresses: Monsoon.

Shoes: Gold glitter shoes from John Lewis.

Flower: Flowers wands by Lilyfee Floral Designs.

Page Boy: Our nephew Charlie in suit from Monsoon and baby Converse!

THE FLOWERS | I love amaryllis and roses; Lilyfee Floral Designs included both of these in the bridal bouquet and the top table.

The aisle was decorated with rose petals and ivy was hung on the chairs at the end of each row. The ceremony took place under a beautiful large arch decorated with autumn leaves and tea lights dropping from it with rose gold and wooden lanterns at each end.

The room the wedding breakfast was held was filled with candles in rose gold lanterns and candle holders. Flowers on the top table were in gold vases. Flowers on the other tables were in oasis on top of wooden log slices. Two large chandeliers hung from the ceiling decorated in autumn leaves amongst white muslin drapes and fairy lights from the beams.

THE CAKE | My sister made our beautiful cake and brownie stack. The cake was a chocolate sponge with raspberry butter cream in the centre and chocolate butter cream on top, with a chocolate collar sprayed with gold edible spray. My sister made her famous brownies for our brownie stack, these were also sprayed with the gold spray.

Cake topper: Sophia Victoria Joy Ltd on Not on the High Street, and flowers by Lilyfee.

YOUR PHOTOGRAPHER | Sheryl Fish – Oobaloos Photography.

THE HONEYMOON | Mini-moon – Gilpin Lakehouse in Lake District for some much needed R&R!

MEMORABLE MOMENTS | Walking down the aisle!

Walking around a field in the drizzle and fog for our couples photos!

Amazing speeches.

First dance.

ADVICE FOR OTHER COUPLES | Choose 3 priorities for your day to help you with keeping perspective whilst planning – choose what's really important to you; for us it was the things that would last forever, such as our photographs, and the things that would create great memories for our guests.

Relax and trust your suppliers to do their thing! They are the experts and can not only bring your vision to life but they will add their own creativity and flare to add that additional sparkle!

CREDIT WHERE CREDIT IS DUE |

Photography | Oobaloos Photography

Flowers | Lilyfee Floral Designs

Venue | Hyde Barn

Stationery | Ink Closet

MUA | Harriet Cook Make Up

Hair clips | Davie & Chio

Place Names | VM Bespoke

Rings | The Great Frog

Honeymoon | Gilpin Hotel & Lake House

Musician | Vyne String trio

Band | Beat Junkie

Absolutely gorgeous.

Greg and Abigail, thanks so much to you both for sharing all about your lovely nuptials xo Lou

]]>