I have seen some gorgeous and unique weddings in my time, but the Tennessee wedding of WWW readers Dan and Molly is a real beauty! The lovebirds tied the knot on September 17th 2016 at The Wren's Nest in a barn that is so stunning it will take your breath away. The couple wanted to organise a day that brought together their shared love for all things creative and fun. They began their married life together kicking up their heels with family and friends in a magnificent location – what a dream.
Molly wore a lace and tulle wedding gown with fancy new tan boots and carried an eye-catching multicoloured bouquet filled with sunflowers, peonies and succulents. Dan looked super cool in his grey pants, light grey shirt and custom-made vest. The bridesmaids wore rust-coloured dresses while the groomsmen donned dark grey pants and leather suspenders. Their little flower girl was unbelievably adorable in her white dress, flower crown and gold shoes. I love that the guests were able to enjoy mini golf, get pictures taken in a kombi photo booth, snap polaroids to add to the guestbook and dance up a storm. The newlyweds' advice to other couples is vital to read too: "Our wedding wasn't conventional, but we're not conventional. We wanted tacos, so we ordered tacos. We wanted mini golf, so we got portable mini golf holes. We don't like cake, so we had pie!" This is how a wedding day should be.
Thank you very much, Alex Bee Photo, for these fantastic photographs.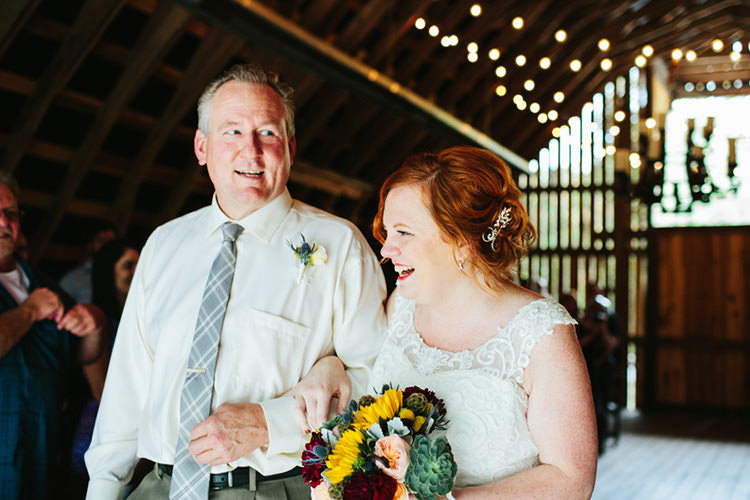 THE PROPOSAL | One New Year's Eve when we were dating, as we watched all the couples get engaged on TV during the ball drop, Dan turned to me and said he'd never 'engage me' on a holiday. We laughed at the time at how funny the way he said that had sounded, but I knew he really meant it when he said it. I'm pretty good about having a plan or figuring things out, it's hard to surprise me. So when the time came last year for us to go visit my family in Minnesota for the Christmas holiday, I had no suspicions at all. After all, we were never going to get engaged on a holiday. To my complete surprise, after all the gifts had been opened on Christmas Eve, Dan walked over to the tree and told me there was one more left. I wasn't even thinking, I just walked over to retrieve it and pass it out to whomever it was for. That's when Dan handed me the wrapped box, pulled out my dream ring and dropped to one knee. In front of my whole family AND on a holiday, Dan asked me to marry him. It was so sweet and silly and totally us. In the wrapped gift box he had handed me was a mug that said "He put a ring on it". After all the tears and hugs, we used that mug to announce to all our friends the good news. It was perfect.
THE VISION | Dan and I are both low key, fun loving creatives. We collect hobbies from airplane model building to leather tooling. So we knew we wanted a wedding that was a big celebration for all of our loved ones to not just attend but participate in. My dream venue, an old barn tucked in the woods just outside of Nashville, had one Saturday in the Fall available and we knew it was the perfect setting for what we wanted. We wanted our wedding vibe to be rustic, vintage, quirky and fun all wrapped together with lots of heart.
THE PLANNING PROCESS | We did the early planning on our own. I'm a wedding calligrapher so I had contacts to reach out to in the industry who were very helpful! However, hiring our day-of-planner was a game changer. We were so lucky to find Hailey of HK Weddings and Events. From the moment we met, she made it her mission to give us a carefree, handled wedding day. I like to be prepared and it's hard to trust someone you don't know to handle things how you'd like them handled. Let me tell you, Hailey made everything happen and happen well. She was flexible with our last minute details, when she didn't have something she needed from us, she figured it out and it always turned out wonderfully. I was stressed out a lot towards the end of the planning before we found Hailey. I'm beyond grateful for her dedication to our big day and her general awesomeness!
BUDGET | We were aiming for about $10,000… it ended up being more like $16,000.
THE VENUE | The Wren's Nest, Murfreesboro, Tennessee. A dream location! Every direction you looked it was beautiful!
THE DRESS & ACCESSORIES | My dress was from David's Bridal. The wedding gave me an excuse to splurge on my dream boots. I had been eyeing Nisolo's 'Austin' boots for a very long time, so when they released them in the color bone, I knew it was meant to be. They were the best wedding day shoe a girl could ask for. So comfy and so gorgeous! I wore hair pins from my grandmother (she wore them to her senior prom!) and wrapped her garter from her wedding 60 years ago around my flowers. It was very special.
FINDING THE DRESS | A close friend and I went to David's Bridal on a random Wednesday night to just see what shapes looked good on me. The minute I put on the dress I knew I wasn't leaving without it. I felt like I would never stop smiling. It wasn't over done but it wasn't overly simple. It had a paisley lace on the top and a big flow tulle type skirt. I've never been able to find it online or in any other store. I think it was meant to be!
GROOM'S ATTIRE | The guys all wore dark grey slacks, light grey button-up shirts with rolled sleeves and leather suspenders. Dan also wore a custom made vest that had rust, grey and brown plaid on the front and navy with goldfish polka dots on the back.
THE READINGS & MUSIC | We had the hardest time picking our music, but looking back I wouldn't change a single song. The guys walked down to 'Thunderstruck' by 2Cellos. The bridesmaids walked to 'A Dream Is A Wish Your Heart Makes' from Cinderella and I walked down to Patty Griffin's 'Heavenly Day'. We had a short and sweet ceremony and everyone walked out of the ceremony to Ray LaMontagne's 'You Are The Best Thing'.
BEAUTIFUL BRIDESMAIDS | All of the girls wore long matching rust colored dresses. At first they all seemed nervous about my color choice but once they saw it in person they understood my vision. Leslie did the majority of the girl's hair and makeup, including mine. She took the woodsy but classy vibe and completely translated it to my dream look. We felt like movie stars!
THE FLOWERS | The extremely talented Lauren of LMA Designs did all our flowers. During the wedding planning, it was Lauren's written description of her dream for my bouquet that brought the realness that we were having a wedding and it was going to be amazing! She took the thrown together, random ideas I had in my head and transformed them into beautiful bouquets and boutonnières. She even made a flower crown for our flower girl. It was perfection.
THE CAKE | Dan and I don't really like cake… but we love pie! So instead of cake we ordered a whole bunch of delicious pies from The Loving Pie Company. It was a big hit with our friends and family!
YOUR PHOTOGRAPHER | Alex was everything and more. I grew up with a photographer and have always enjoyed taking photos myself. So when the time came to pick someone who would photograph our wedding day, I was a bit of a mess. I knew what I didn't want and I found a few that were really close but just not quite the perfect click (no pun intended!). Then someone pointed me to Alex Bee Photography. The minute her website loaded, I was in love with her style. It was just want I wanted. Alex captured real moments with real people on a day filled with so much emotion in a way I've never seen done before. I loved that her photos were bright and full of color. The thing that stood out to me most was how many photos she had captured of people genuinely smiling. There are so many smiles in her online portfolio! I knew I wanted that for us. We did an engagement shoot with Alex and I think leaving that shoot was the first time I could relax about the wedding planning. I knew that no matter how the day would go, we were going to be comfortable with the person who was documenting it. Oh and she also liked our idea of having tacos. :)
THE DETAILS & DÉCOR | When you get married in a place like The Wren's Nest you really don't need to add anything to the venue to make it beautiful. It's a work of art itself. So we kept things simple and fun. We made glass terrariums with firefly lights inside and filled each one with a superhero or villain miniature action figure. The jars sat on top of wood tree slices on every table. We also gave out pencils with inside jokes, our wedding date and other silly foiled sayings on them to our guests. We really wanted our guests to feel like our wedding day was an extension of who we are as a couple and I think we accomplished that!
THE HONEYMOON | Dan had never been to Disneyworld. So for our honeymoon, we went down to Orlando and spent time relaxing, riding rides and experiencing Disney. We also spent a few nights at Universal. It was perfect. We're both ready to go back as soon as we can, haha.
MEMORABLE MOMENTS | It's hard to pick just a few but if we have to, I think the first dances were something to remember for sure. My mum organized a big group dance for all the women in my life who have been there for me, inspired me, encouraged me and loved me since I was little. Our fantastic DJ, DJ Dale Day, put on 'Good Golly Miss Molly' and we all just danced our hearts out. It was so special. Then it was time for Dan's dance with his mum. It started out as 'What a Wonderful World' and they slow danced until the DJ mixed it into 'Turn Down For What'. It went on like that, back and forth from slow dancing to break out dancing and it was such a hit. Everyone was cheering and laughing. Such a fun memory!
ADVICE FOR OTHER COUPLES | Our advice would be to stay true to who you are as a couple and what you like. Our wedding wasn't conventional, but we're not conventional. We wanted tacos, so we ordered tacos. We wanted mini golf, so we got portable mini golf holes. We don't like cake, so we had pie! Our friends and family are still going on about how much fun they had at our wedding. Mission accomplished! :)
CREDIT WHERE CREDIT IS DUE |
Photographer | Alex Bee Photo
Venue | The Wren's Nest
Wedding Planner | Hailey for HK Weddings and Events
Reception Food | The Local Taco and Loving Pie Company
Flowers | Lauren Marie Atkinson Designs
Hair & Makeup | Leslie Ellis
Mini Golf | Holes to Go
Photo Booth | The Shutter Bus
DJ | The Big Day DJ and Event Planning
Thank you, Dan and Molly, for letting us share your lovely nuptials and your clever and endearing ideas. The pictures of you dancing down the aisle as 'Mr and Mrs' had me grinning from ear to ear. Abby xx